As Omicron Explodes Across U.S., Researchers Predict Peak May Hit in Mid-January
As the Omicron variant of COVID-19 continues its relentless spread across the U.S., an optimistic scenario by researchers predicts the Omicron surge would peak Jan. 18, only if the new variant proves far less "immune-evasive" than the Delta variant.
According to a recent study published by researchers at the University of Texas at Austin, the "milder Omicron surge" is expected to include cases, hospital admissions, and deaths at levels close to those seen in the January 2021 peak.
Researchers said in the study that the severity and transmissibility of Omicron was still "uncertain" as of Dec. 15, but they explored several scenarios that could unfold.
They also predicted an "extreme scenario" where Omicron could be more dangerous than Delta, projecting a peak of Feb. 3, with cases, hospitalizations and deaths higher than the January 2021 peak.
"Under a pessimistic scenario in which Omicron is as transmissible as Delta and more evasive of infection-acquired and vaccine-acquired immunity than Delta (with 85 percent, 32 percent, and 22 percent reduced protection against infection, hospitalization, and death, respectively)," researchers said.
"Omicron could lead to the largest healthcare surge to date, unless measures are taken to slow spread," they added.
A number of potential solutions could help evade the risks of another COVID surge, according to the study. Researchers said that if 80 percent of those fully vaccinated get the booster shot by March 1 instead of the currently projected 57 percent, there would be a 5 percent reduction in COVID cases, 12 percent decrease in hospitalizations and 13 percent decline in deaths.
"In our most pessimistic Omicron scenario, this translates into averting an expected 1.3 million reported COVID-19 cases, 168,000 hospitalizations and 39,000 deaths between December 1, 2021, and May 1, 2022," the researchers added.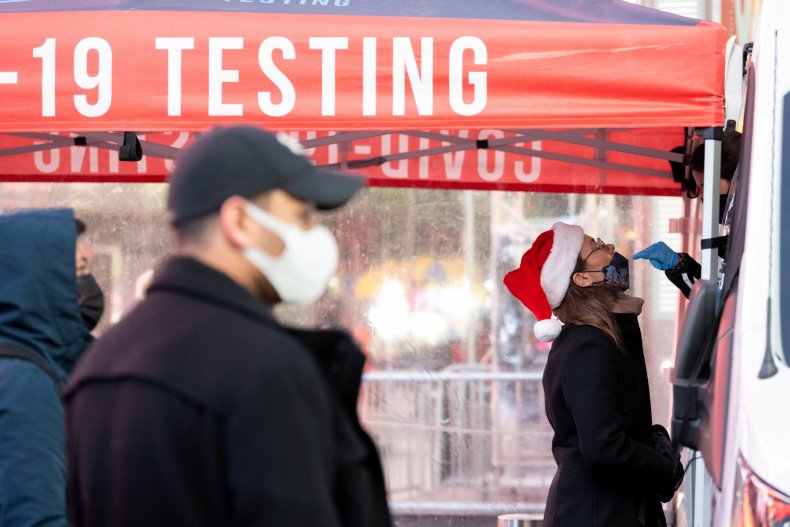 Meanwhile, one of the UT Austin researchers, Anass Bouchnita said that the scenario in Texas will be "more disturbing," according to Houston Public Media.
"We've seen a rise by about 113 percent in reported cases over the last 14 days [in Texas], which is about four to five times the rise that we've had on a national level," Bouchnita said, citing data from the Centers for Disease Control and Prevention (CDC).
Low vaccination rates in Texas could lead to a potential surge in COVID cases, according to Bouchnita. The state's vaccination rate at 56 percent of all Texans is lower than the national average for states, which is about 62 percent.
Similarly, health experts warned against a spike in COVID cases amid Omicron spread this holiday season in Seattle, Washington, as cases quadrupled between Wednesday and Thursday in King County, according to KUOW. The county has reportedly seen a 169 percent rise in cases over the past week.
However, researchers at the University of Washington's virology lab said Wednesday that Delta remains the leading variant for new cases in southwest and eastern Washington.
The CDC said on Monday that Omicron is the leading strain in the U.S., accounting for 73 percent of COVID infections last week. At November's end, the Delta variant dominated infections in the U.S. for months, with over 99.5 percent of virus infections, according to the agency.