Scientists are monitoring two newly characterized Omicron variant sub-types, BA.4 and BA.5, that have emerged in a few countries.
Throughout the year so far the Omicron BA.2 variant has spread to become generally the most common type after the BA.1-driven wave that saw record cases in the U.S. through the Christmas period.
Omicron continues to diversify.
In recent weeks researchers have noted a small number of sequences of two new types of Omicron—now being referred to as BA.4 and BA.5—so far detected in relatively few people.
Both sub-variants have been detected in a few countries, including the U.K., Denmark and Botswana, but have largely been present in South Africa.
To date, less than 200 cases of both had been identified worldwide, WHO lead epidemiologist Dr. Maria Van Kerkhove was quoted as saying in a United Nations report on Wednesday.
"There are less than 200 sequences available so far and we expect this to change... We are tracking [the virus] very closely to see if there is any uptick in case detection, but [so far] we haven't seen any change in epidemiology or severity," she said.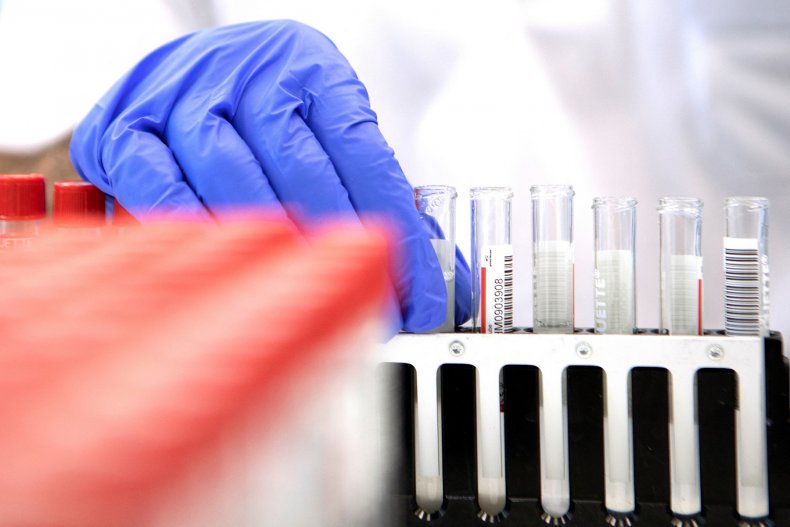 BA.4 and BA.5 are both similar to BA.2 except with a few mutations that make them distinct. Both have additional mutations in their spike region—the part of the virus used to latch onto cells and cause illness.
These additional mutations are known as L452R and F486V, and are associated with characteristics that potentially make the virus more able to escape the immune system, the World Health Organization (WHO) said on Tuesday.
L452R has been seen before in other COVID-19 variants such as Delta.
However, experts say it is too early to know for sure how BA.4 and BA.5 will behave. While the two sub-variants are similar to one another in terms of their spike, they are genetically different in other ways, which is why they are classified independently of each other.
"These are interesting new lineages," Jeremy Kamil, associate professor of microbiology and immunology at Louisiana State University Health Shreveport, told Newsweek. He said they both have mutations that could potentially help them out-compete other lineages.
"What is most interesting and concerning to me is the spike mutation F486V," he added. "This amino acid substitution escapes many of the broadly neutralizing antibodies people have that can protect from several variants.
"Overall, I would not sound an alarm but these are lineages to keep our eyes on. We do not know what will happen but the appearance of such variants really drives home the importance of developing polyvalent (multi-variant) immunizations."
Other experts also echoed the point that it is too early to be alarmed just yet.
Alex Sigal, a virologist at the Africa Health Research Institute and associate professor at the University of KwaZulu-Natal, told Newsweek last week: "[It is] important we don't cry wolf every time the virus changes.
"Up to now, major waves were caused by variants which evolved from the ancestral virus and not derivatives of the currently circulating variant. However, there's always the first time."
In addition, Cornelius Roemer, a computational biologist at the University of Basel in Switzerland, tweeted on Wednesday: "I see a lot of public worry around BA.4/BA.5 that I don't consider justified.
"BA.4/BA.5 may well replace BA.2 but this will be more like BA.2 replacing BA.1 [prolonging Omicron waves], but won't be as drastic as when Omicron first appeared and sent case numbers shooting up."
In addition to BA.4 and BA.5, the recombinant Omicron sub-variant known as XE, which is a mixture of the BA.1 and BA.2 sub-types, has made headlines recently.