Omicron Showing Merits of Targeted Protection, Great Barrington Declaration Co-Signers Say
After it was dismissed as a dangerous theory with deadly consequences, the co-authors of the Great Barrington Declaration believe officials are coming around to the idea of targeted protection now that it's clear stopping COVID from spreading is an unrealistic goal.
Omicron, a highly infectious variant, is spreading rapidly throughout the United States, causing more than 10 million infections in less than a month. While vaccines are extraordinarily helpful at preventing COVID-19 deaths, the assumption that vaccines would make a significant dent in infections has been proven wrong and Dr. Anthony Fauci, director of the National Institute of Allergy and Infectious Diseases, believes Omicron will find "just about everybody." But officials have bucked a return to lockdowns.
Since the world has missed its opportunity to completely suppress COVID-19 transmission, the co-authors of the Great Barrington Declaration said policymakers are realizing they have to shift tactics away from population-wide measures.
"There's no question there's been a sea change in thinking about this," one of the declaration's co-authors, Dr. Jayanta Bhattacharya, a professor of medicine at Stanford University, told Newsweek. "The illusion was that to protect the vulnerable, we needed to control disease spread. The disease spread anyway and the vulnerable were exposed because we didn't protect them."
The Great Barrington Declaration, which was signed in October 2020, called for a lifting of lockdowns to allow those who were at a lower risk of getting seriously ill from COVID-19, the young and healthy, to resume life as normal. Keeping the restrictions in place, the co-authors argued, would cause "irreparable harm" particularly with regard to the underprivileged.
Many of those reentering the world would likely get infected with COVID-19, but being young and healthy, they were less likely to get seriously ill. Their infections would thereby lower the risk of infection to all, including the vulnerable, according to the declaration.
The Great Barrington Declaration was heavily criticized for being an ill-advised strategy that relied on sacrificing people to the virus. World Health Organization director-general Dr. Tedros Adhanom Ghebreyesus called it "simply unethical" to allow a dangerous virus to "run free" and argued herd immunity is reached through vaccinations, not exposing people to a virus.
Vaccines were long considered a goal in the fight against the pandemic because it was believed they would help turn the tide of the outbreak. Inoculations play a key role in living with infectious diseases and the doctors that signed the Great Barrington Declaration consider them critical to helping protect vulnerable populations.
However, even highly-vaccinated parts of the country have seen surges in cases because of Omicron and with limited supplies, officials are starting to adjust policies. With tests in limited supply, officials in Utah are advising most individuals to assume they have COVID-19 if they experience symptoms and quarantine, but not get tested.
The exceptions to that recommendation are those who are visiting vulnerable individuals, people who work in a high-risk setting such as health care or congregate living and those who are most vulnerable.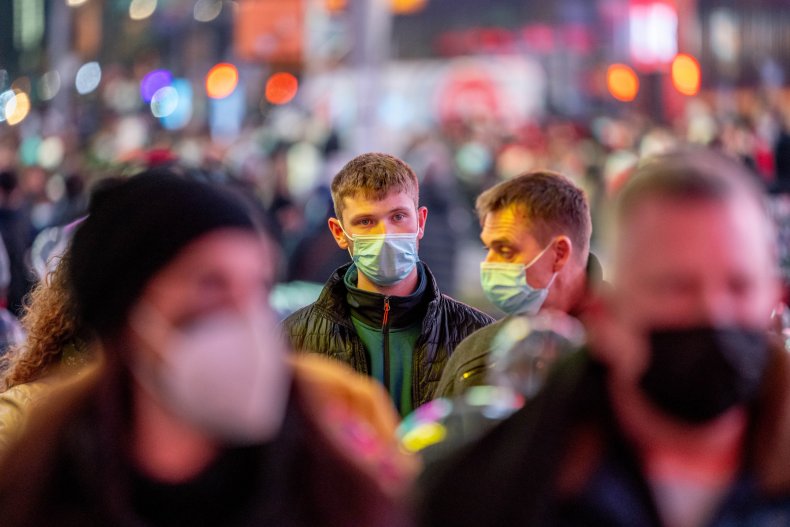 Increasing testing among those who have the potential to expose a vulnerable individual to the virus plays into the targeted approach, according to the Great Barrington Declaration's doctors. Along with a targeted approach to testing, Bhattacharya said when therapeutics are in limited supply, the only "ethical" means of using them is to focus them on the most vulnerable.
When it comes to outpatient therapeutics, the U.S. has already adopted a targeted approach. Emergency Use Authorizations for post-infection monoclonal antibody treatments and COVID antiviral pills require that a person is considered high risk for COVID-19. A new monoclonal antibody treatment that can help prevent infection is also only available to people who are at extremely high risk, in the sense that their immune system may not produce an adequate antibody response to a COVID-19 vaccine.
Even with vaccinations and the Omicron's tendency to be milder, the U.S. could see increased deaths because spikes in infections mean high-risk individuals will get sick, as well. Deaths often lag weeks behind cases, so the true impact of Omicron has likely remained to be seen and while the U.S. has largely remained open, officials have urged people to keep vulnerable people in mind when making plans.
Some opted to cancel holiday plans with vulnerable people. Others opted to limit their exposure ahead of the holidays and get tested to limit the risk of exposing a vulnerable loved one to the virus.
Speaking her personal capacity, Dr. Helen Colhoun, a professor at the University of Edinburgh, told Newsweek there needs to be a new understanding of the "end game," since total suppression is no longer feasible. Despite the return to normal, she believes focused protection needs to continue because COVID-19 still poses a risk to the most vulnerable. However, she said that doesn't need to include population-wide measures, which she thinks people are starting to realize aren't the best strategy.
Implementing a targeted approach wouldn't have stopped new variants from emerging because the virus would have still spread, but the declaration's co-authors maintain the belief that deaths could have been prevented. They advocated for exhaustive measures to isolate infections in nursing homes, where significant numbers of deaths occurred, and hospitals. Their plan also required governments to provide income support to vulnerable people and their spouses so they can isolate themselves.
Sunetra Gupta, a professor at Oxford University and a co-author of the declaration, said failing to make accommodations for the vulnerable meant they were reliant on masks and lockdowns working. Whereas if the vulnerable were financially compensated to stay home if they weren't retired, and had their groceries and medical care brought to them, they could isolate themselves from the virus.
"Instead we let many vulnerable people drive buses, deliver food and do the things that have to happen in order for the affluent to self-isolate and those people died," Gupta said.
Allowing people over the age of 65 to continue working before the introduction of a vaccine because they're "essential," was an "enormous mistake," according to Bhattacharya.
Fauci acknowledged that returning to lockdowns would be extremely difficult at this point in the pandemic. People have grown tired of restrictions and the "mood" of the country isn't conducive to shutting down. So, whether officials believe it's the best solution, a targeted approach may be the only realistic path forward.
"I think people are starting to adopt it. I think one can be cautiously optimistic," Gupta said.