Omicron Surge Forces NHL to Put Season on Hold After 15 Percent of League Exposed to Virus
A recent surge of Omicron coronavirus cases has forced the National Hockey League (NHL) to put its season on hold after more than 15 percent of the league's 700 players are suspected to have either been exposed to or tested positive for the virus.
The NHL announced Monday that it will begin its holiday break two days early and delay five games this week that were not already affected by COVID-19 postponements.
"With no games currently scheduled for Wednesday, Dec. 22, because of COVID-related postponements, the National Hockey League and National Hockey League Players' Association have agreed to postpone the five games that remain scheduled on Thursday, Dec. 23, in order to begin the collectively-bargained Holiday Break effective with the conclusion of games tomorrow night, Dec. 21," the league said in a statement on Monday.
Teams will return for COVID-19 testing and practice on Sunday, and games are set to resume the following day, the league added. All players and members of each team's traveling party will be required to show a negative virus test before being allowed back in their facilities.
The latest announcement came after dozens of NHL games have already been delayed due to COVID-19 this season. Ahead of the league's decision on Monday, several teams including the Columbus Blue Jackets and Montreal Canadiens said they planned to shut down activities this week due to a rise in positive cases.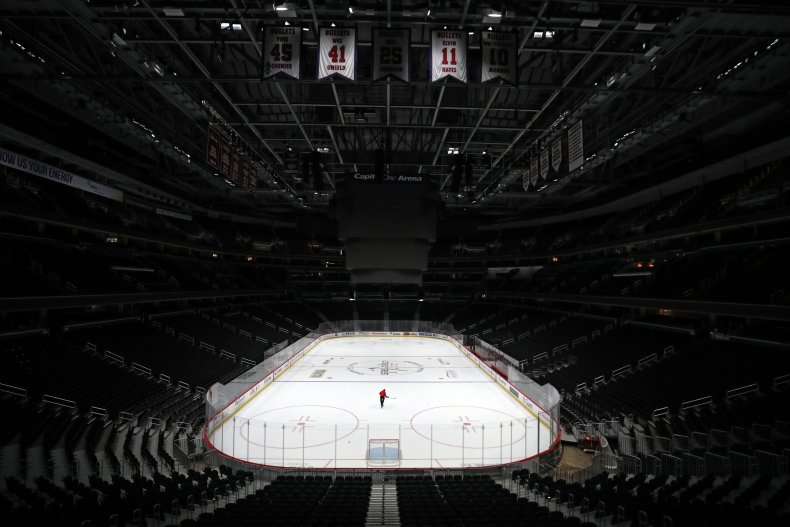 Meanwhile, on Sunday, the league announced that 12 games involving international travel between the U.S. and Canada would be postponed due to the "fluid nature of federal travel restrictions."
In total, 49 games have been postponed this season, 44 of which have occurred over the past two weeks, according to the Associated Press. By Monday, the AP reported that more than 15 percent of the league's 700 players had been placed under virus protocol—meaning that they have either been exposed to the virus or tested positive themselves—as both Omicron and Delta variants continue to spread worldwide.
The NHL's decision to shut down games this week made it the first North American sports league to halt its season due to a rapid increase in coronavirus cases. The league is now set to give a final decision on whether or not players will be able to participate in the upcoming Beijing Olympic games, though the prospect is "highly unlikely," according to ESPN.
"The continued uncertainty caused by the ongoing COVID pandemic, the NHL and NHLPA are actively discussing the matter of NHL Player participation in the 2022 Winter Olympics in Beijing, China, and expect to be in a position to announce a final determination in the coming days," the league and its players' association said in a statement Sunday.
"With the number one priority of maintaining the health and safety of our NHL community, and amid changing and unpredictable conditions, we are determined to remain flexible and adaptable both in terms of scheduling and in adjusting Protocols as necessary," it added.