An Omicron tidal wave is about to hit the United States, early data indicates, as the highly contagious new COVID variant spreads rapidly around other countries, including South Africa and the United Kingdom, and is quickly becoming the dominant strain.
Scientists in South Africa, where the variant was first discovered around three weeks ago, have said that the newest variant appears to spread more than twice as quickly as Delta, which previously had been considered the most infectious variant.
Early data from the U.S. indicates that the country will also experience a significant Omicron wave. The Centers for Disease Control and Prevention (CDC) warned on Tuesday that America could see a massive peak of Omicron infections as soon as January. The prevalence of the new variant has jumped sevenfold in a single week, the CDC said.
Top health officials are concerned that an Omicron surge could coincide with a winter Delta and flu wave in the U.S.
Omicron had been detected in at least 38 U.S. states as of Thursday, with the variant now making up 3 percent of COVID cases nationally. Delta remains the dominant strain in the United States, but that looks likely to change soon.
As of Wednesday, the U.S. had a seven-day daily average of 119,456 new cases. This figure has mainly been rising since mid-October.
In some states, such as New York and New Jersey, Omicron accounts for 13 percent of the cases, CDC director Dr. Rochelle Walensky said during a White House COVID briefing Wednesday.
"We expect the proportion of Omicron cases here in the United States to continue to grow in the coming weeks," she said.
The percentage of people in the highly vaccinated New York City who tested positive for COVID doubled in three days this week and a top adviser to Mayor Bill de Blasio said the Omicron variant was evading immunity in ways the virus never had before.
Meanwhile, World Health Organization (WHO) officials said the variant is spreading at a faster rate than all the other previous strains.
"Right now in the United Kingdom, we're seeing two days or less, which means the number of cases are doubling every two days or less than every two days," Dr. Mike Ryan, who runs WHO's emergencies program, said during a livestreamed Q&A on Wednesday.
British authorities warned on Wednesday that Omicron is "the most significant threat" to public health in the country. The next day, the U.K. reported a record number of daily COVID cases for the second day running, with 88,376 infections confirmed on Thursday.
In Denmark, Omicron cases are doubling roughly every two days and the Scandinavian country is mulling new restrictions to try and control the spread.
Meanwhile, in Brussels, European Commission President Ursula von der Leyen warned on Wednesday that Europe is "facing another Christmas in pandemic mode." During her speech in the European Parliament, she added that Omicron is expected to be the dominant strain of COVID in the 27-nation bloc by the middle of January.
In Gauteng, South Africa, the initial epicenter for the new variant, cases already appear to be plateauing, indicated that the wave might have peaked there. Some experts believe that this may because the variant is more infectious than delta and therefore spreads more quickly. But health officials said Friday that fewer people had died or required hospital treatment than in previous waves of COVID.
A new large-scale Omicron study in South Africa, published on Tuesday, found that Omicron appears to be more resistant to vaccines, but that it's causing less severe illness. The analysis found two doses of the Pfizer-BioNTech vaccine offered 70 percent protection against omicron hospitalization, compared to 90 percent for the Delta variant.
However, the study doesn't guarantee the impact the new variant will have in other places. For example, the less severe illness caused in South Africa by the variant could be explained by high levels of previous COVID infections, with 38 percent of the country's adult population being fully vaccinated.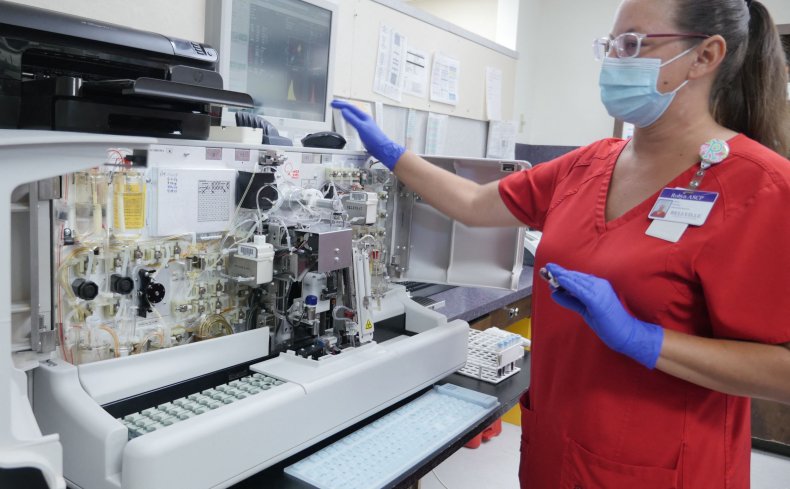 Uncommon Knowledge
Newsweek is committed to challenging conventional wisdom and finding connections in the search for common ground.
Newsweek is committed to challenging conventional wisdom and finding connections in the search for common ground.
About the writer
Jack Dutton is a Newsweek Reporter based in Cape Town, South Africa. His focus is reporting on global politics and international relations. He has covered climate change, foreign affairs, migration and public health extensively. Jack joined Newsweek in January 2021 from The National where he was Night Editor and previously worked at Euromoney, where he edited a B2B magazine on the aviation industry. He is a graduate of Sussex University. Languages: English.
You can get in touch with Jack by emailing j.dutton@newsweek.com