Omicron, Title 42 Push Migrant Shelters in Tijuana to Their Financial Limits
Migration continues to surge at the southwest border with border authorities reporting nearly 174,000 encounters for the month of November. The San Diego sector stood as the sixth busiest of the border's nine regional crossing points. Almost 18,000 migrants were encountered here during the same month.
The influx of people has resulted in shelters situated in the border city of Tijuana being stretched to their limits, according to Border Report. Just one of the city's shelters receives government funding, and the rest rely on contributions and donations. And as of late, that need has ratcheted up.
Concerns over rising rates of COVID-19 in Baja California and the new threat of the Omicron variant have pushed shelters to take greater precautions to keep their clients and staff safe, Kate Clark, Senior Director of Immigration Services & Lead Immigration Attorney at Jewish Family Service of San Diego, told Newsweek.
"They're having to put controls in place to be sheltering folks safely in the pandemic," Clark said. "Under these circumstances that they absolutely are in need of more items...because we're in a pandemic and having to shift the way that sheltering is being done to make sure that public health is being prioritized in the congregate setting."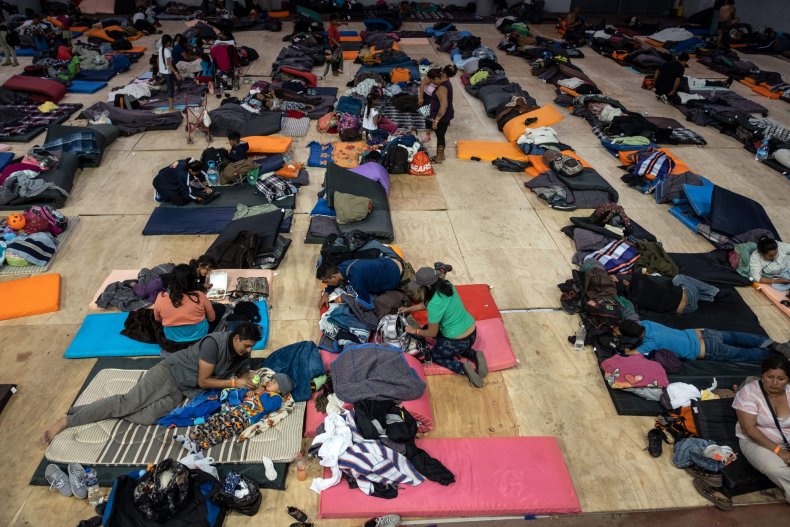 Clark said that these shelters "are on the frontlines" when it comes to grappling with the new challenges brought on by the pandemic and new concerns surrounding the Omicron variant. And with the need for shelter only rising as more people make their way north, these shelters are forced to adapt to the changing needs in their areas of operation.
Until the migration flows stop, very little may change in the coming months. Clark stressed that under the current policies of the Biden administration, few avenues remain open for individuals to present their asylum claims to the U.S., which has resulted in thousands electing to wait at the border until something changes.
Under the Title 42 COVID-19-related public health order, individuals who come in contact with U.S. officials are expelled back to Mexico, with their avenues for presenting an asylum claim being largely restricted. Yet, some 55 percent of those who arrive at the border do so by hiring a smuggler which can cost roughly $7,500 a person, according to a report by a coalition of migrant advocacy organizations.
For these people, waiting at a shelter until they are able to receive an answer from the United States about their ability to receive refugee status may be a more favorable option than returning home to an area with limited economic opportunities where they could face threats of gang violence.
"What you're having is people that are not able to seek or access asylum in the United States, and simultaneously, individuals being expelled are forcibly returned to Mexico, which is creating an additional strain on the shelters," Clark said. "U.S. policies are impacting the situation."