Omicron Variant Found in More Vaccinated People in U.S. as Resistance Concerns Persist
The Omicron variant continues to crop up in vaccinated Americans as concerns about the new strain's vaccine resistance persist.
More than 20 cases linked to the variant across 11 states have been reported in the U.S. as of Saturday morning. Of these, eight are known to have been found in fully vaccinated individuals. While many of these patients had recently traveled to Africa, others had no recent travel history to speak, indicating that community transmission has begun in the U.S., according to CNBC.
"We absolutely have community spread in this country," infectious diseases expert Dr. Anthony Fauci said during a Friday appearance on Bloomberg TV. "We don't know how many of them, but there's no doubt there's community spread."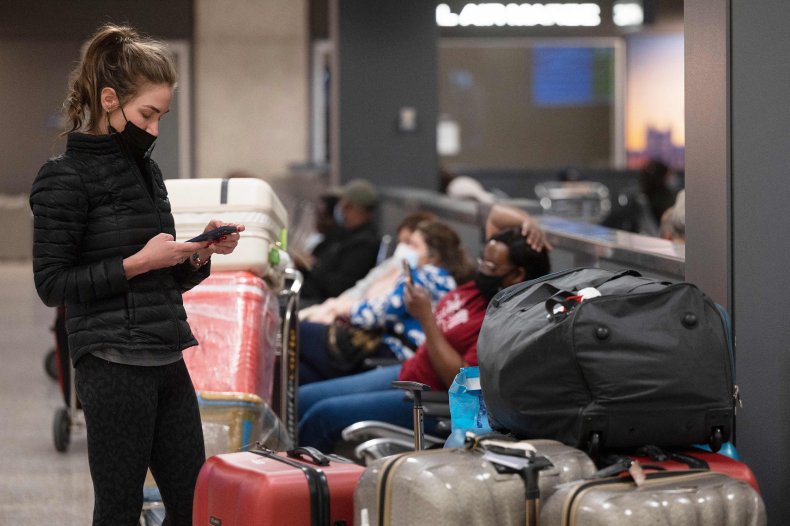 The first case in the U.S. emerged in California on Wednesday. The patient was reported to be in the 18-49 age bracket and had recently returned from Africa. While fully vaccinated, they were not yet eligible for a COVID-19 booster shot.
"There's no reason to panic--but we should remain vigilant," Gov. Gavin Newsom tweeted after the first case was confirmed. "That means get vaccinated. Get boosted. Wear a mask indoors."
Another case emerged in Minnesota on Thursday, this time in a fully vaccinated adult who received a booster shot. Unlike the case in California, this patient had not been to Africa but had recently returned from a convention in New York that put them in contact with numerous crowds.
Other cases of Omicron in fully vaccinated patients have been reported in Colorado, Nebraska, Maryland, New Jersey and Utah. Cases have also been reported in states like Pennsylvania, Missouri, and New York, but the vaccination histories of these patients were not fully understood at this time.
Alongside the potential for vaccine resistance, another, more hopeful emerging trend with Omicron appears to be its less intense symptoms. Among the U.S. cases where the patients' conditions were known, all have experienced only mild or moderate symptoms.
While a good amount of these patients might be seeing milder symptoms because of their prior vaccinations, even unvaccinated patients have reported less intense sicknesses. In Nebraska, where 5 of the 6 reported patients were not vaccinated, none of them required hospitalization for the infection. The one patient reported in Hawaii had also seen moderate symptoms despite being unvaccinated.
Newsweek reached out to the Centers for Disease Control and Prevention (CDC) for a comment on this story.
On Friday, five more cases were reported in Alameda County, California, amongst a group of vaccinated adults who recently attended a wedding in Wisconsin. All were within the 18-49 age range and have so far reported only mild symptoms.
Worldwide, cases of Omicron have been reported in 38 countries so far. In keeping with reports of mild symptoms, no deaths have yet been caused by the new strain.