Omicron Variant That May Resist Vaccines Found in Majority of U.S. States
The Omicron variant has now been detected in the majority of U.S. states, and officials expect cases to continue to rise.
California was the first state to identify the variant in one of its coronavirus cases, and in the week since that discovery was made, 25 other states have also detected cases. Researchers are still studying the variant to determine what kind of threat it will pose, but it is highly transmissible and its mutations indicate it could render vaccines and treatments less effective.
Omicron's already proved it can infect people who have been vaccinated against COVID-19. Minnesota's first case involved a man who had just received his booster dose weeks earlier, something he believes helped keep his symptoms mild.
Several other states, such as California, New Jersey, Maryland, Massachusetts and Connecticut, have also detected the Omicron variant in people who were vaccinated. Iowa's first case of COVID-19 was detected in a teenager, who was unvaccinated but has been asymptomatic. The teenager was tested because of travel.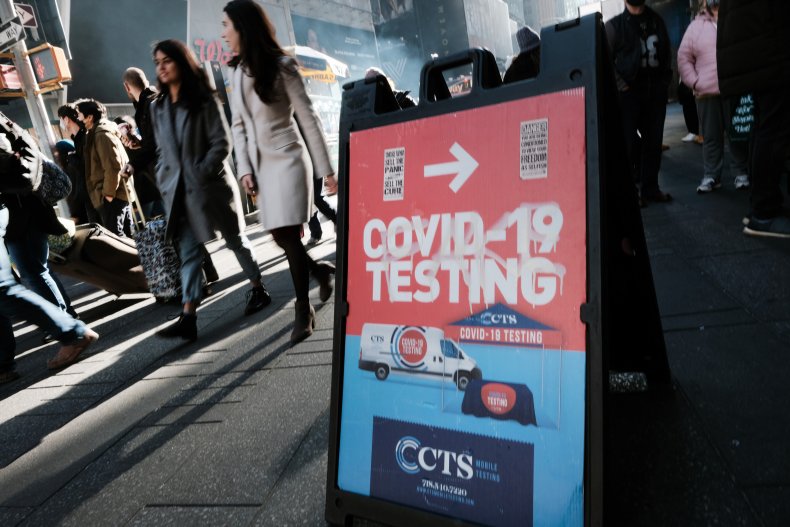 As of Friday, the variant has also been detected in Arizona, Colorado, Florida, Georgia, Hawaii, Idaho, Illinois, Louisiana, Michigan, Minnesota, Mississippi, Missouri, Nebraska, New York, Pennsylvania, Texas, Utah, Virginia, Washington and Wisconsin.
"We know we have several dozen cases, and we're following them closely. And we are every day hearing about more and more probable cases, so that number is likely to rise," Rochelle Walensky, director of the U.S. Centers for Disease Control and Prevention, told ABC News' This Week.
Despite Omicron's rapid spread throughout the country, Delta remains the dominant variant and continues to cause surges in people being hospitalized with COVID-19. Although Omicron appears to be causing mild symptoms, Dr. Anthony Fauci, director of the National Institute of Allergy and Infectious Diseases, cautioned against dismissing the variant as being of no concern.
He told CNN's State of the Union last Sunday that scientists need more information before drawing conclusions about the variant but added that early reports indicate it doesn't have a "great degree of severity to it."
Omicron is "clearly highly transmissible," according to Fauci, who told Agence France-Presse that it's likely more transmissible than Delta. While current data shows it isn't more severe than Delta, it's unclear if it will cause less severe disease. Fauci predicted it would be at least a few weeks before South Africa's outbreak provides a more clear picture and even longer to get a global picture of the threat the variant poses.
Complicating early data about the variant is that cases in South Africa, where Omicron was first identified, predominantly involved younger people, who tend to have a lower risk of serious disease with any variant of the coronavirus. So, the variant will have to infect more demographics before its true nature can be identified.
A variant that is highly transmissible but only causes mild illness would be much preferable to the Delta variant, which is known to cause severe disease. However, the timing of Omicron's arrival is likely to still cause problems, according to Dr. Maria Van Kerkhove, the World Health Organization's COVID-19 technical lead.
"Even if we have a large number of cases that are mild, some of those individuals will need hospitalizations. They will need to go into ICU, and some people will die. And so more cases can mean more hospitalizations," Van Kerkhove told CBS' Face the Nation.,
"More hospitalizations could mean more deaths, and we don't want to see that happen on top of an already difficult situation with Delta circulating globally," she said.