Once a Flop, Sondheim's 'Merrily We Roll Along' Set to Rise Again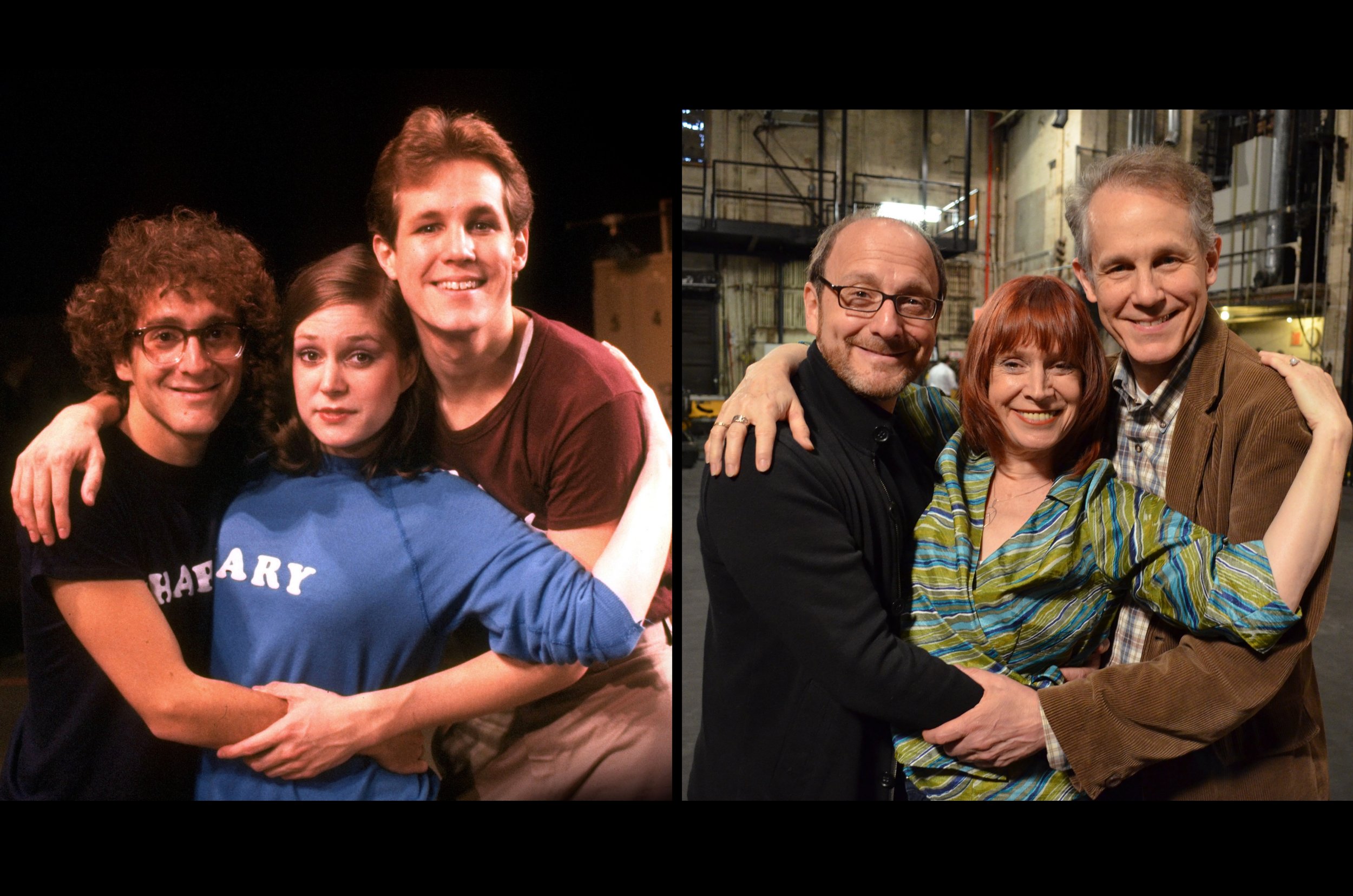 Merrily We Roll Along is arguably Stephen Sondheim's best score. (Don't argue; it's true.) It was also one of his few flops; only Anyone Can Whistle had fewer performances (nine to Merrily's 16). But Merrily came on the heels of several ground-breaking and critical successes Sondheim had with director-producer Harold Prince. So its box office failure hit fans and the creative team especially hard.
Merrily was the most anticipated musical of the 1981 fall season, a surefire hit, stealing headlines and buzz from The Life and Adventures of Nicholas Nickleby, the Royal Shakespeare Company's eight-hour, $100-a-ticket event (a price then unheard-of). Merrily groupies organized to make sure someone was at each performance to report on any changes. But preview audiences were confused, and critics were hostile. And nothing could save it.
Most flops fade away quickly, but Merrily has not only survived but thrived with its subsequent incarnations. Its reclamation began almost immediately upon its closing—within 24 hours, in fact—with the production of its cast album. It is one of the best of all time, showcasing Sondheim's melodic and complex compositions. The cast members, who ranged in age from mid-teens to early 20s, sound mature beyond their years and give—in some cases literally—the performance of their lives.
The odd thing is that the recording almost didn't happen. According to several cast members, record producer RCA did not want to make an album of a flop. But Prince, who had equity and more than a little muscle, told them that if they did not produce the album he would never give them another show of his. The album was made, and it became a cult hit. Over the years, people had a hard time figuring out why a musical with such a great score could have failed at the box office. Merrily's rise from the ashes had begun.
In 1985, Sondheim and book writer George Furth teamed with director James Lapine to rework the show at the La Jolla Playhouse in California. That production became known as the "adult version," featuring a slightly older cast, some reworked scenes and a couple of new songs. This went a long way to burnishing Merrily's reputation.
Merrily's next major milestone came in 2002 with a reunion concert that was organized by Lonny Price, who played Charley Kringas in the 1981 production and brought together almost all of the original cast members. Aside from unveiling new layers of meaning to songs like "Old Friends" and "Not a Day Goes By," it is remembered as the time Sondheim and Prince got back together and had one of the more famous onstage hugs in theater history.
In 2012, Lin-Manuel Miranda, Colin Donnell and Celia Keenan-Bolger starred in a concert version at New York's City Center as part of its Encores! series. The recording of that production hit No. 1 on the Billboard cast album chart. It was finally a hit, a palpable one.
Then, in 2016, Price directed The Best Worst Thing That Ever Could Have Happened, a beautifully touching documentary on the making of the musical and its aftermath. Cast members such as Jim Walton, Jason Alexander and Ann Morrison shared their memories of the show and how it affected their lives over the years.
The movie may have been overlooked at Oscar time that year in favor of documentaries on more hot-button topics or timely issues, but when the buttons have cooled and time has passed, Best Worst Thing will certainly still be relevant. Like its source material, the movie is about people dealing with the life-changing consequences of choices they make and questions about roads not taken, which will never get dated. It has become catnip for an ever-growing number of Merrily completists and a must-see for any theater fan who missed the original production.
What has been consistent throughout all the productions is the quality of the music. And what separates Merrily from Sondheim's (other) best work is the degree of difficulty this must have posed. The show's plot is told in reverse, so reprises come early in the show and are foreshadowed later on. Songs are complex at the beginning, and they get simple at the end. Songs are interwoven: a chorus here and a phrase there. Listen to Nancy LaMott's mix of "Good Thing Going/Not a Day Goes By" to see how well integrated two songs can be.
In Best Worst Thing, Sondheim says it is difficult for him to work simple. When you listen to any cast album of the show, it is amazing—not that he succeeded but how well he succeeded. His lyrics are clever without drawing attention to themselves. They are at once simple and resonant.
And they are hummable.
One often-registered complaint about Sondheim's songs was that they were not hummable. That is arguable, but again don't try. Given repeated listens, they do become hummable. And if for some people they don't, that could be because the lyrics are so clever and precise. Within the show, they advance the plot of Merrily and reveal character; on their own, several are beautifully crafted songs in their own right.
"Opening Doors," which is, according to Sondheim, his most autobiographical song, is a frenetic anthem about three people hustling for work in show business in the early 1960s. He manages to craft a complex story about their highs and lows, successes and failures, while remaining musically simple. "Good Thing Going" and "Not a Day Goes By" are heartbreaking songs about lost love. "Old Friends" is a paean to friendship.
"Franklin Shepard Inc." is one of the most entertaining depictions of a nervous breakdown you're likely to see. It is a showstopper. And, if an actor can pull it off, it is the audition piece of a lifetime. Check out the clips of Lonny Price, Raúl Esparza or Lin-Manuel Miranda's performances on YouTube.
In the original production of Merrily, audiences were reportedly confused, given the reverse plot structure. This is a little odd, since even if the original Kaufman and Hart play was not revived much, it was still pretty well known, certainly among theater fans. Also, the previous Broadway season featured a production of Harold Pinter's Betrayal, which had the same structure. Ever since then, Merrily's creators have tried to make the plot points clear and the characters, particularly Shepard, more sympathetic earlier on.
For the latest production—by the Fiasco Theater, now playing at New York's Laura Pels Theatre—the group broke down the show into nine one-act plays, director Noah Brody says. So the audience gets to know enough about the characters to want to continue the journey. Also, and unique to this Merrily, they have added a scene from Kaufman and Hart's play, known informally as the tenement scene, that aims to flesh out the character of Shepard and provide some motivation for his later actions. The rest of the musical followed the original play scene for scene. In the Fiasco production, the music is all there, and so is all the text. But in the spirit of Sondheim, everything is different; nothing's changed, only slightly rearranged.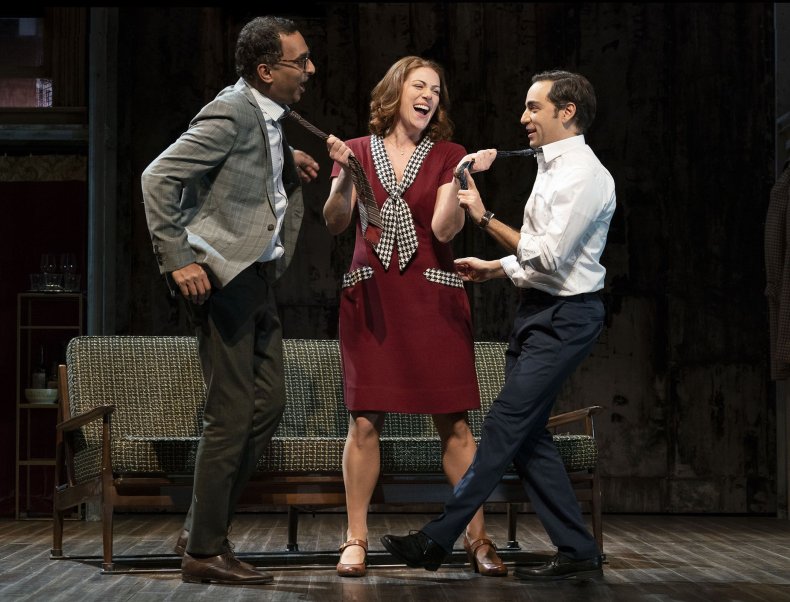 Members of the original Broadway cast recently saw the new production, and at a Merrily reunion Donna Marie Elio spoke of welcoming the new cast "into the family." Everyone who participates in the show brings something new to it. Merrily has evolved like a medieval cathedral, built over many years with many artists and artisans contributing something—a flying buttress here, some stained glass there and a steeple or two—to create something new and wonderful. And Fiasco has become part of the continuum, one that promises to continue to continue.
Merrily We Roll Along is now playing at the Laura Pels Theatre at 111 West 46th Street in New York. For more information, go to RoundaboutTheatre.org.