Once KGB Agent, Always a KGB Agent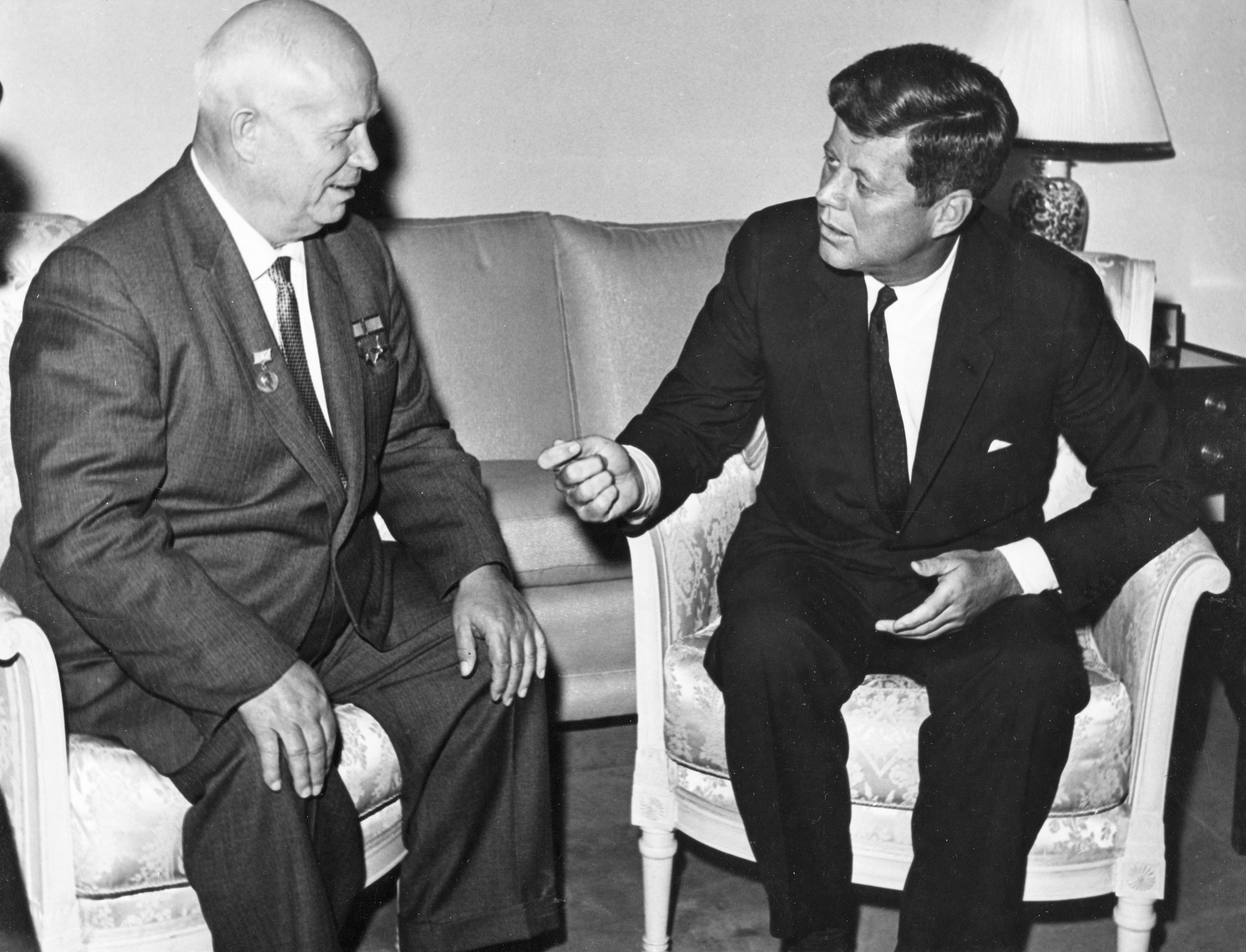 Nina Khrushcheva's grandfather, Nikita Khrushchev, was the leader of the Soviet Union who wrestled with President John F. Kennedy during the Cuban Missile Crisis, bringing the world to the edge of nuclear war.
In this extract from her new memoir, she recalls how she saw the rise of Vladimir Putin as the true heir to Joseph Stalin.
On New Year's Eve, 1999, I found myself back in Moscow with my mother on the same day that the Russian leader Boris Yeltsin—by then feeble and universally despised—resigned.
[First Part: Khrushchev: Hero or Villain?]
It was a cold and snowy winter day when I walked into our Moscow apartment. My mother was tuning into Yeltsin's successor, Vladimir Putin's speech on television as the new president vowed to battle the Kremlin oligarchy, praised the supremacy of the law, and promised not to stay in office a day past his two constitutionally allowed four-year terms.
[Second Part: A Breath of Fresh Air in the Kremlin]
"Doesn't he sound really smart and decent?" my mother said.
"He used to be a KGB colonel," I replied. "Once an agent, always an agent."
"No, he is from St. Petersburg, our window into Europe. He is young, only 48, and anybody is better than Yeltsin." Mother was channeling the traditional Russian belief that the next czar will always be better than the previous one.
I shook my head.
"Yeltsin was corrupt, horribly, I am sure. He was drunk and shameful most of his presidency, but there were free elections, free speech. You'll see: Putin will be another Brezhnev, if not Stalin. His absolute power will corrupt absolutely." I didn't say it at the time, but I also had a hunch that Putin's years in power would not be good for our family, for Grandfather's legacy.
My predictions were quickly confirmed. The incoming president's promise to restore Russian self-respect after the anarchy of the Yeltsin era seemed to be an alarming reminder of our despotic past—from his top to bottom approach to governance, to his control of the media and the electoral process. What's more, having lived through an impossible transition, two-thirds of the country at the time believed that the post-communist reforms had done Russia more harm than good.
Having been taught that the state's interests are greater than the people's, half of the public was yearning for a return to Stalinesque tough leadership and mourned their lost "status of a great respected world power." It was as if they were saying, "Yes, we were killed and imprisoned by the millions, but how grandiose were our victories and military parades!"
They voluntarily surrendered to Putin's guarantee of "stability and order," which, even then, I perceived as a new type of gulag—a place with no barbed wire or guards carrying Kalashnikovs but the gulag of the Russian mind, an invisible prison within us all.
Worried about our democratic future, I began writing a syndicated column pointing to various similarities between Putin's style of leadership and that of Leonid Brezhnev and Joseph Stalin. One of my articles appeared in the Moscow liberal daily Kommersant's section titled, "No Comment."
I was flattered by the recognition, but my mother was not. She called from Moscow to complain. "Horrible translation," she said. "And it's on the last page. Now, at a time there is increasing public praise for Stalinist rule, everyone hates Khrushchev."
"The paper is not to blame," I replied. "You are too sensitive. Translators are always in a rush. 'No Comment' happens to be on the last page. And I don't even mention Khrushchev."
"Of course, he is mentioned," Mother exclaimed. "His name is on it!"
She meant my byline. But after 20 years, it wasn't just his name; it was mine as well. Before I started this book, I rarely wrote about Grandfather. Yet most of the readers treated my writing as if Khrushchev was speaking from the grave anyway. And this time they saw my criticism of Stalin as some sort of secret speech déjà-vu.
But the public's pro-Stalin reaction to my articles paled in comparison to what was in store for the Khrushchev legacy. In 2000, former Soviet Defense Minister Marshal Dmitry Yazov—one of the leaders of the 1991 hardliner coup—released a best-selling memoir called Blows of Fate. The minister, whose reputation had been fully refurbished under Putin, conveyed "an unattractive story of the 20th Party Congress main speaker's son." "It is well known," Yazov wrote, "[that Nina Khrushcheva's elder son and Nina Khrushcheva's birth grandfather] Leonid Khrushchev actively worked with the fascists."
As the Putin era progressed, my father became the Benedict Arnold of contemporary Russia. Stories about his alleged treason emerged in films, publications and news reports. Some claimed that Stalin had learned of Leonid's betrayal and ordered his execution and that Khrushchev had allegedly begged on his knees for his son's life, but to no avail.
Most went even further, suggesting that my grandfather only denounced his dictatorial predecessor's "pernicious cult of personality and its consequences" because Stalin had killed Khrushchev's son, and, by extension, there was nothing virtuous in father Nikita's effort—however imperfect—to steer Soviet society toward greater openness and less repression.
As a nation, we had come full circle, reverting back to the Stalinist state of mind. As the accusations continued, I realized that I could no longer write only about Putin's politics and pretend my name has no bearing on my views. The public thought otherwise, and I was finally ready to openly say it: Khrushchev's legacy matters, as does honoring the memory of his son.
Without someone to defend them, they would become distorted, tarnished, ripped from the roots of reality in the Putin state, which was steering our country back toward autocracy.