An orange lobster was saved from becoming someone's meal at a restaurant in Scottsdale, Arizona after the kitchen staff's curiosity about the oddly-colored crustacean led them to contact an aquarium.
"One, in particular, more or less caught our eye," Executive Chef at Nobu Carl Murray told 12 News, a local affiliate of NBC. "I said, 'Hey for curiosity sake let's call the aquarium here and see what we have.'"
The news outlet reported that the lobster turned up at the restaurant over the summer and staff reached out to the OdySea Aquarium after recognizing how rare it is.
"Immediately, its kitchen staff recognized its one-in-30 million uniqueness, prompting a call to the OdySea Aquarium, where it was later donated," a press release published by the OdySea Aquarium read.
Because of the lobster's bright coloring, it is more difficult for orange lobsters to survive in the wild rather than in an aquarium. The OdySea Aquarium wrote that unlike lobsters with a browner and muddier coloring, the pumpkin-colored lobster is more noticeable to potential predators.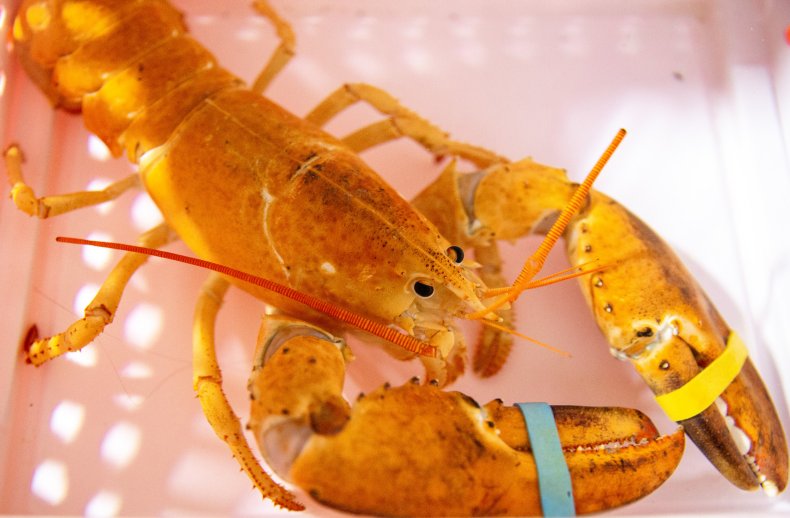 Murray told 12 News that the restaurant serves about 100 lobsters each week and the orange lobster was almost steamed to be a part of a customer's meal.
"The chance of finding a lobster this color in the wild is one in 30 million, so we are really fortunate to have it in our aquarium," said Director of Animal Care at OdySea Aquarium Dave Peranteau. "We are grateful to Nobu for recognizing the lobster's significance and reaching out to us regarding this incredible ambassador for its species."
He told Newsweek that while he's seen different color variations of lobsters throughout his years of work, this is the first time a uniquely colored lobster will be on display at the aquarium.
The lobster, which was identified as a female and has yet to be officially named, will join the other species of lobsters that are in the aquarium.
"It is a great opportunity to talk about an animal many people may not think past about for a dinner option," Peranteau told Newsweek.
The aquarium's animal care team is in the process of preparing the ideal habitat for the lobster. However, Peranteau said this will take some time and cannot happen overnight. According to officials at the aquarium, lobsters can live 100 years and grow more than three feet long and more than 40 pounds.
An orange lobster isn't the only type of lobster with unusual coloring. The University of Maine's Lobster Institute wrote that most lobsters are a greenish-brown color. However, there are times that lobsters are blue, yellow, white or more than one color. When cooked, all but the white lobsters will turn red.
Peranteau told Newsweek that a lobster's shell may come out a unique color due to a genetic mutation.
In July, Newsweek reported that a fisherman reeled in a blue lobster. The fisherman was out on a fishing haul in Gloucester, Massachusetts when he came across the lobster.
After taking a few photos, which the fisherman said appeared to be "glowing" from the trap, he tossed it back into the sea.
Newsweek has reached out to Nobu for further comment but did not hear back by press time.
Updated 09/30/2021, 6:11 p.m. ET: This story has been updated with comments from Director of Animal Care at OdySea Aquarium Dave Peranteau.