One Billion People Have Traveled by Airplane This Year, With Only 44 Documented Cases of Coronavirus Transmission
Roughly 1 billion people have traveled by plane since the beginning of 2020, and just 44 coronavirus cases were confirmed among them, according to the results of a recent study.
"One of the things about air travel that people need to know...over a billion people have traveled by air this year, over 1 billion," said Ed Bastian, CEO at Delta Air Lines, during an appearance on CNBC's Squawk on the Street Tuesday morning. "There's only been 44 documented cases of suspected COVID transmission amongst those billion, and virtually all of those happened in the early weeks of the pandemic."
Bastian cited figures in a report published by the International Air Transport Association (IATA) last week. The report detailed the association's analysis of aircraft manufacturer studies that looked at the risks of in-flight virus transmission.
The IATA examined the reported incidence of coronavirus cases linked to air travel, using data collected from Airbus, Boeing and Embraer, three of the largest commercial aircraft manufacturers. Delta planes are manufactured by Airbus and Boeing.
The IATA said its "outreach to airlines and public health authorities combined with a thorough review of available literature has not yielded any indication that onboard transmission is in any way common or widespread." However, it recognized that "there is no way to establish an exact tally" of positive coronavirus cases connected to air travel.
On Tuesday, Bastian pointed out that protocols, such as mandatory use of face coverings by aircraft passengers and staff, were not yet implemented when most of the documented cases were confirmed. In a statement, Dr. David Powell, a medical adviser at the IATA, said "the vast majority" of cases were confirmed "before the wearing of face coverings in-flight became widespread."
Delta announced its face mask mandate at the end of April, and requirements went into effect during the first week of May. The airline now requires passengers and employees to wear face coverings while aboard aircraft, in addition to Delta-operated airport areas. These requirements are similar to those established by other major airlines.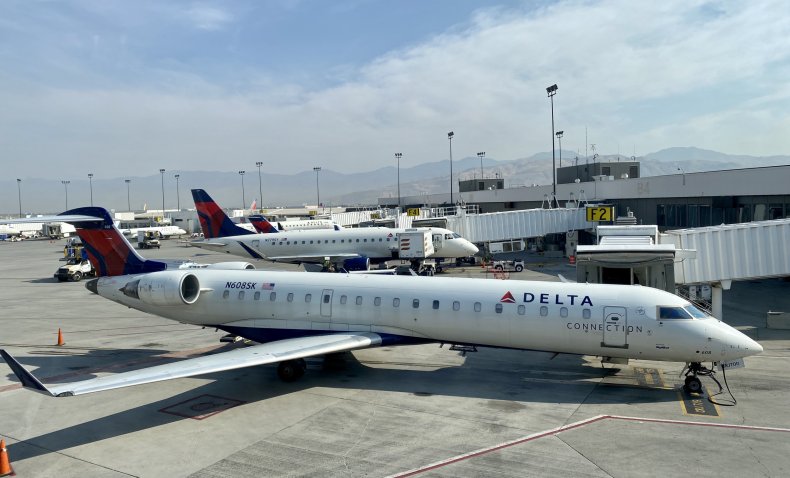 As airline companies continue to report declining revenues during the pandemic, Bastian said travelers' reluctance to fly—relative to previous years—is not necessarily motivated by fears about virus transmission. He discussed Delta's third-quarter earnings and the pandemic's impact on profits on Squawk on the Street soon after Delta reported a net loss of $5.4 billion between late June and late September of this year, compared with the third quarter in 2019.
Acknowledging the pandemic's financial consequences, Bastian suggested that "consumers are feeling really safe with travel" and called forecasts for the upcoming holiday season "encouraging." While customers may be deterred from air travel because of mitigation protocols or coronavirus transmission rates in their desired destination areas, trends indicate that consumers' confidence in air travel has increased steadily throughout the year, he said.
Newsweek reached out to the IATA for additional comment but did not receive a reply in time for publication.