One Canadian Province Ending COVID Protocols, Says Cost Outweighs Benefits
The Canadian province of Saskatchewan announced Tuesday that it would be ending all COVID-19 regulations by the end of February.
It's the first province in the country to make this move as the "Freedom Convoy" of truckers continues to protest against vaccine mandates in Ottawa, the nation's capital. For Saskatchewan's population of nearly 1.2 million, vaccine passports will no longer be required starting February 14 and masks will no longer be required indoors by the end of the month.
Saskatchewan Premier Scott Moe said at a COVID update on Tuesday the costs of the vaccine passport mandate outweighed the benefits, as it has created a deep political divide.
Moe added that the mandates were implemented in September when the Delta variant was in full swing. Now that the Omicron variant, while highly contagious, is showing to be less severe than other strains of the virus, officials from the province have decided to do away with them.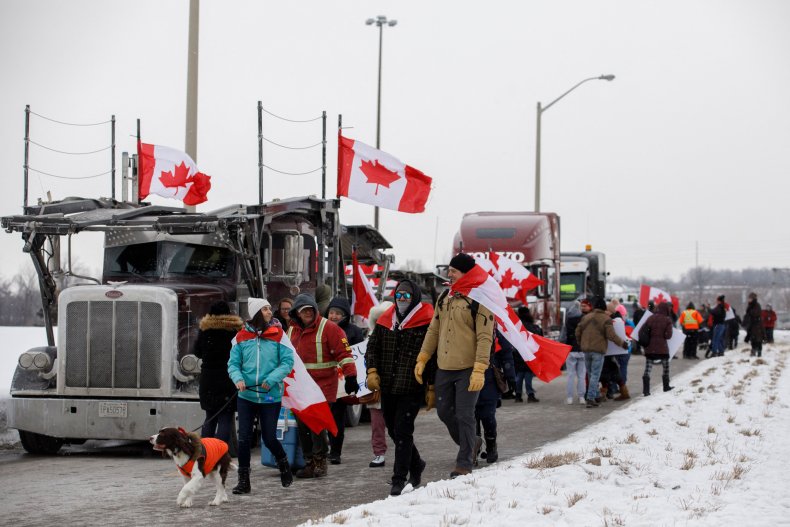 "The reason we're able to remove this policy is it's run its course," Moe said. "It has increased our vaccination rates in the province substantially since it was introduced."
Saskatchewan's COVID-19 statistics webpage shows cases are beginning to fall from their Omicron highs. New weekly cases peaked the week of January 17 at 9,295 and were sitting at 5,377 as of the week of January 31.
Over 75 percent of Saskatchewan's population is fully vaccinated, meaning they have received at least two doses of the vaccine, according to the Canadian government's vaccination tracker.
Province health officials also encouraged people in a press release to get their booster shots, adding that those between the ages of 12 and 17 are now eligible for the additional dose. So far, about 38 percent of the province's population has received a booster, government statistics said.
Moe said in the press release that in addition to vaccines, rapid COVID testing kits will also be available to residents.
"As we shift to living with COVID-19, there is a continuing need for personal responsibility for self-monitoring, self-testing and self-management," Moe said. "It will be important for individuals to assess their own risk and comfort levels, and to take appropriate action if they are unwell."
Dr. Saqib Shahab, Saskatchewan's chief medical official, urged people to plan for a future without mask mandates.
"If our trends continue, there will be a time where mask use will not be a mandatory order and we should start thinking about at work, at school, what our decisions would be for ourselves, our children," Shahab said.
While Saskatchewan is the first Canadian province to end its regulations, others will soon follow as they feel increased pressure from the trucker convoy protesting vaccine mandates for those crossing the United States-Canada border. While the protest began in the capital of Ottawa, Newsweek reported Tuesday it has spread to the U.S., with protesters blocking a bridge from Detroit to Canada and causing it to close for the first time in decades.
Quebec said it would end most COVID-19 restrictions by March 14 and an Alberta premier plans to announce measures "to lift damaging restrictions if pressure on our hospitals continues to decline," the Associated Press reported.
"It's time to heal the divisions over vaccination in our families, in our communities and in our province," Moe said in the statement. "It's time for proof of vaccination requirements to end."
Update 02/08/22, 6:00 p.m. ET: This story was updated with additional information, another quote from Saskatchewan Premier Scott Moe and a quote from Dr. Saqib Shahab.
Update 02/08/22, 5:30 p.m. ET: This story was updated with additional information and a quote from Saskatchewan Premier Scott Moe.