Can Mixed Martial Arts Startup ONE Championship Hold Off UFC's Move Back Into Asia?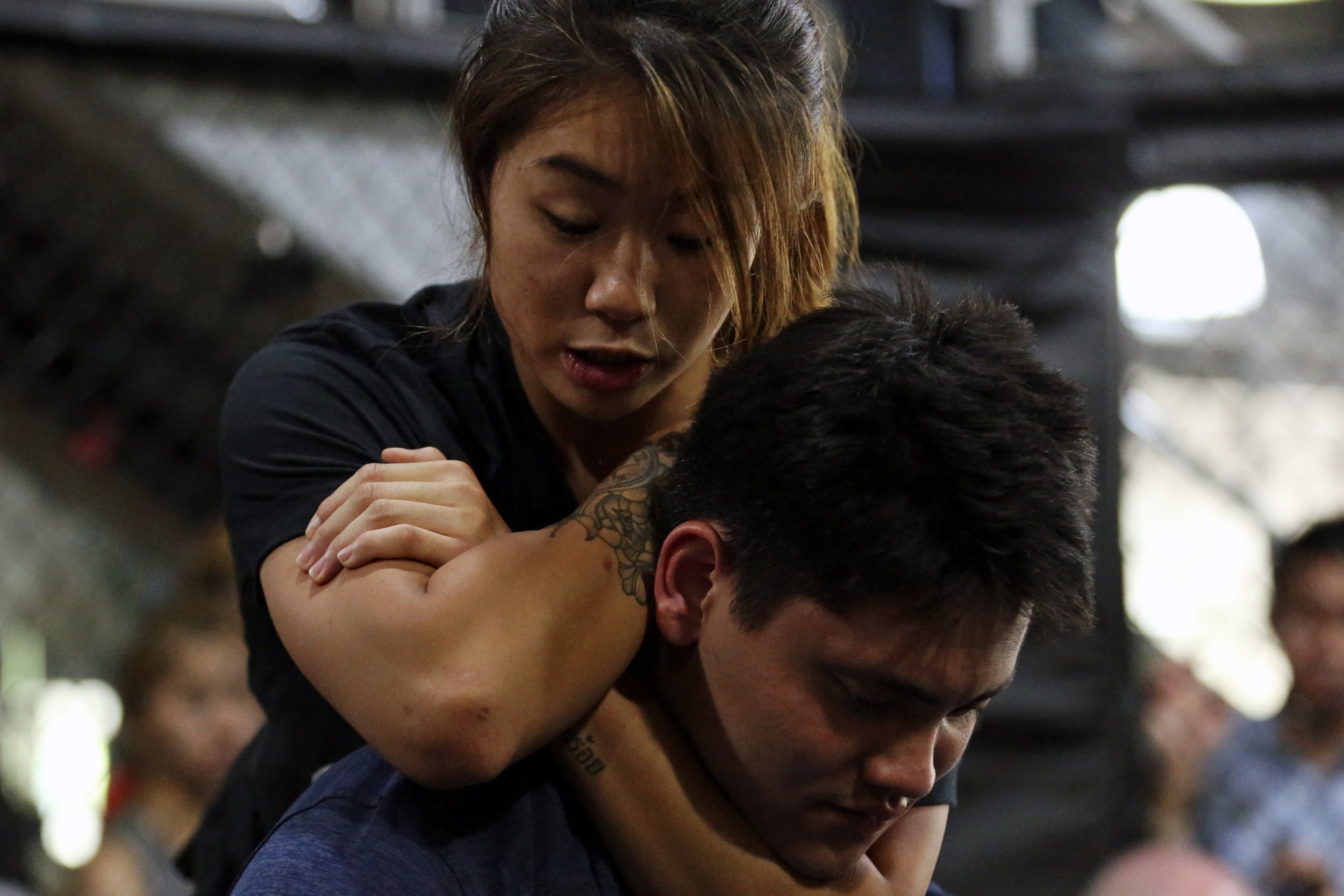 "For us, even if Conor McGregor was a free agent we would never bid for him."
Just let that statement hang, for a second, in the air, on the page. It's a hell of a statement because McGregor is by consensus the world's biggest mixed martial artist, in whatever aspect you choose to judge from. He's a pay-per-view colossus, a figure who transcends the sport. McGregor draws as much attention when he doesn't fight, when he's yabbering about fighting Floyd Mayweather in a boxing match, when he's wearing mink, or turning up to the Grand National open-shirted.
Add up all of those things, spin them together into the mix that McGregor devotees find so intoxicating—then believe that Chatri Sityodtong, the owner of the bombast above as well as ONE Championship, the Singapore-based MMA company, likes none of them.
"He [McGregor] doesn't exemplify the values of martial arts," Sityodtong tells Newsweek. "He doesn't exemplify the culture of Asian values. Of humility, of discipline, of courage. He says, 'F-U,' he throws water bottles, he talks about people's mothers in a derogatory way. That just would not fly with the Asian audience. It wouldn't resonate."
Among the criticisms that can be laid at the doors of McGregor's fleet of luxury sports cars is not, surely, his nationality. Nor would it be fair to say that the man who went from Dublin plumber to become the Ultimate Fighting Championship's (UFC) first dual-weight world champion lacks courage—a bloody war with Nate Diaz at UFC 202 in August of last year should be evidence enough to refute that.
And yet, Sityodtong has long since earned the right to a fair hearing for his views. Since 2011, when he started ONE Championship, the business has taken over 80 to 90 percent market share of Asian MMA, according to its Thai-born owner. Sityodtong told Forbes last summer that in the next 12 to 18 months, ONE would be valued at $1 billion.
The fortunes of UFC, the pioneer of mainstream MMA in the United States and McGregor's home, and ONE are linked, of course. Sityodtong calls the two brands' hold over the sport a "global duopoly." "The largest player in the western hemisphere is UFC. The largest player in the eastern hemisphere is ONE Championship."
The geographical distinction is significant for Sityodtong. "Ultimately, fans want to root for people who share their common culture, values and even physical look, right?
"It's tribal. Our roster, for example, is 70 percent Asian and 30 percent non-Asian. If you look at UFC's roster, it is 98 percent non-Asian. I do believe their formula is very different from ours, meaning UFC tends to focus on the fights and the violence. That's why McGregor and Jon Jones work very well, resonate very well in the western hemisphere."
UFC's growth, from the "no-holds barred" events of the mid-1990s to its sale in the summer of 2016 to WME-IMG for $4 billion, has not, so far, included cracking the vast Asian market. The promotion last held a live event on the continent on November 28 2015, in South Korea. "UFC has never been a major player in Asia," Sityodtong says. "They have always been a minor player, two to three events per year. The fact that we have out-executed them comes down to the fact that we are very focused on Asia, and UFC has been focused on the western hemisphere."
There are wrinkles in the theory. Chan Sung Jung, garishly, thrillingly nicknamed "The Korean Zombie," has proved a popular addition to UFC, though his career was held up by the necessity of national service in his homeland. And in 2017, UFC plans a renewed assault on Asia. In June it will hold a card in Singapore—also the headquarters of ONE. Are the two brands about to step on each other's toes, or will they start throwing hooks at each other for the same audience?
"I really wouldn't say so," Sityodtong says. "We are throwing a minimum of 18 events here in Asia [in 2017]. I think they are throwing one or two. So we're not even on the same scale. We're broadcast for far more hours than they are across Asia. Our TV ratings are much stronger than theirs. We are on TV free-to-air or paid broadcast for up to 400 hours of content per year in most countries already.
"The market also is massive. So I don't think that we are going to bump into each other. But it's clear who the leader is in this area."
It hardly requires Sityodtong's Harvard MBA to understand his reluctance to expand outside of Asia, and the UFC's desire to take a greater slice of the pie in the far East. "We are 100 percent focused [on Asia]," he says. "There are two billion viewers in the same timezone. That's what makes it a very interesting media market—the largest in the world [in terms of] sheer number of people."
It's a captive market and, most importantly Sityodtong says, one that remains relatively untapped.
"Every region in the world has several multi-billion dollar sports media properties," he explains. "North America has NFL (the National Football League), NBA (National Basketball Association), NASCAR, UFC… they are all worth $5 billion to $30 billion each. You go to Europe and it's the same thing, EPL (English Premier League), Formula One, Bundesliga, Spanish La Liga. There is IPL in India, that's a billion-dollar business. Japanese baseball is a billion-dollar business there. There is also Chinese Super League. All country-specific. Asia has been the home of martial arts for 5,000 years. There is a home-grown martial art in every single country that is part of the culture, the history, the tradition of that country. That would be the genesis of ONE Championship."
Sityodtong may be critical of some of the personalities UFC has ennobled but admits without its success ONE might never have got off the ground. "I saw UFC was exploding in America, heading for mainstream status," he says. "And today I can say in America it is mainstream. In Asia I could see it was untouched. I could see that it was all about igniting what was already here."
A 12-year television deal with ESPN Star Sports, signed just a year after ONE's genesis in 2012, sent its fights into 24 countries across Asia. "The biggest driver [of growth], ultimately, is media rights," Sityodtong explains. "If you look at something like NFL which has $13 billion in revenues, $7 billion of that comes from media rights. CBS or ESPN is paying the NFL just for the right to show it on their channels. That is what we are going for."
While Sityodtong's force of personality drives ONE—"I do hope to serve as an inspiration for everyone across Asia," he says—UFC's public face remains Dana White, the President who stayed on to run the company day-to-day when it shifted hands from the Fertitta brothers, Lorenzo and Frank, to WME-IMG.
"I think Dana is a brilliant businessman," Sityodtong says. "I have utmost respect for him, he's done very well." But? "I would characterize him as a very American businessman as opposed to a global businessman, in terms of the nuances of culture and social sensitivities and values and political awareness of Asia.
"I think being a brash American, it's a little bit more difficult in Asia because Asia is made up of very different countries, different religions, social norms, values. You can't just come in here with an American attitude and succeed."
Hence why, perhaps, Joe Carr, UFC's Head of International and Content, talked in February of the "need for an Asian champion"—the UFC has never had one—and raised the possibility of signing China's "biggest MMA star."
Sityodtong has stolen in ahead of UFC there. Perhaps his greatest attraction right now, 20-year-old Angela Lee, was born in Vancouver to a Singaporean mother and South Korean father. In May 2016, Lee became MMA's youngest ever world champion when she defeated Japan's Mei Yamaguchi by unanimous decision. On Instagram—social reach matters for a fighter, whether you like it or not—she has 68.6 thousand followers.
The challenge, for Sityodtong and ONE, in building what he calls a "pan-Asian brand," is that crowds who respond vociferously to Lee in one area might react completely differently in another.
"You really have to be very connected at the local, grassroots level," he says. "But at the same time on a pan-Asian basis.
"In Japan they [fans] are very quiet. But let's say you come to Singapore, they are very passionate fans. We have to tailor and customize our approach to local differences."
UFC—despite playing catch-up—must present a challenge, too. Competition in business is welcome but not when it builds a pop-up store on your doorstep. Sityodtong may not like McGregor and he may think White paints with too broad a brush to appeal to Asia's combat sports audience. But the essential truth is that ONE and UFC have different approaches to similar goals: hoovering up pay-per-view buys, ticket sales and sponsorship.
"My vision, my dream, is to have four billion viewers who are absolutely in love with ONE Championship," he says. "And broadcasters who end up paying us billions of dollars in media rights. That's the pot of gold at the end of the rainbow."
Is that pot big enough for two giant mixed martial arts companies? As UFC begins to look east again, we are about to find out.