One Direction's Louis Tomlinson Says He'll Move Away From Top 40 Music After Snagging Billboard Top Social Nomination
Following his nomination for Billboard's Top Social Artist Monday, former One Direction singer Louis Tomlinson announced his intent to chart a new course in his musical career.
The English-Irish pop boy band's last performance took place on December 31, 2015, but Tomlinson continues to enjoy a robust fandom on social media since the five members went their separate ways, boasting more than 33 million followers on Twitter alone.
"Someone recently said something very interesting about how so many people focus on the 'end game' without enjoying the doing," Tomlinson wrote in a note screenshotted on his Twitter account. "I've been thinking a lot more about what success means to me."
"I couldn't help but crave a 'hit' single," he added. "It's because of this that I've spent so long on this album, trying to fit into top 40 radio, when in fact maybe I should start with that I love and work from there, instead of trying to write to a more specific formula."
Newsweek subscription offers >
Along with Tomlinson, Ariana Grande, GOT7, EXO and BTS have also also nominated for the Top Social Artist category. Viewers can cast votes starting today, here.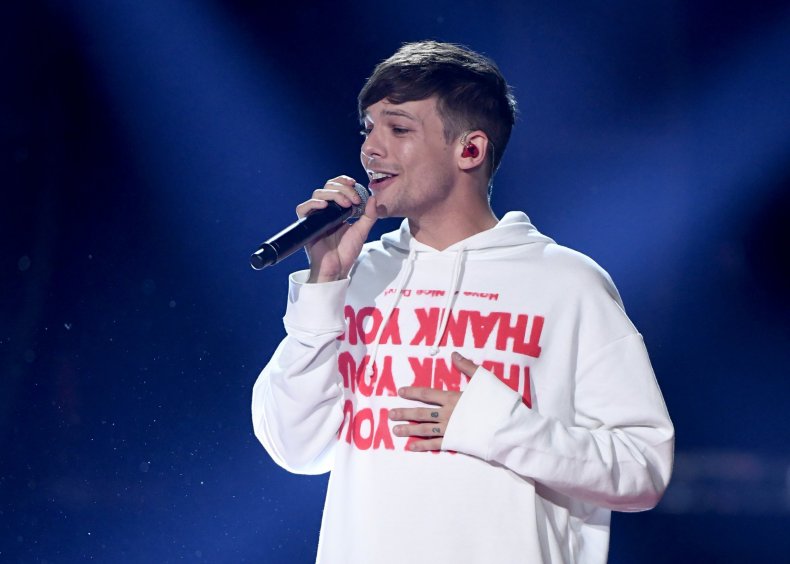 The 27-year-old's message comes a little more than a month after his younger sister, Félicité Tomlinson suddenly passed away after suffering a heart attack. She was 18 years old.
"Over the last few weeks I've put a lot of things into perspective and in fact what I should be doing is forgetting about perception and to a certain degree worry less about being defined on commercial success.
Newsweek subscription offers >
''I'm not here to compete with the likes of Drake and Ariana Grande. I'm here to make music I love and make my fans proud to say they're a fan. Turning a page today. Enjoy today and enjoy the ride! Don't get lost on the way up!''
Fans quickly shared messages of support with the musician, predicting the new work would "be amazing and special if you put your heart into it."
Tomlinson thanked his fans last week for their "lovely words" following his sister's tragic death, reassuring everyone he is "back in the studio."
"Just wanted to thank everyone for their lovely words over the past couple of weeks. Back in the studio today to vocal something I wrote a few months ago. Sending you all loads of love," the singer tweeted.
The Billboard Music Awards air May 1 at 8 p.m. ET on NBC.
One Direction's Louis Tomlinson Says He'll Move Away From Top 40 Music After Snagging Billboard Top Social Nomination | Culture