Israel has vaccinated more than a fifth of its population—the highest proportion of any country in the world so far.
Meanwhile, the United States has managed to vaccinate around three percent of its citizens, although it clearly has a much larger population and has, administered more doses in total than the Middle Eastern nation.
Data from the Israeli Health Ministry's coronavirus dashboard shows that just over two million people in the country have received their first dose of the Pfizer-BioNTech vaccine out of a population of nearly 9.3 million—according to figures from the nation's Central Bureau of Statistics.
More than 187,000 people in the country have also received their second and final dose of the vaccine, providing them with the maximum possible protection. The Pfizer-BioNTech vaccine has an efficacy of 95 percent.
Even though Israel has a relatively small population, the figures are impressive given that its vaccination drive only started three weeks ago.
In this time, the country has managed to administer at least one dose of the vaccine to around 80 percent of the 70-79, 80-89, and 90+ age groups, government data shows. Over 60 percent of 60-69 year olds and more than 40 percent of 50-59 year-olds have also received at least one dose.
On several days throughout the past three weeks, the country has administered more than 100,000 doses a day, and authorities are aiming to vaccinate three-quarters of the population—the level at which herd immunity may be reached, scientists say—by March.
But take-up of the vaccine among the country's Arab community has been lower when compared to the majority Jewish population so far, France 24 reported.
The United States, meanwhile has administered more COVID-19 vaccine doses than any other country—a total of around 11.1 million, according to the Centers for Disease Control and Prevention (CDC.)
CDC data shows that more than 9.69 million Americans have received their first dose, while more than 1.3 million have had both doses.
The much larger U.S. population—roughly 329.9 million according to the U.S. Census Bureau—in comparison to Israel means that only around three percent of American citizens have received a vaccine dose.
In total, more than 30.6 million doses have been distributed across the United States and its territories, meaning only around one third of those available have been used.
The CDC said the reason for the large difference between the number of doses distributed and the number of people receiving their first doses was to be "expected" at this stage of the mass vaccination program.
This can be explained by several factors, the agency said, including delays in the reporting of administered doses and the management of available stock by various jurisdictions and federal pharmacy partners.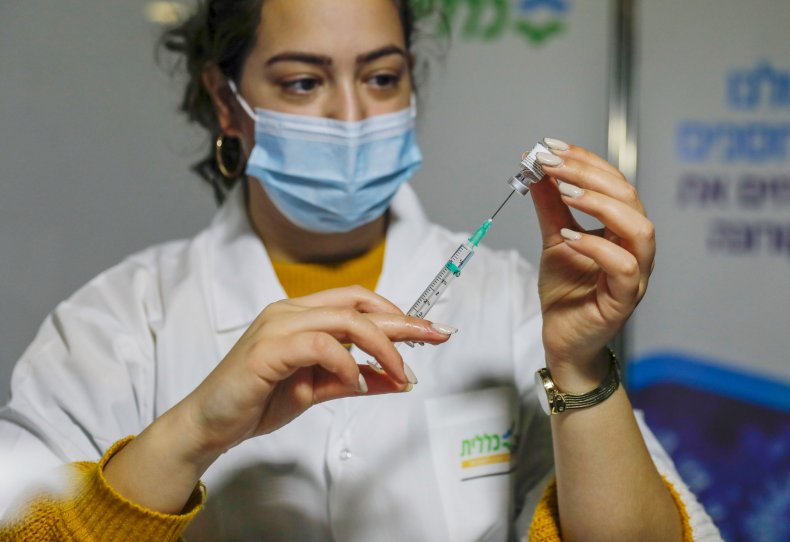 Uncommon Knowledge
Newsweek is committed to challenging conventional wisdom and finding connections in the search for common ground.
Newsweek is committed to challenging conventional wisdom and finding connections in the search for common ground.
About the writer
Aristos is a Newsweek science reporter with the London, U.K., bureau. He reports on science and health topics, including; animal, mental health, and psychology-related stories. Aristos joined Newsweek in 2018 from IBTimes UK and had previously worked at The World Weekly. He is a graduate of the University of Nottingham and City University, London. Languages: English. You can get in touch with Aristos by emailing a.georgiou@newsweek.com.