One Fourth of Coronavirus Cases in Ohio Are In Prison
Almost 25 percent of Ohio's coronavirus cases have been diagnosed among inmates and staff at state and federal correctional facilities, new data confirmed on Sunday.
Of roughly 50,000 people incarcerated in Ohio, at least 2,450 have tested positive for the disease so far, as have 282 employees. Those cases account for a substantial portion of the state's total, which was 11,602 as of Monday morning. Recent reports from Ohio's Department of Rehabilitation and Correction (DRC) as well as the United States Federal Bureau of Prisons confirmed 12 inmate deaths and one probable death as a result of coronavirus infection. One staff member has also passed away.
The majority of coronavirus cases identified among inmates have been diagnosed in two central Ohio state prisons, Marion Correctional Institution and Pickaway Correctional Institution, where 1,828 and 384 positive tests were reported as of Sunday afternoon. More than 100 inmates receiving medical treatment at Franklin Medical Center have also tested positive for the virus, in addition to at least 50 inmates at Elkton Federal Correction Institution, Ohio's only federal prison.
In response to the growing incidence of coronavirus diagnoses, Ohio's state officials have partnered with the state's DRC to implement procedures that aim to manage further spread. In a statement released Friday, Ohio Governor Mike DeWine announced that widespread testing was underway at Marion and Pickaway's correctional facilities, as well as Franklin Medical Center. His statement also disclosed plans to commute seven inmate sentences statewide of 84 commutation requests received.
Noting that administering tests to all inmates at these sites would identify coronavirus infections in both symptomatic and asymptomatic carriers, the governor said rising case counts "do not necessarily indicate a new problem at these facilities, but simply wider testing." He referenced the results of a test study conducted among a full dormitory of Marion inmates, which found that nearly 40 percent of those diagnosed did not exhibit symptoms.
"While we know coronavirus does pose a specific threat to congregate settings, this comprehensive testing will give us insight on both how to best coordinate response at these facilities, as well as data and insight on how comprehensive testing within a cohort will affect testing numbers," said DeWine in Friday's statement. The governor previously requested federal assistance to expand diagnostic testing among Ohio's general population. Per Johns Hopkins University's data, close to 87,000 tests have been administered throughout the state, which houses 11.6 million people.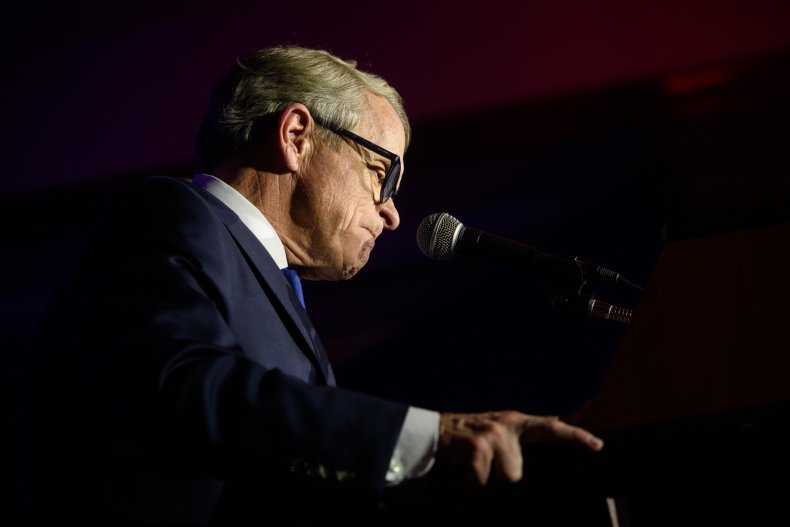 According to Ohio's DRC, the department has taken "an aggressive" approach to mitigation at its 28 facilities, which includes mass testing of inmates and staff at Marion, Pickaway and Franklin, as well as social distancing regulations implemented across most state correctional institutions. Close to 30,000 inmates have been placed under quarantine overall, with an additional 2,426 in isolation.
The DRC said it will begin widespread diagnostic testing of staff at Pickaway, where 64 employees have already tested positive, starting on Monday. To date, Marion has confirmed 109 coronavirus cases and one death among its staff. Members of Ohio's National Guard and State Highway Patrol are working at the Marion facility to provide assistance amid the growing absence of ill personnel.