One-Handed Shaquem Griffin Clocks Record Speed as He Shocks NFL Combine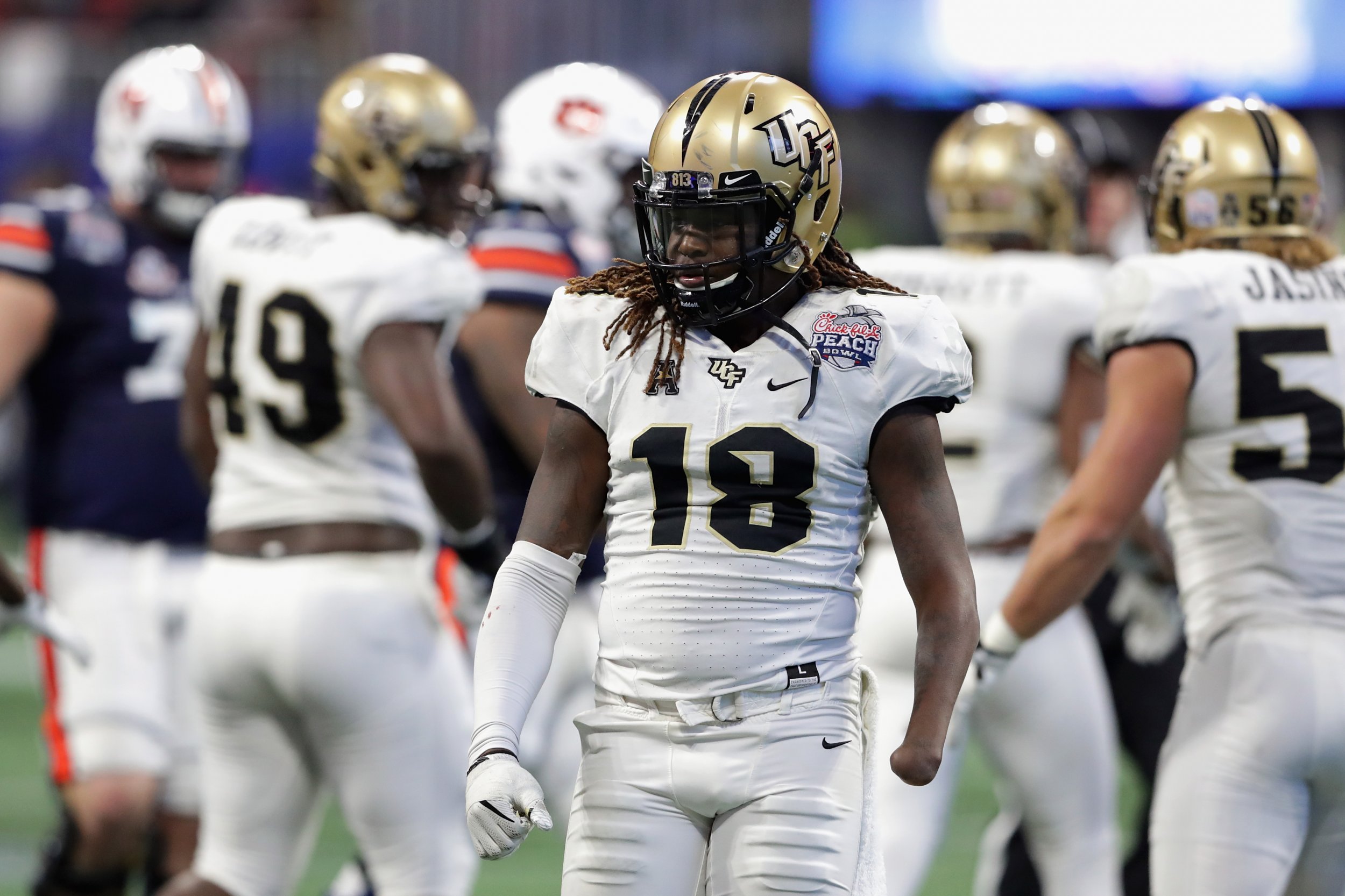 The NFL Combine in Indianapolis delivered a host of eye-catching performances but few were as impressive as Shaquem Griffin's.
Griffin had his left hand amputated when he was a child due to a pre-natal condition, but on Saturday he still managed to bench press 225-lb 20 times with the help of a prosthetic hand.
The result was even more remarkable considering that Griffin's previous best was 11 and that his twin brother, Shaquill, managed only 17 last year.
On Sunday, Griffin clocked the fastest ever time by a linebacker in the 40-yard dash, stopping the clock at 4.38 seconds, way faster than the historical average for outside linebackers, which stood at 4.68 seconds.
Incredibly, the time was exactly the same as that ran by his brother last year, although it is worth noting Shaquill weighs 30 pounds less than Shaquem. Griffin's time was also faster than the combine's top-rated wide receiver, Calvin Ridley and running back Saquon Barkley, who is considered a future star.
The latter impressed scouts himself, completing 29 bench press reps, tied with Georgia's Nick Chubb as the best of all running backs, and running the 40-yard dash 4.41 seconds.
However, Shaquem Griffin stole the show.
I felt the energy from everybody," he was quoted as saying by Sports Illustrated. "My adrenaline was going through the roof."
Speed has always been one of Griffin's main assets and he won an athletics scholarship to the University of Central Florida alongside his twin brother, before they both switched to college football.
Shaquill was drafted by the Seattle Seahawks as third round pick last year and Shaquem, who won the American Athletic Conference defensive player of the year in 2016, could soon follow suit. His performances certainly caused a stir with those in attendance.
Seahawks' cornerback and four-time Pro Bowler Richard Sherman tweeted that if Griffin "doesn't get drafted in the first two days the system is broken."
Pittsburgh Steelers' inside linebacker Ryan Shazier said "Griffin was flying."
While Griffin's performances caught the eye of players and coaches, the results of the NFL Combine are always to be taken with the proverbial pinch of salt.
The event can offer coaches a glimpse of a player's talent but in the past a number of athletes who impressed in the combine struggled in the NFL, while some recorded average results in the combine but became stars in the professional arena.
That said, however, Griffin is expected to be selected by a team in the later rounds of the draft.
"This is a legitimate football player," NFL Network analyst Mike Mayock said. "He's an energy giver."
Writing for NFL.com, Bucky Brooks, who spent five years in the league, added: "Griffin will intrigue teams as a special-teams player/developmental prospect."