One Million Moms Calls for Boycott of Upcoming Marvel Movie With Openly Gay Superhero
A conservative anti-LGBTQ group has called for the boycott of an upcoming Marvel Studios movie because it features an openly gay superhero.
The Eternals is said to an include a kiss between superhero Phastos and his husband. The movie's release is still eight months away, but as of Friday the conservative Christian group One Million Moms (1MM) has asked parents to waste no time in signing a petition aimed at stopping families from seeing the film because it goes against their "beliefs and values."
"Warning! An upcoming Marvel Studios movie will include a homosexual superhero and a same-sex kiss in the film The Eternals, set to hit theaters on November 6," the group wrote on their website. "One Million Moms needs your help to make sure as many people as possible are aware of Marvel pushing the LGBTQ agenda on families in the upcoming superhero movie The Eternals, which will be distributed by Walt Disney Studios."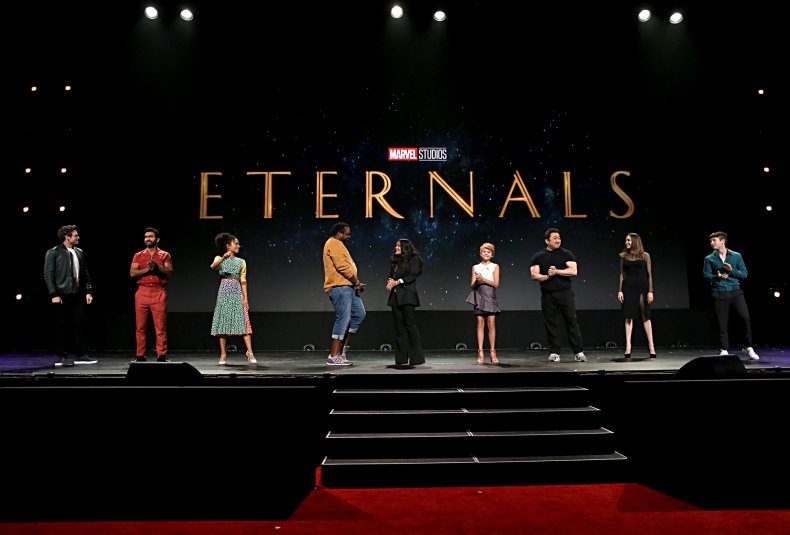 One Million Moms is an offshoot of the American Family Association, a nonprofit that calls itself a "conservative, pro-family organization" but has been designated a hate group by the Southern Poverty Law Center.
Despite the group's name, the number of mothers involved in the group is believed to fall far below one million. The group says they are "searching" for one million moms to join their cause, although being a mother is not required to join the group. The true tally of members is unknown, but some critics have suggested that the number could be as low as one single mom.
One Million Moms frequently launches campaigns attempting to boycott or censor films or television shows they deem immoral, often due to LGBTQ content. They recently complained about having been "blindsided" by a lesbian kiss that was briefly featured at the end of Star Wars: The Rise of Skywalker.
"There was a brief lesbian kiss somewhat in the background that 1MM and others unfortunately did not have a heads-up on since there was not a prior announcement leading up to the release of this film," the group wrote. "1MM believes this was done intentionally."
The group is launching their campaign against The Eternals early so homophobic parents won't be caught off guard by Marvel's "agenda" of being "politically correct" by including the studio's first-ever LGBTQ character.
"Marvel has decided to be politically correct instead of providing family friendly programming. Marvel should stick to entertaining, not pushing an agenda," wrote the group. "As moms, we all want to know when Marvel is attempting to desensitize our family by normalizing the LGBTQ lifestyle."
Although LGBTQ content is often targeted, it is not the sole focus of the group. Burger King was under fire from group in January over a television ad for its meatless Impossible Whopper. A commercial featuring a man uttering the word "damn" after participating in a taste test of the burger prompted an outraged response from the group, who demanded that the fast food chain censor "the d-word" or stop airing the commercial.
One Million Moms also took credit for the "demonic" show Lucifer being cancelled by Fox, although the network said the decision was due to high production costs and it was later picked up for another season on Netflix. The group has made similar unlikely claims about being the driving force behind other shows being axed, citing their own attempted pressure campaigns, often against LGBTQ-friendly content.