One Month Ago Joe Biden Declared U.S. Close to Independence From COVID; Where Do We Stand?
One month ago, U.S. President Joe Biden held a largely maskless Independence Day celebration at the White House and declared that the United States was "closer than ever to declaring our independence from a deadly virus."
Today, the highly contagious Delta variant of the novel coronavirus that causes COVID-19 has caused a growing surge in cases that have fueled a return to mask mandates and other restrictions meant to curb the pandemic in areas where cases are spiking.
A Newsweek analysis of Centers for Disease Control and Prevention data found that on July 4—the day of Biden's public address—12,813 people tested positive for COVID-19 across the country. Nearly a month later on Monday, the most recent data available, more than six times as many people—78,806—reportedly tested positive.
Additionally, deaths from COVID-19 have spiked. The CDC reports 101 deaths on the day of Biden's address, compared to 392 on Monday.
Because of varying state reporting schedules, the figures reported on July 4, a Sunday, could have lagged because of the weekend, but a review of the figures from the following day, a Monday, shows that there were 106 deaths reported on July 5, and 11,586 new positive cases were reported—both still well below the trends this week.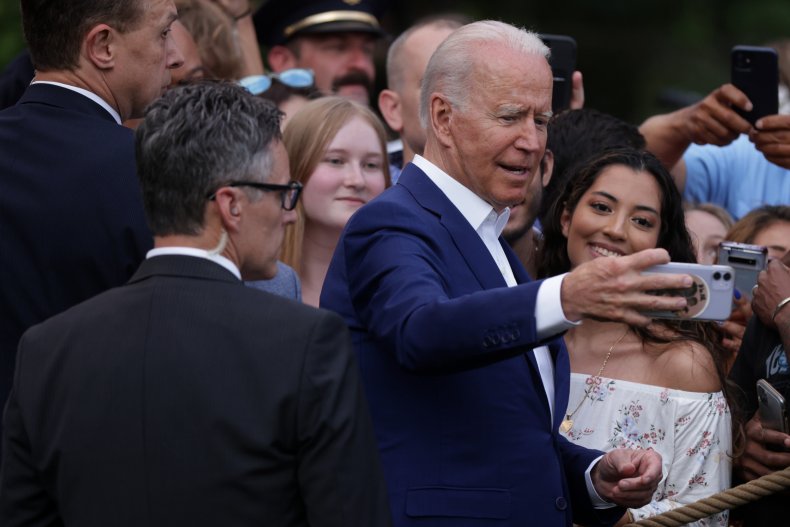 The White House didn't immediately respond to Newsweek's request for comment about this story, but Biden and administration officials have sounded alarms about the effects of the rapidly spreading Delta variant.
"This is a very different variant than what we've dealt with previously," Biden told reporters Tuesday. "Experts tell us that we're going to see these cases rise in the weeks ahead—a largely preventable tragedy that will get worse before it gets better."
Jeff Zients, who Biden has appointed as his COVID-19 response coordinator, also addressed the surge during a briefing with reporters this week and urged vaccinations.
"From the start, we've known that this virus is unpredictable," Zients said. "We have much more work to do to put this pandemic behind us."
Biden had initially called for 70 percent of American adults to have at least one shot of the coronavirus vaccine by July 4—a target that the country narrowly missed but has since reached as more than 192.6 million people have gotten at least one dose.
"I want to be crystal clear about what's happening in the country today: We have a pandemic of the unvaccinated," Biden said Tuesday.
Nearly 10,000 people have died of COVID-19 since Biden gave the triumphant speech surrounded by more than 1,000 people on the White House's South Lawn. The president is known to carry a card in his suit jacket pocket with the daily death count. The current tally is approaching 612,000, according to the CDC.
"Thanks to our heroic vaccine effort, we've gained the upper hand against this virus. We can live our lives, our kids can go back to school, our economy is roaring back."
He specifically touted the ongoing vaccine effort.
"Today, while the virus hasn't been vanquished, we know this: It no longer controls our lives," Biden said. "It no longer paralyzes our nation, and it's within our power to make sure it never does again."