One Month Out From the Election, Trump and Biden Are Still Battling for 5 Percent of Undecided Voters
For the vast majority of American voters, the presidential campaign is over because they've decided their candidate and have no plans of wavering from their choice. But that could leave about 5 percent up for grabs.
Undecided voters helped propel Donald Trump to the White House in 2016 and they're partially credited with why his victory was such a surprise. Now the president once again has a chance to sway those who are undecided, but it may not be enough to overcome Democratic candidate Joe Biden's lead.
"Undecideds know Trump and they're undecided because they don't like him. They may end up voting for him but it's unlikely the vote goes heavily his way," John Geer, a professor of political science at Vanderbilt University, told Newsweek.
A poll from Quinnipiac University put the number of undecided voters at only 5 percent—about a 5 percent decrease from the same time in 2016. In a different poll conducted by The Washington Post and ABC News found 92 percent of the 1,008 people polled planned on choosing either Trump or Biden for president. Of those who didn't pick Trump, 9 percent said they would consider casting their ballot for him—the same percentage of people who didn't pick Biden but would consider voting for him.
Similar results regarding people who would be open to casting their ballot for a major party candidate they weren't already supporting were found in a NBC News/Wall Street Journal poll. Of the 1,000 registered voters who were surveyed, 3 percent were unsure who they were supporting, and 3 percent said they weren't supporting either candidate.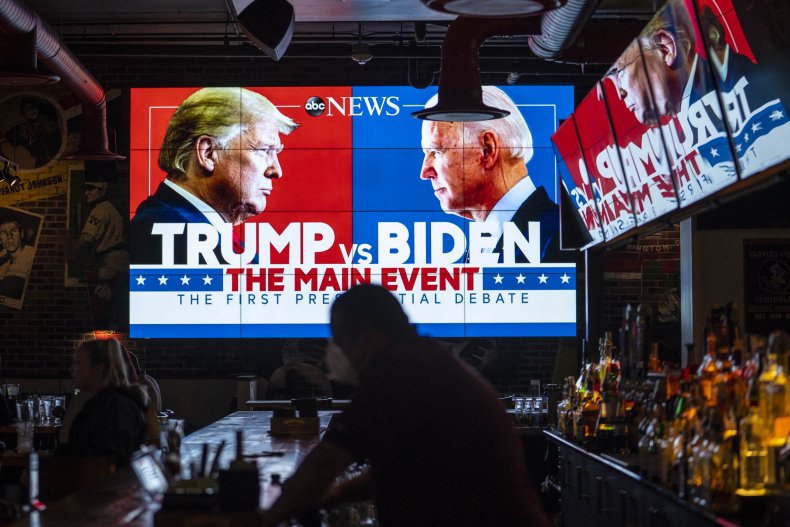 In 2016, Trump had the benefit of being unknown as a political candidate, so those who knew they didn't want to support Democratic candidate Hillary Clinton voted for him. However, after four years in office, he no longer has that benefit and historically, Geer noted that people who are undecided haven't committed to a candidate because they're "not wild" about the incumbent.
So the challenger is likely to get more of the undecided vote and if, hypothetically, there's seven percentage points, Geer predicted four would likely go to Biden and three to Trump. With polls putting Biden ahead of Trump by about seven points, his support from undecided voters is unlikely to make a "huge difference."
While debates are intended to give voters a chance to learn more about where candidates stand on the issues, only 29 percent of people considered the first one "extremely" or "quite" important to how they'll decide which candidate to support. Seventy-one percent of people that participated in The Washington Post/ABC News poll said it was only "somewhat" important or "not at all" important.
The poll was conducted before Biden and Trump took to the debate stage on Tuesday and a focus group conducted by Republican pollster Frank Luntz found it had mixed results on swaying voters. Of the 15 people in the group, four said after the debate that they would vote for Biden, two would go for Trump, and nine remained undecided, according to NPR.
"They seemed like little kids arguing. Or maybe old guys arguing in a diner somewhere. Maybe that's where they belong—in some diner arguing, not on the national stage," Ellen Christenson, a voter in Wisconsin, told The New York Times. "I am just so disappointed in the evening. I don't have any more information than when I started watching."
With so few undecided voters up for grabs, Lonna Atkeson, director of the Institute for Social Research at the University of New Mexico, told Newsweek candidates need to focus on getting their base supporters out to vote. A "critical" task for the campaigns is ensuring that voters know how to properly vote by mail—and if they want to go to polls, that the campaigns ensure they get there.