With One Month Until Election, Biden's Swing State Leads Point to Victory Over Trump in Popular Vote, Electoral College
One of the most important elections of our time, as both campaigns have referred to it, is only one month away, and polls are pointing to at least a popular vote victory for former Vice President Joe Biden.
With a month until the election, Biden holds a 7-point lead nationally over President Donald Trump, according to a Real Clear Politics average. The president's first campaign was filled with polls underestimating his ability to win, and he's dismissed 2020 polls that once again place him as the underdog.
"The Trump Campaign has more ENTHUSIASM, according to many, than any campaign in the history of our great Country - Even more than 2016. Biden has NONE! The Silent Majority will speak on NOVEMBER THIRD!!! Fake Suppression Polls & Fake News will not save the Radical Left," Trump tweeted in July.
Back in October 2016, Clinton had an average lead of about 3 percentage points over Trump, according to Real Clear Politics. In the end, she received about 2 percent more popular votes than he did, a number in line with her lead in national polls. But Trump won by 74 Electoral College votes.
Since 2004, there has been only one other instance of a candidate winning the presidential race despite not having a clear lead in the national polls in the month before the election. In October 2012, President Barack Obama started out strong with a 4-point lead over Republican Mitt Romney. However, Romney closed the gap about a week into the month, according to Real Clear Politics, and the two were in a statistical tie for most of October.
Despite a close race to the finish line, Obama won both the popular vote, with 51 percent, and the Electoral College, with 332 votes to Romney's 206.
Four years earlier, Obama held a much stronger lead against his opponent, GOP Senator John McCain. In October, he averaged a 6-point advantage over McCain and won the election with 62 percent of the popular vote and 365 Electoral College votes.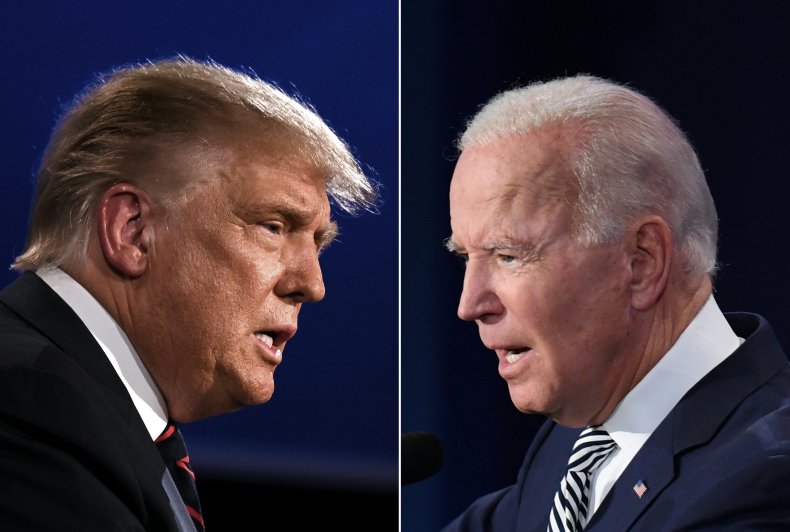 President George W. Bush, who maintained his polling lead in October 2004, won the popular vote by about 2 points, a number that reflected the lead that polls showed he held over Democratic candidate John Kerry.
It's possible Biden's national support in polls could indicate how the popular vote will go while Trump pulls out another Electoral College win. But the Democratic nominee also leads Trump in many of the swing states. In the final month before the election, Biden has a 4-point lead or more in seven of the 13 battleground states identified by The New York Times—Arizona, Michigan, Minnesota, New Hampshire, Nevada, Pennsylvania and Wisconsin.
Let's assume Biden takes the states that are likely to go Democratic and Trump takes solidly red states. If Biden wins five of the nine battleground states he leads in—Pennsylvania, Michigan, Wisconsin, Arizona and Minnesota—he'll win in the Electoral College.
However, the election isn't over until it's over, and there are a number of battleground states where Biden could lose his lead between now and November 3. Trump is within 1 or 2 percentage points of Biden's lead in North Carolina, Florida and Georgia.
Florida is going to be critical for Trump, John Geer, a professor of political science at Vanderbilt University, told Newsweek. Without Trump carrying Florida, Geer doesn't see a "path forward" to winning in the Electoral College. Based on states that are expected to vote Democratic or Republican, Trump's loss of Florida could put Biden only 29 votes away from victory.
If Trump takes Texas, where he has a 3-point lead over Biden; Florida, which he won by less than a percentage point in 2016; and the rest of the "toss-up" states—Iowa, Ohio, Georgia and North Carolina—he still needs to carry some of the battleground states where polls give the advantage to Biden.
Iowa, which Trump won by nearly 10 points, is shaping up to be the closest contest, and with a month left in the campaigning, he and Biden are in a neck-and-neck race. Biden holds only a half a percentage point lead, according to a Real Clear Politics average, and on Thursday Vice President Mike Pence visited the state to drum up support among faith-based voters.
Now, polls proved a faulty predictor of how the Electoral College would vote in 2016, and it's certainly possible the same will be true in 2020. However, some of the mistakes of 2016's polling strategies have been remedied, and Lonna Atkeson, director of the Institute for Social Research at the University of New Mexico, told Newsweek that Biden's lead could indicate how the Electoral College will vote.
"It's hard to imagine [Trump winning]," Atkeson said. "When [Biden's] getting over 4, 5 points, the Electoral College issue sort of goes away."
With two presidential debates left before the election, Trump may have opportunities to change the dynamics of the race, but his positive diagnosis for the coronavirus means at least one of those debates may not happen. In line with guidelines from the Centers for Disease Control and Prevention, the president should isolate himself for at least 10 days if he has no symptoms, which would keep him away from others almost until October 15, the date of the next debate.
But at this point, debates likely aren't going to sway many voters, as most have probably made up their minds already. The real battle on both sides may be making sure supporters don't just say they're going to vote but actually turn out.