Treasury Secretary Steven Mnuchin on Wednesday assured Americans that lawmakers across party lines are making a new effort to reach a second economic relief deal before the November election.
"Well, I say we're going to give it one more serious try to get this done, and I think we're hopeful that we can get something done," Mnuchin said during the Delivering Alpha conference presented by CNBC and Institutional Investor magazine. "I think there's a reasonable compromise here."
Mnuchin added that he had lengthy conversations with Speaker of the House Nancy Pelosi over the weekend. He said that he expected that he would meet with her again Wednesday afternoon and that "we'll deliver a response" on a bipartisan proposal.
"In many cases, we do have things that we agree on and we have things that there are differences, and we're trying to see if both of us can manage a package that gets some of what everybody wants," Mnuchin said of their working relationship.
Mnuchin revealed that the "reasonable response" would be "very similar" to what the Problem Solvers Caucus, a bipartisan group of lawmakers, put forth in their $1.5 trillion package earlier this month.
A compromise is something President Donald Trump wants as well, Mnuchin said Wednesday, acknowledging that parts of the economy still need help managing the fallout from the severe recession caused by the coronavirus pandemic.
Trump previously said he agreed "with a lot" of the proposal put forth by the caucus, but Pelosi has pushed back against the amount of spending in the legislation, which is lower than what the Democrats want. "We can only go so far," she said.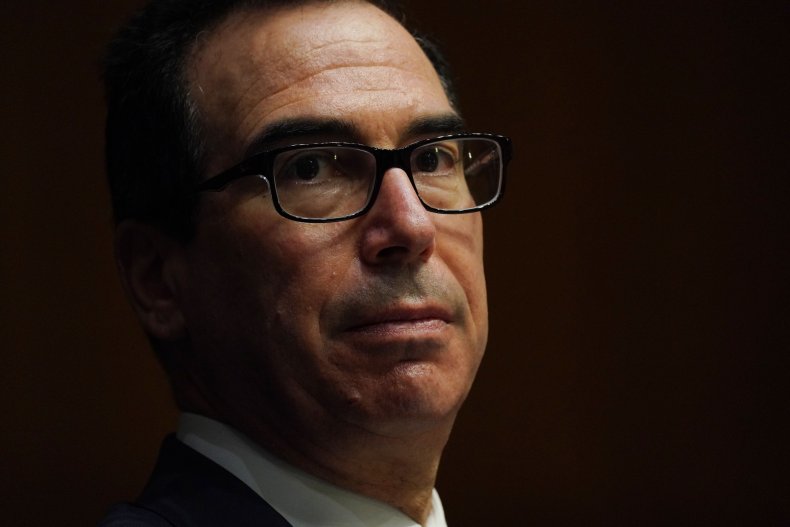 The secretary's comments come after the Democratic-controlled House passed an updated version of its HEROES Act, reducing the package's cost from the $3.4 trillion proposed in the original legislation in May to $2.2 trillion.
House Majority Leader Steny Hoyer said Wednesday lawmakers hoped the GOP would provide a "substantive response" to the updated act, as the original price tag was a point of contention between Republicans and Democrats. Earlier this summer, the initial bill had been branded dead upon arrival in the Republican-controlled Senate.
The new Health and Economic Recovery Omnibus Emergency Solutions (HEROES) Act includes measures that would provide another round of direct payments to American individuals and families, improve the Paycheck Protection Program (PPP) and provide more funds to bolster education, according to a one-page summary highlighting the bill's provisions.
Many of the measures are ones that Republicans and Democrats agree upon, Mnuchin said Wednesday. The contention lies within the size and scope of the provisions. This largely comes down to money, as Senate Republicans want a much less expensive package. Senate Majority Leader Mitch McConnell proposed one costing about $500 billion, which Democrats immediately attacked.
"In many cases, we actually have an agreement between the Republicans and the Democrats on what we want to do. But in certain cases, the issue is really about the size and scope of how much we want to do," Mnuchin said. "So there are certain policies where we do have differences, but there's a lot of commonality."
Areas drawing "enormous" bipartisan support include extending the PPP, additional direct payments and funding for the airline industry, Mnuchin said. He acknowledged earlier in the interview that small businesses are still suffering and that more money is needed for kids who are going back to school.
Mnuchin also mentioned the need for small businesses to have liability protection in case workers get sick with the coronavirus, saying that is necessary to open the economy. Top Democrats, however, have stood firm in their opposition to such a measure.
The secretary revealed that he and White House chief of staff Mark Meadows spoke on Tuesday with House Minority Leader Kevin McCarthy and McConnell to discuss striking a bipartisan deal.
"We went through with them what our thoughts are," Mnuchin said. "And let's see if we can get a compromise agreement with the speaker, something that works, and then we'll continue to work with both sides to work on all the exact language and the policies."
Members of Congress have spent the past six months quarreling over a new federal aid package since the previous one, the Coronavirus Aid, Relief and Economic Security (CARES) Act, was signed by Trump in March.
While lawmakers are now generally in agreement that another round of economic relief is needed to help the suffering economy, debate remains over the details, leaving many questioning whether a deal can be struck before the November 3 election.
Newsweek contacted Pelosi, McCarthy, McConnell and the White House for additional comments but did not hear back in time for publication.