One Nation Banned the Word 'Coronavirus' to Suppress Information About the Pandemic
As governments around the world work to curb the growing coronavirus pandemic, one country's leaders have taken extraordinary steps to suppress information about the virus.
Turkmenistan's government has reportedly banned the word coronavirus, while also arresting people wearing face masks or talking about the pandemic in public, according to Reporters Without Borders. The country's state-controlled media are not allowed to say or publish the word, and information about coronavirus has also been removed from government health brochures distributed in workplaces, hospitals and schools.
"The Turkmen authorities have lived up to their reputation by adopting this extreme method for eradicating all information about the coronavirus," Jeanne Cavelier, the head of Reporters Without Borders' Eastern Europe and Central Asia desk, said in a Tuesday statement.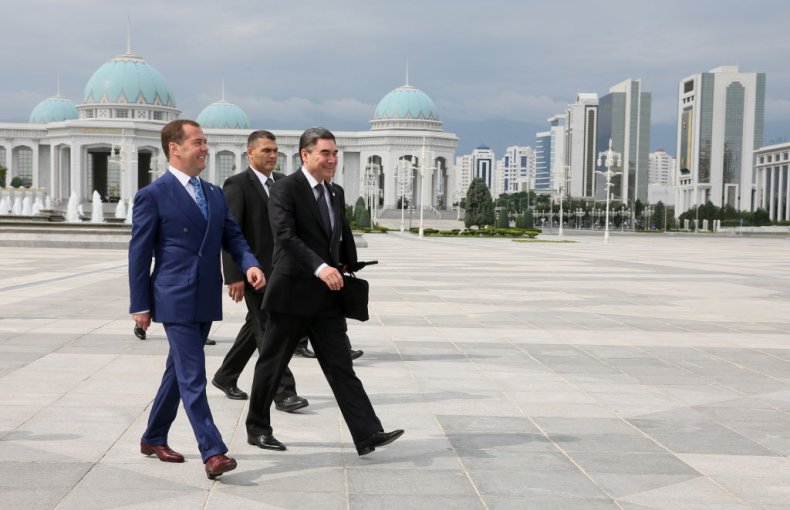 "This denial of information not only endangers the Turkmen citizens most at risk but also reinforces the authoritarianism imposed by President Gurbanguly Berdymukhamedov," Cavalier added.
The independent news site Chronicles of Turkmenistan, which is blocked in the country, has reported that the government officially claims there are no cases of coronavirus within the country. But the site additionally noted that journalists with Radio Azatlyk, the Turkmen language service of Radio Free Europe/Radio Liberty, have reported several cases of infections in the Central Asian nation.
Meanwhile, Radio Free Europe reported last week that food prices have soared in Ashgabat, the Turkmen capital, as the government has restricted access to the city in an apparent effort to prevent the spread of coronavirus. Turkmenistan shares a large border with Iran, which has faced one of the worst outbreaks from the pandemic, with more than 44,000 confirmed cases as of the time of writing.
Turkmenistan has reportedly taken some significant steps to curb the spread of the virus, while suppressing information about the infection. All sporting events, fitness clubs, restaurants and cafes have been shut down since March 24, according to Chronicles of Turkmenistan. Additionally, nobody has been allowed to leave or enter the small town of Serhetabat, which borders Afghanistan, since March 25.
The leaders of other countries—including China, Iran, Brazil and the U.S.—have been accused of suppressing information or spreading misinformation about the coronavirus pandemic, but banning the word is an extraordinary and unprecedented step.
"We urge the international community to react and to take him [President Berdymukhamedov] to task for his systematic human rights violations," Cavelier said.
Reporters Without Borders ranked Turkmenistan as the worst country in the world for press freedom in 2019. Human Rights Watch (HRW) also reported that the Central Asian nation "remains an extremely repressive country."
"Activists and independent correspondents critical of the government face increased intimidation, harassment, physical attacks and imprisonment. The country remains closed to any independent scrutiny," HRW reported.