'One Night in Miami': How to Watch Regina King's New Movie Online
One Night in Miami is the latest movie coming to streaming services as people remain locked down in their homes and theaters around the world remain closed.
Directed by Oscar-winning actor Regina King, the film also spends much of its runtime with a group of people trapped in the room, but those people are some of the most famous African-American heroes ever—civil rights leader Malcolm X (played by Kingsley Ben-Adir), boxer Cassius Clay just before he became Muhammad Ali (Eli Goree), NFL star Jim Brown (Aldis Hodge) and singer Sam Cooke (Leslie Odom Jr.)
How to watch One Night in Miami online
If the prospect of an imagined meeting of these icons sounds appealing, then you soon will be able to watch it online.
After a theatrical release over the holidays, the movie is now coming to Amazon Prime Video. One Night in Miami will be released globally on the streamer on Friday, January 15.
The 110-minute movie will be released around 00:01 a.m. Pacific Standard Time on Friday. When it airs in your country will depend on your time difference from America's west coast, which is currently eight hours behind GMT/UTC.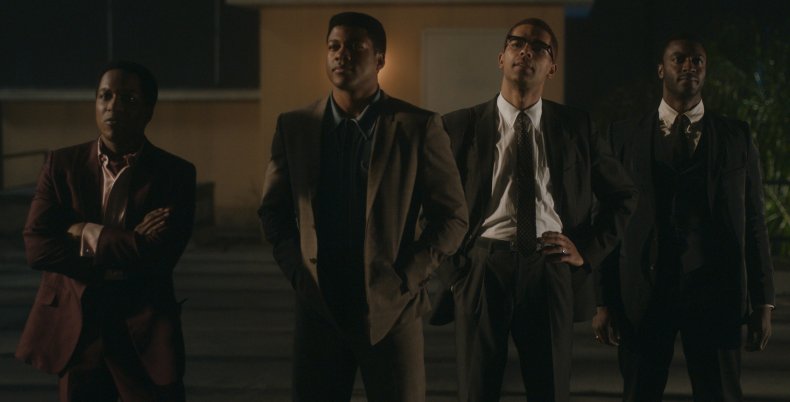 The fact that the movie is coming to Amazon Prime Video means it will be available to watch online for free for new customers of the streamer. The streamer currently has a 30-day free trial for new users. For the full package of Amazon Prime subscription benefits, which includes free delivery, users will pay $12.99 a month after that free trial, or $119.99 a year.
For viewers who just want the video part of Prime without the other features, the service costs $8.99 a month. This gives viewers access to One Night in Miami but other Prime Video originals like Riz Ahmed movie Sound of Metal, Stacey Abrams documentary All In and the Oscar-nominated The Big Sick as well as an extensive catalog of movies and TV shows.
Amazon also offers big Prime discounts for certain groups. Students can get all the Prime perks for $6.99 a month, while EBT and Medicaid card holders can get four years of the service for $5.99 a month.
As for what viewers can expect from One Night in Miami, the official synopsis reads: "One Night in Miami is a fictional account of one incredible night where icons Muhammad Ali, Malcolm X, Sam Cooke, and Jim Brown gathered discussing their roles in the civil rights movement and cultural upheaval of the 60s."
Specifically, that night is February 25, 1964, just after Cassius Clay has become World Heavyweight Boxing Champion after defeating Sonny Liston.
On Good Morning America, Regina King said of her feature directing debut: "These four men are powerhouses, they have—if not all of them at least one of them have touched our lives in some way. And Kemp Powers, the writer [who also wrote the play the film is based on], he was able to humanize them in a way that we don't normally see them."
One Night in Miami is released on Friday, January 15 on Amazon Prime Video.