One Officer Charged in George Floyd's Death Posts $750,000 Bail, Will Likely File to Dismiss Charges
Former Minneapolis police officer Thomas Lane, charged in connection with the death of George Floyd, was released from the Hennepin County Jail Wednesday after posting $750,000 bail. Lane's attorney, Earl Gray, is expected to ask the court to dismiss charges against Lane.
Lane is charged with aiding and abetting second-degree manslaughter and second-degree murder in Floyd's death, which sparked a wave of nationwide protests. Lane appeared to hold Floyd's legs down in the now-viral video of Floyd's death, while former officer Derek Chauvin applied pressure to Floyd's neck with his knee during an arrest attempt.
Lane is expected to appear in court again in June, at which time Gray said he will attempt to have the charges against his client dismissed. "Now we can watch what happens next from outside," Gray told the Star Tribune on Wednesday. "We will bring a motion to dismiss and hopefully it will be granted."
Newsweek reached out to Gray's office for comment. This story will be updated with any response.
Other officers involved in the Floyd case remain in jail. Bail for former officers Tou Thou and J. Alexander Keung was set at $750,000. Chauvin's bail was set at $1.25 million on Monday.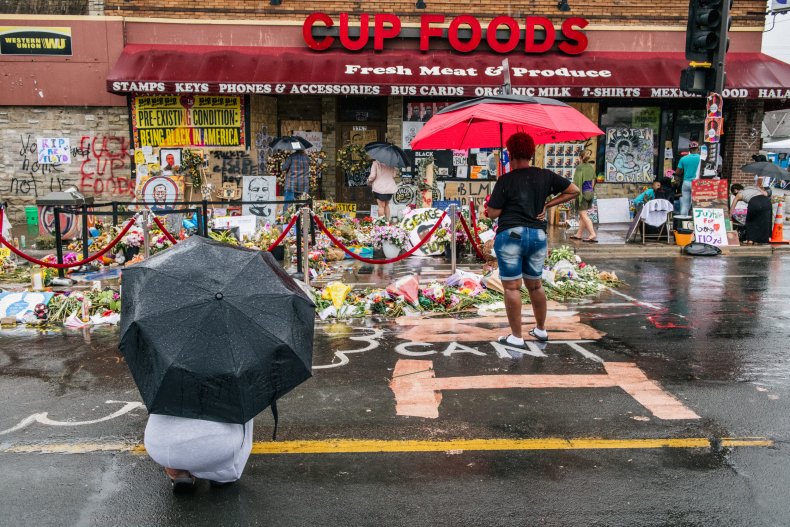 Gray called the case against Lane "weak" during a Thursday court appearance. "If three cops are trying to restrain somebody and one doesn't agree, well, that one cop should go beat up the other two cops and let the guy go?" Gray said. "That's absurd."
Lane had been a member of the Minneapolis Police Department since February 2019. Lane and the other officers involved in Floyd's death were fired after the incident in May.
According to the complaint against Lane filed in June by Minnesota Attorney General Keith Ellison and Hennepin County Attorney Michael Freeman, Lane allegedly became concerned about Floyd's condition. He asked Chauvin if they should roll Floyd over onto his side while Chauvin had Floyd pinned to the ground, saying he was "worried about excitement delirium or whatever."
"That's why we have him on his stomach," Chauvin replied.
"Despite [Lane's] comments," the complaint read, "the defendant took no actions to assist Mr. Floyd, to change his position, or to reduce the force the officers were using against Mr. Floyd."
Chauvin knelt on Floyd's neck for roughly nine minutes. When first responders arrived, they found Floyd to be unresponsive. Floyd was transported via ambulance to the Hennepin County Medical Center, where he was pronounced dead.
In the aftermath of protests against police brutality since Floyd's death, members of the Minneapolis City Council said they would disband the city's police department. Council member Jeremiah Ellison tweeted Thursday that after the police department was removed, "we're not simply gonna glue it back together again. We are going to dramatically rethink how we approach public safety and emergency response. It's really past due."
Minneapolis Mayor Jacob Frey said Sunday that he was not in favor of the proposal by the city council. "We're ready to dig in and enact more community-led, public safety strategies on behalf of our city," Frey said. "But, I do not support abolishing the Minneapolis Police Department."