One Person Dead, Two Missing After Mudslide Destroys Multiple Homes
At least one person is dead and two others are missing after a mudslide hit Poudre Canyon, Colorado on Tuesday.
The Larimer County Sheriff's Office confirmed in a press release that one adult female was found dead in the floods.
"Two other adults are confirmed missing," the sheriff's office stated. They did not provide any further information on the identity of the woman that was found dead as well as the two other adults that were reported as missing.
"As search operations continue today, emergency crews will be searching on foot and with drones. Divers will be attempting to recover the body of the deceased female and a passenger vehicle that is in the river," the sheriff's office said.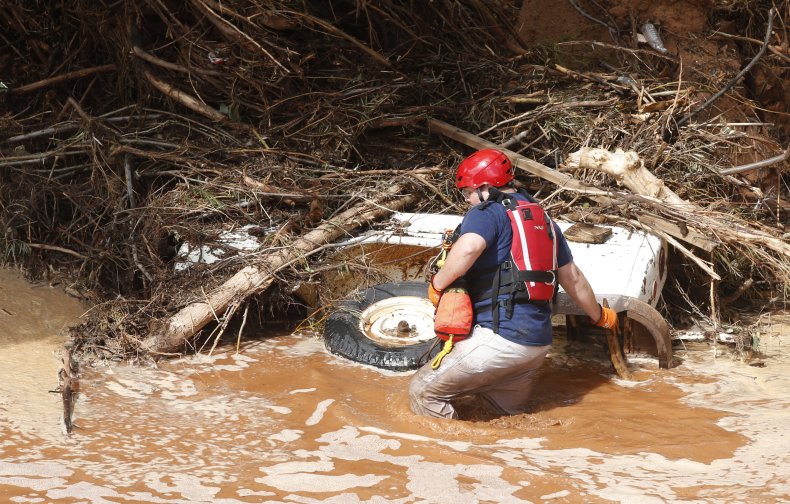 Officers first received reports of flash flooding in Poudre Canyon at around 4:45 p.m. local time on Tuesday.
"At approximately 6 p.m. a mudslide occurred near Black Hollow Road and sent a large amount of debris into the canyon," the Larimer County Sheriff's Office said.
The debris from the mudslide destroyed at least five structures in its path and damaged roadways, according to police.
Earlier on Tuesday, the National Weather Service in Boulder, Colorado forecasted severe thunderstorms and heavy rainfall in Larimer County.
At around 6:54 p.m. local time, the National Weather Service then issued a Flash Flood Warning for Larimer County, urging residents in the area to move to higher ground immediately and to avoid walking or driving through flooded areas.
The Larimer County Sheriff's Office also issued a voluntary evacuation alert stating that "There is the potential for flooding in the area of Highway 14 from Rustic east to the Stove Prairie Road. Voluntary evacuations are advised for residents if they are concerned for their safety, feel they need additional time to exit the area or have health conditions that may be aggravated by this incident."
Numerous pictures were posted across social media after the mudslide hit Poudre Canyon, showing the damage it caused.
"Heartbreaking images coming in this morning from deadly flash flooding in the Poudre Canyon," KDVR news in Denver wrote in a tweet.
Brian Sanders of KMGH-TV in Denver posted several other pictures of damaged homes and downed trees following the mudslide.
"New images show damage from flash flooding and mudslides in Poudre Canyon. One person died, two others are missing. Happened in burn scar area of last year's Cameron Peak Fire," Sanders wrote.
On Wednesday morning, the Boulder National Weather Service issued a flash flood watch for the "Cameron Peak & East Troublesome burn areas." The burn areas are from wildfires that occurred last year.
"Slow moving storms will produce heavy rainfall which may lead to flash flooding. The flash flood threat lowers tomorrow," the National Weather Service in Boulder said in the tweet.
Newsweek reached out to the Larimer County Sheriff's Office for further comment but did not receive a response in time for publication.