One Quarter of British Businesses Have Stopped Trading, Chancellor Reveals
Around 25 percent of businesses in the U.K. are no longer trading because of the impact of COVID-19, U.K. Chancellor of the Exchequer Rishi Sunak has told the House of Commons.
In a statement, Sunak made clear that the impact of coronavirus was having a profound effect on businesses and the workforce:
"More than one and a half million new claims have been made to universal credit, over four million jobs have now been furloughed and survey evidence suggests a quarter of businesses have stopped trading," he said.
"These are already tough times and there will be more to come. While our interventions have saved millions of jobs and businesses, we can't save every job or every business."
"The [Office for Budget Responsibility] has been clear that if we had not taken the actions we have, the situation would be much worse. The [International Monetary Fund] has said that our approach has been aggressive and right. And taken together, I believe our response has been one of the most comprehensive of any country anywhere in the world."
The lockdown in the U.K. has been in place for over a month, with some Conservative MPs calling now for lockdown restrictions to be eased.
On his return to work, Prime Minister Boris Johnson said that it was too soon to ease the lockdown and would "throw away all the effort and the sacrifice of the British people."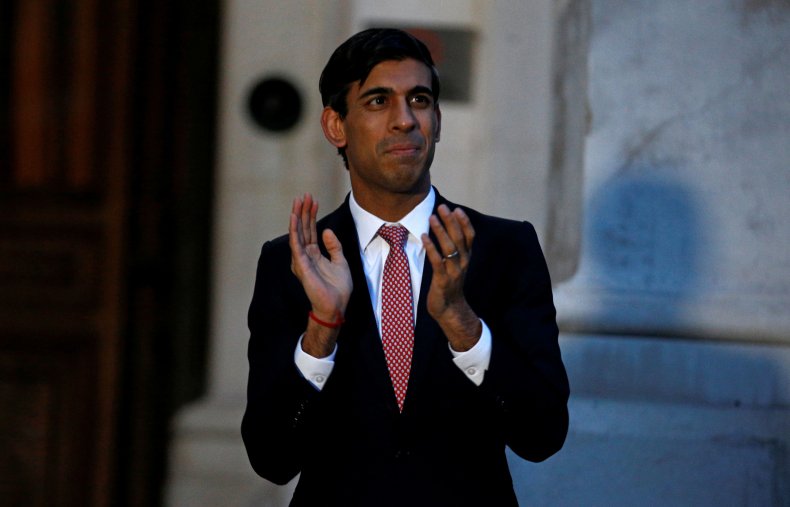 With the limitations placed on businesses, the chancellor also announced that smaller firms would get access to 100 percent taxpayer-backed loans after some business owners complained about the slow access to existing schemes created to help with the coronavirus crisis.
It offers up to £50,000 to firms after they fill in a "simple, quick standard form" with Sunak promising that loans should arrive between one and two days after approval.
He had faced pressure to announce that the government would guarantee all business loans issued by banks.
"I remain unconvinced by the case for doing that universally," Sunak told the House of Commons.
These loan announcements could mean that the government is backing loans worth billions of pounds and could stretch to the tens of billions or even further depending on how long the economic impact of COVID-19 is being felt.
The government's furlough scheme means that firms can stop paying workers while employees are temporarily relieved of their duties rather than laying them off, with the pay covered by the government up to 80 percent and up to £2,500 a month (whichever is lower).
"Around half a million employers have already applied for help to pay the wages of over four million furloughed jobs, jobs that would otherwise be lost," Sunak said.
If the four million requests are granted, it will be costing the government billions of pounds each month.
The exact amount is difficult to calculate because it covers full-time, part-time and freelance workers on variable incomes.