One Republican Pledges to Boycott Biden's State of the Union Entirely
One Republican lawmaker pledged on Saturday to boycott President Joe Biden's upcoming State of the Union address.
Biden is slated to begin his speech on Tuesday at 9 p.m. ET and will address Congress for the first time since Republicans won control of the House of Representatives during the midterm elections last November. He plans to use his speech to emphasize bipartisan cooperation, according to The New York Times. However, his remarks will likely be met with criticism from conservatives.
Representative Mary Miller, of Illinois, confirmed she will not be attending the annual address in a statement to Newsweek on Monday, pointing to what she called Biden's "lies" about a number of issues—including energy prices, immigration, and the Justice Department's probe into classified files found at his private residence in Delaware and Washington, D.C., office—as to why she is boycotting.
"I will not be attending Biden's State of the Union to listen to him lie about the damage he has caused to our country while the left-wing media and members of Congress applaud his lies," Miller wrote in the statement.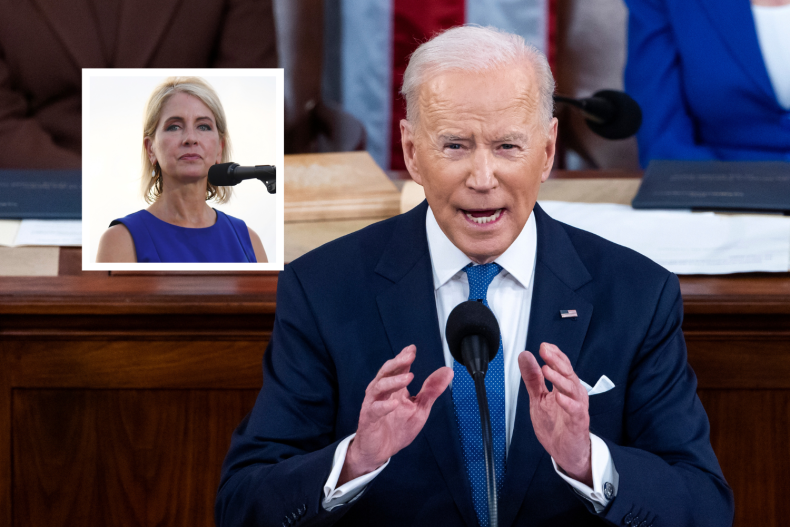 Instead, Miller plans to share her tickets with a colonel who retired from the military after declining to take the COVID-19 vaccination, she said. Republicans have accused the Biden administration's former vaccine policy of weakening national security, though military officials said the rule was intended to maintain healthy troops.
"The Biden administration, I don't know what their overall plan is, but they're destroying our military and even with the woke agenda. China has to be laughing at us," Miller told conservative news outlet Breitbart over the weekend.
As of early Monday afternoon, Miller is the only Republican to publicly announce plans not to attend Biden's speech. After the address, Arkansas Governor Sarah Huckabee Sanders is expected to provide the Republican response to the State of the Union, while Arizona Representative Juan Ciscomani will do so in Spanish.
There is recent precedent for lawmakers skipping the State of the Union address of a president from the opposing party.
Several Republican lawmakers, including Florida Senator Marco Rubio and Missouri Senator Josh Hawley, skipped Biden's speech in 2022 due to a requirement that attendees produce a negative COVID-19 test.
Meanwhile, several Democrats protested former President Donald Trump's speeches during his presidential tenure. In 2018, the late Representative John Lewis skipped Trump's speech over his comments calling African nations "s***hole" countries, a remark Lewis described as racist.
Lewis joined other House Democrats in refusing to attend Trump's 2019 State of the Union address, as well. Like Miller, Representative Steve Cohen, of Tennessee, pointed to Trump's alleged lies as to why he would not attend the speech.
In 2020, Representative Alexandria Ocasio-Cortez, of New York, declined to attend the speech, tweeting that she did not want to "normalize Trump's lawless conduct & subversion of the Constitution."
Updated 02/06/2023 5:05 p.m. ET: This story was updated with a statement from Representative Miller's office.