One in Seven Adults Would Avoid Coronavirus Treatment Due to Cost, Poll Finds
One in seven adults in the U.S. would avoid seeking health care if they had a dry cough and a fever--well-documented symptoms of COVID-19--due to concerns over the high cost of seeking medical assistance, new polling has shown.
The latest survey data from Gallup and West Health, which was published this week, showed that 14 percent of American adults would avoid seeking treatment for a fever and a dry cough over concern that they wouldn't be able to pay for the care. Even when poll respondents were asked specifically if they'd seek health care if they believed they were infected with the novel coronavirus, 9 percent said they would avoid doing so due to the cost of treatment.
"Adults under 30, non-whites, those with a high school education or less and those in households with incomes under $40,000 per year are the groups most likely to indicate they would avoid seeking out care," the Gallup report outlining the poll's findings explained.
"Seeking care when exhibiting COVID-19 symptoms or when suspecting of having been infected by the coronavirus is a critical element in combating the outbreak," the report noted.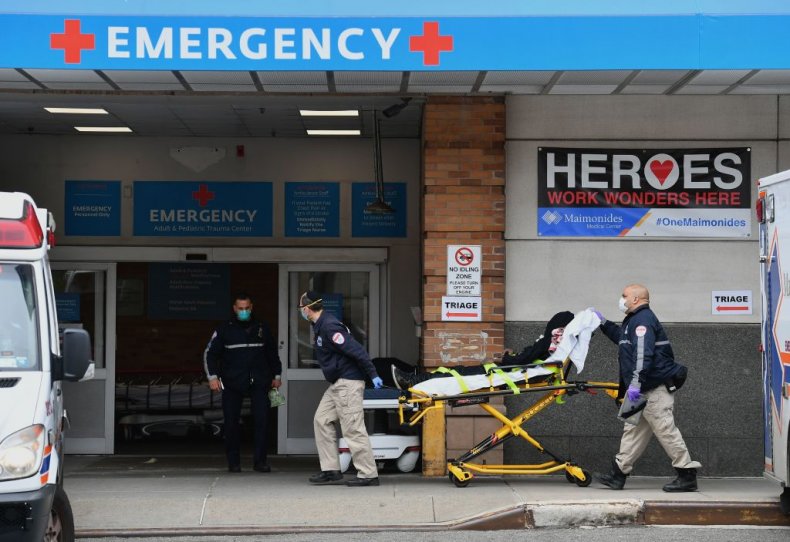 The Families First Coronavirus Response Act passed by Congress in March ensured that Medicare, Medicaid, other government health care plans and most private insurance would cover the cost of testing for the coronavirus. But those found to have contracted COVID-19 may find that their insurance doesn't cover the full cost of a treatment, which in many cases could total thousands of dollars.
In early April, President Donald Trump said that the federal government would cover the costs of testing and treatment for Americans who do not have insurance. However, those with insurance may be charged high co-pays and deductibles, as well as other out-of-pocket costs, which the government plan would not cover.
Progressive lawmakers have pushed for the government to ensure that everyone's treatment is fully covered. They have pointed out that people avoiding seeking health care is a major public health concern, particularly as the coronavirus pandemic continues to spread throughout the country.
"It is simply irresponsible and dangerous to the public to allow millions of people in this country to go without health coverage as a pandemic rips through our communities," independent Senator Bernie Sanders of Vermont, who previously was seeking the Democratic party's presidential nomination, tweeted on Wednesday. "During the pandemic, Medicare should cover all out-of-pocket health costs for all Americans," he wrote.
Sanders has long pushed for universal government-run health care, dubbed Medicare for All. While the policy proposal has faced strong opposition from Republican and Democratic lawmakers, support from the public for the idea has grown amid the pandemic.
Polling by Morning Consult conducted at the end of March showed a nine-month high in support for Medicare for All, with 55 percent of respondents backing the idea of a single-payer universal health care system.
This article has been updated to note that the Gallup poll was conducted in partnership with West Health.