One Shot in Head Near High School Football Game in Knoxville, Tennessee
A young man was reportedly shot in the head near a high school homecoming football game in Knoxville, Tennessee on Friday night.
The shooting took place near Austin-East High School at around 8:49 p.m. local time, according to WBIR-TV. The Knoxville Police Department told the outlet that the "young" victim was taken University of Tennessee Medical Center soon after, having suffered what were reportedly "non-life-threatening gunshot wounds to the head." No other injuries were reported and police had yet to identify a suspect.
It was not clear whether the shooting involved students or anyone else from the high school. Although the shooting was not at the school itself, the football teams reportedly cleared the field "out of abundance of caution" after the incident took place. However, they had resumed the game by 10 p.m. as police began to investigate nearby.
Newsweek reached out to the Knoxville Police Department for additional details and comment.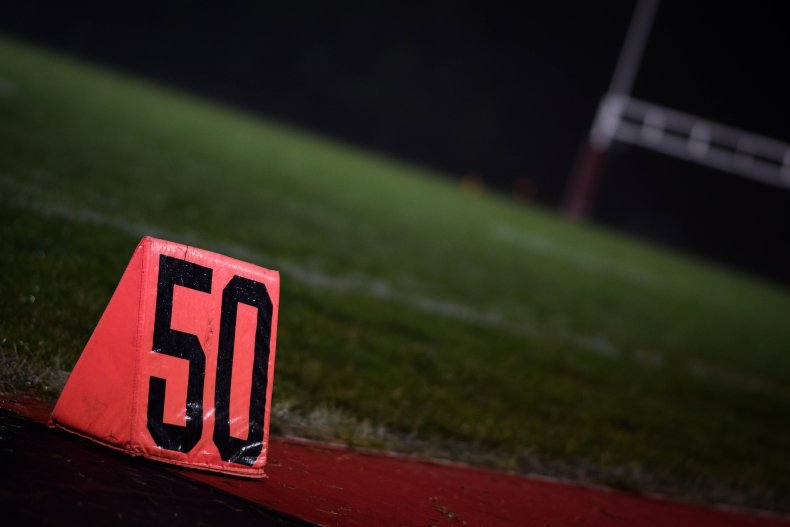 Earlier this month, police in Las Vegas, Nevada launched an investigation after shots were fired in the parking lot of Desert Oasis High School while a football game was being played. The shooting began as teenagers in the parking lot were fighting, according to The Las Vegas Review-Journal. Multiple shots were fired in the air but no injuries were reported.
A shooting at high school football game in Delaware County, Pennsylvania late last month had a tragic outcome, resulting in the death of a young girl. Although the incident was initially reported as a drive-by shooting, the Delaware County District Attorney's Office said there was a "high probability" that the fatal shots were fired by police.
Three police officers opened fire as a crowd of hundreds were departing the game at Academy Park High School, mistakenly believing that they had been fired on by the occupants of a car, according to WPVI. Following a search, no weapons were found in either the car or on its occupants.
During the shooting frenzy, 8-year-old Fanta Bility was caught in the crossfire and fatally wounded. Four other people were injured, including Bility's older sister. None of the occupants of the car police were shooting at suffered injuries. Bility's family and Black community leaders have demanded accountability from police. An independent investigation of the shooting was launched this week.
In 2021 alone, gun violence in the U.S. had been responsible for over 14,000 deaths and more than 29,000 injuries, including over 1,000 deaths and almost 3,000 injuries to children and teenagers, according to statistics from the Gun Violence Archive as of Friday.