One Startup Wants to Speed Buyouts in San Francisco's Rent-Controlled Units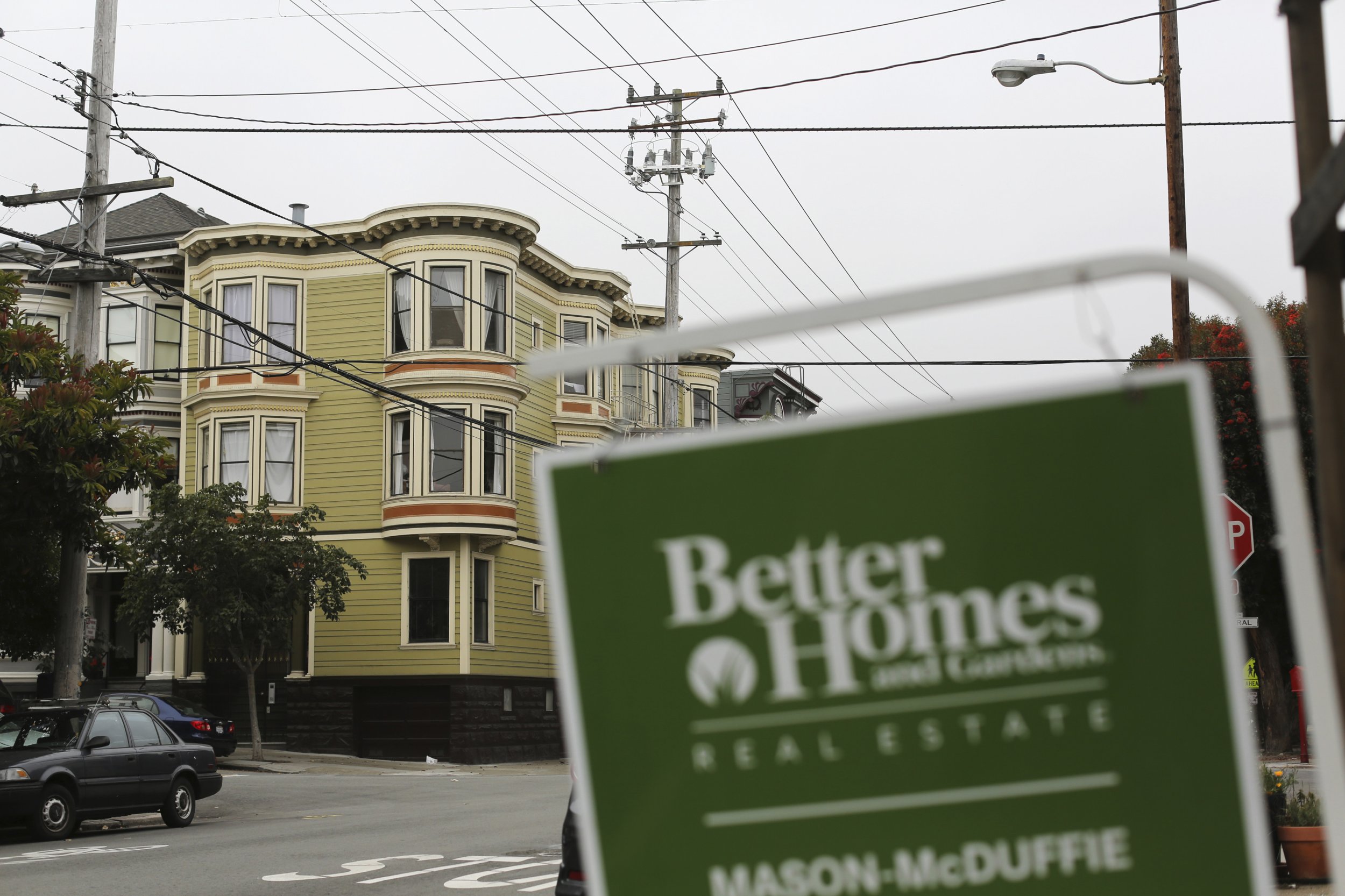 As San Francisco's housing shortage gets worse, there's increasing pressure on tenants living in rent-controlled apartments to vacate so their landlords can start charging a market rate in the rapidly gentrifying city. This pressure often comes in the form of a buyout. Three years ago, for instance, a single mother with kids paid $1,600 per month for a two-bedroom apartment on 18th Street in the increasingly hip Mission neighborhood, where she'd been for 20 years. Her landlord offered her a buyout of $50,000 to leave her rent-controlled apartment, which she accepted. Now the apartment is going for more than $3,200, closer to the market price in the gentrifying neighborhood.
Prior to March 2015, these buyouts were mainly off the books. Unlike the more notorious evictions allowed by the Ellis Act, a California law that grants landlords rights to evict tenants by removing all units in any building from the rental market, buyouts had less government oversight and shorter time periods to settle. Generally invoked to convert apartments into condominiums in San Francisco, Ellis Act evictions require at least 120 days and a $5,800 compensation per unit.
But the city of San Francisco intervened last year with new laws requiring that landlords have documented buyouts with tenants leaving rent-controlled units. The hope from rent-control advocates was that the buyout documentation will help hold landlords accountable and accurately measure the displacements.
But one startup has entered the fray to make some money from the new niche in the ever-evolving and scrutinized San Francisco rental market. RentMasters, which began operating a month ago, hopes to play the middleman between tenant and landlord during these buyout negotiations. The founder believes, in classic Silicon Valley fashion, that there were inefficiencies in this market that the power of technology could help solve.
"It is quite a complicated and important puzzle in the housing market," says RentMasters founder Brian Bensch. "The best market for a startup to go after is niche markets that have a problem to solve. Buyouts can and should be a mutual scenario. I'm a big fan of the buyout laws."
RentMasters has a streamlined four-step process to help tenants thinking about cashing in on their rent-controlled apartments. First, tenants will get an estimate for how much of a relocation bonus they can earn, based on the neighborhood and the house itself. "As you might expect, landlords in the Tenderloin can't afford to be as generous as those in Hayes Valley or Russian Hill," reads the website, referring to San Francisco neighborhoods.
Then tenants get a free 30-minute consultation. RentMasters, which will charge anywhere from a $99 onetime fee to 20 percent of the buyout, will then negotiate with the landlord for the best buyout price. Once both sides agree to a price, the new buyout laws require a 45-day cooling-off period for the tenant to think it over.
The average buyout price is around $43,000, according to the San Francisco Chronicle. Since March 2015, buyouts have jumped significantly, with the average number of evictions climbing from 151 per month to more than 200. Despite a population of 837,000, San Francisco has more than 170,000 rent-controlled units—or nearly 72 percent of the rental stock—most of which was built before 1979, according to a 2014 TechCrunch feature on the city's housing crisis. In contrast, New York City has only 27,000 rent-controlled units in a city of 8.4 million people.
Tenant rights attorneys and nonprofits raised concerns when Newsweek brought RentMasters to their attention. The main one rested with the fact that RentMasters may be practicing law without a law license. "Buyouts are extremely legally complex," says tenant rights attorney Joseph Tobener. "They are like snowflakes. They are all individual."
Tobener says that working on buyouts without proper legal supervision could have huge consequences for tenants. For example, mental illnesses like alcoholism, drug abuse and depression and physical disability could play a huge role in the cost of a buyout and would require a thorough vetting of the city's disability protection laws and the Americans With Disabilities Act of 1990. Since buyouts are also taxable, the contract needs to take tax laws into account as well.
Brian Collins, the executive director of the San Francisco Rent Board, a city administration that aims to protect tenants from excessive rent increases, took a more nuanced tone, saying he cannot determine how legal or illegal RentMasters is in working for buyouts. Bensch says he hopes to work with the Rent Board in the future.
With years working in marketing, Bensch has no bar license. But he believes RentMasters can handle the buyouts, barring extraordinary cases, for which he will rely on attorneys to lend some help. "We've spoken with about a dozen firms while preparing to launch this business but do not have a formal business relationship with any of them," Bensch says. "For the majority of customers, they will work exclusively with RentMasters and not require outside counsel."
In the niche market of San Francisco rent-controlled housing, Bensch also has a niche demographic in mind: tech workers who moved to San Francisco five to 15 years ago and now want to raise a family in a larger home in a less expensive place. RentMasters did not disclose internal statistics to Newsweek, saying there was not enough data for the new startup to start analyzing the market.
In regard to the million-dollar question of solving the housing crisis in San Francisco, RentMasters writes on its website that the addition of new units from the tightly regulated rent-controlled housing pool to the free-market housing pool will increase liquidity and take pressure and shady transactions off the market.
"The hypothetical economic impact is that we move closer toward a normal distribution of market rents," reads RentMasters' website. "In other words, you might be able to find a decent 1-bedroom again for $2400, but the days of finding a shared room for $1200 will have disappeared."
But Deepa Varma, the executive director of San Francisco Tenants Union, a nonprofit that provides legal assistance to tenants, believes differently. "That's not the point of rent-controlled housing," Varma tells Newsweek. "The rental market getting these buyouts is not helping provide funds for these tenants to find new housing in San Francisco. It's actually speeding displacement more than anything."
Varma adds that buyouts can be devastating for low-income people who lived in San Francisco long before Silicon Valley rolled into town. Food-stamp privileges and other welfare rights may be lost if they take a buyout.
For the single mother who left her home in the Mission, the $50,000 she received was spent in three years on moving costs and covering rent differentials at her new home in Berkeley, across San Francisco Bay. She is again facing fears that she will not be able to afford her home, according to Varma.
Bensch, who says he is a Bay Area native who has lived in San Francisco for more than seven years, insists he does not want to hurt any disadvantaged people. "We refuse to work with the starving artists of San Francisco who've been here since the '70s or '80s and plan to stay here for the rest of their lives," Bensch says. "I can't emphasize how much of a niche market we are serving."
Carolyn Gold, the supervising director of the Bar Association of San Francisco's Justice and Diversity Center, disagreed with Bensch's take on how niche the market was. "There would be no reason for a tenant to use RentMasters when there are at least 30 attorneys in town," Gold tells Newsweek. "Why don't you just cut out the middleman and hire the lawyer?"