One 'Stranger Things' 3 Character Is Not Straight: Here's Who, and How They Came Out
One Stranger Things character expressed they're not straight in Season 3, and it marks the first, confirmed gay character in the show. The character, Robin, is new in Season 3, though her storyline explains she was in high school with both Steve Harrington and Nancy Wheeler.
Robin becomes close friends with Steve over the course of the Season 3 summer when the pair work together at Scoops Ahoy, and ice cream shop in the Starcourt mall. Robin is quickly swept up in the Stranger Things crew's dangerous, and unpredictable lifestyle when she helps decode a Russian message transmitted through Dustin's walkie talkie.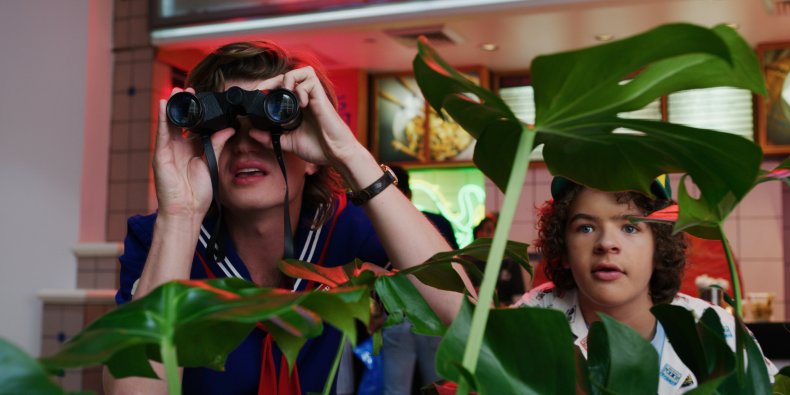 Over the course of a few, crucial days, and near-death experiences, Steve admits his feelings for Robin. She asks about his past relationship with Nancy, to which he explains he's moved past because he's found a new girl who he's far more interested in. Robin seemingly tries to dodge the advance from Steve, stating she's not his type.
With little way out of the conversation, Robin opens up about why she previously told Steve she was "obsessed" with him in English class. At the time, he didn't know she existed. Robin was honest with Steve, and explained that she thought he was a terrible person in high school. He admits he was focused on popularity and superficiality. At the time though, Robin had a crush on a girl in the English class. The girl would stare at Steve the whole time, and she didn't understand why.
Steve did not immediately process Robin's explanation and took a while to understand that Robin is not interested in men. After a few moments of silence, and her sexuality setting in, Steve began to tease Robin about her choice in women. The girl who Robin has a crush on wants to be a musician, and has no musical talent, according to Steve. Without missing much of a beat, the pair are back to close friends, and Steve's support for Robin's sexuality is obvious.
In Season 3, Robin quickly proves her talent, intelligence and humor as a fun and smart addition to the Stranger Things friends.
Robin is played by Maya Hawke, daughter of Ethan Hawke and Uma Thurman. This isn't her first acting role. Hawke has been seen in Little Women, Once Upon A Time...In Hollywood, and Ladyworld, according to the Internet Movie Database.