One in Ten People Say Politics is Making Them Physically Ill
Politics is making people sick.
A study has found that 11.5 percent of U.S. respondents believe politics is damaging their physical health. Two in five (38 percent) said it is causing stress, while one in five say they are losing sleep over the news cycle.
According to the researchers, this is the first study to look at the physical and mental side effects of keeping up with politics.
"It became apparent, especially during the 2016 electoral season, that this was a polarized nation, and it was getting even more politically polarized," research leader Kevin Smith, a political scientist at the University of Nebraska-Lincoln, said in a statement. "The cost of that polarization to individuals had not fully been accounted for by social scientists or, indeed, health researchers."
That cost, says Smith, is akin to a public health crisis.
4.1 percent of respondents admitted to having suicidal thoughts triggered by events in politics⁠—a number that would roughly translates to 13 million people if scaled up to current population figures. Findings are published in the journal PLOS One.
Smith and colleagues used data from YouGov collected for five days in March 2017—approximately two months after Donald Trump's inauguration. In total, there were 800 respondents from a representative panel of 1.8 million people.
The survey was based on the diagnostic instruments used by Alcoholics Anonymous and Gamblers Anonymous, and included 32 questions that could be divided up into four categories—physical health, mental health, regretted behavior and social or lifestyle costs.
As well as negatively affecting Americans physical and mental health, the chaotic⁠—and often divisive⁠—news cycle is causing people to lose their temper (29.3 percent). It is also causing problems in their relationships—one in five said opposing political views have damaged a friendship, while 14.6 percent said that differences in political views have created problems for them in their immediate family.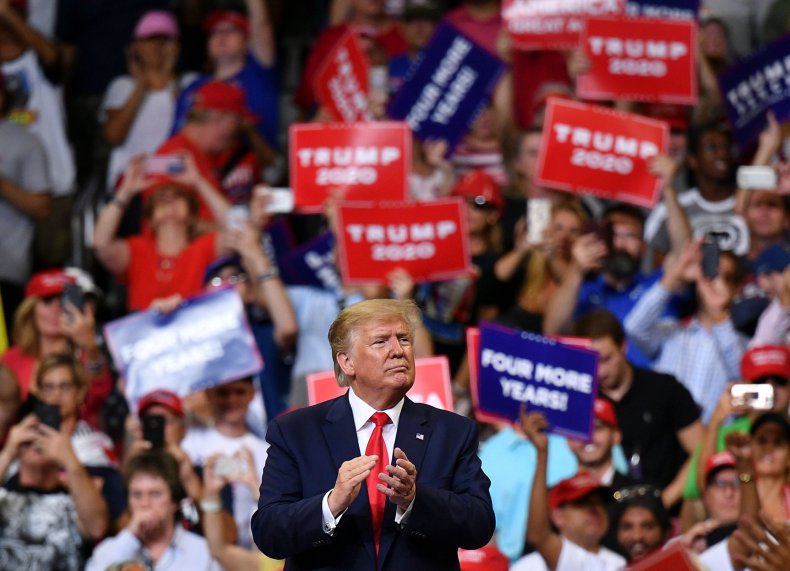 More than one in five (22.1 percent) people who responded think they care too much about who wins and loses in politics, with 26.4 percent admitting they have become depressed when a preferred candidate lost.
Close to a third (31.8 percent) agreed that "exposure to media outlets promoting views contrary to mine can drive me crazy."
At the very least, says Smith, this tells us that people are perceiving today's politics as a detrimental factor to their health.
"Stress is a real phenomenon that can have disastrous health effects," said Smith. Previous research has linked stress with diabetes, vision loss and gut health.
"If politics is a significant contributor to the levels of stress that American adults are experiencing, then yeah, it makes sense that there's a real add-on health effect from that."
In 2017 researchers warned of the potentially harmful side effects of the Trump administration, citing an American Psychological Association (APA) poll that found 26 percent of Republicans, 72 percent of Democrats, 69 percent of blacks and 56 percent of Hispanics saw the outcome of the 2016 election as a significant source of stress.
Another source of stress could be classified as "eco-anxiety", or worry about the future of the planet in the face of human-caused climate change—and a lack of political action. According to the APA, 58 percent of Generation Z (people born in the mid-nineties to mid-noughts) and 51 percent of American adults report feeling stressed over climate change and global warming. Mass shootings, rise in suicide rates and the separation and deportation of migrant families were also listed as major stressors in the national news.
In the future, Smith wants to find out if we would see the flipside of this result—if a left-leaning Democrat won the presidency, for example. "One of the things that we're really interested in is: What happens if a very left-leaning person is elected into the White House? Do the symptoms stay the same but shift across the ideological spectrum?
"We've already handed it over to a couple of psychologists to include on some of the surveys they're doing, so we will start to get a little clearer picture and a little bit more traction on some of the questions we have."