The One Thing That Could Improve American Policing That No One Is Talking About | Opinion
The tragic killing of Tyre Nichols by five Memphis police officers is refocusing national attention on police brutality, especially against Black men. Of course, this is not surprising; when police kill unarmed individuals, it often has partisans on both sides assume their battle positions, with one side blaming racism and the other a few bad apples.
The truth is a bit more complex: American policing is plagued with many problems, but when it comes to the inappropriate use of violence, one culprit is weaknesses in the selection of police officers and in academy training. Better selection and better training can reduce the problem of police brutality, and one strategy for improving both is expanding the use of police apprenticeships as an alternative to the traditional police academy.
For starters, apprenticeships can help with recruiting the right people. Currently, police recruitment is particularly challenging, given the sharp increases in police retirements and resignations, the feelings of anti-police sentiment after highly publicized police killings, and the plentiful alternative opportunities in our strong labor market. Departments often use long and opaque application processes and about half take four months to a year to hire, and outdated or irrelevant criteria such as low credit scores or past marijuana use have disqualified many potentially strong applicants. While some departments have reduced educational qualifications and other barriers, many departments remain seriously understaffed.
Many of these problems are solved by apprenticeships. Unlike the shorter police academies, future officers serve as apprentices or cadets for a two-to-three-year program involving comprehensive learning through years of field experience and classroom instruction. Departments vet incoming cadets with medical exams, fitness tests, psychological testing, polygraphs, and background investigations.
Apprenticeship programs also recruit from a more diverse pool of candidates than traditional recruiting: Many police apprentices are from minority communities served by the department, and many speak second or third languages, an invaluable skill for first responders.
In Baltimore County, for example, 36 percent of police apprentices are non-white and 24 percent are women—about twice the national average for police officers. Moreover, 75 percent of apprentices are retained by the department; the average Baltimore County police apprentice serves the department for 17 years.
Apprenticeships also improve the selection of police offers. Departments get the chance to observe cadets in high-pressure situations and identify problematic candidates long before they are offered jobs as armed police officers. Successful apprentices have years of feedback and evaluation before ever walking a beat alone.
Apprenticeships can also improve training practices. Most officers spend far less time receiving field training than they do in a classroom, where they are insulated from the realities of police work. An average police recruit will spend 20 weeks in an academy, with 131 hours of that time dedicated to firearms, self-defense, and use-of-force training. But that recruit will spend only eight hours learning de-escalation techniques. A mere 39 percent of law enforcement agencies mandate that officers undergo any conflict management training at all.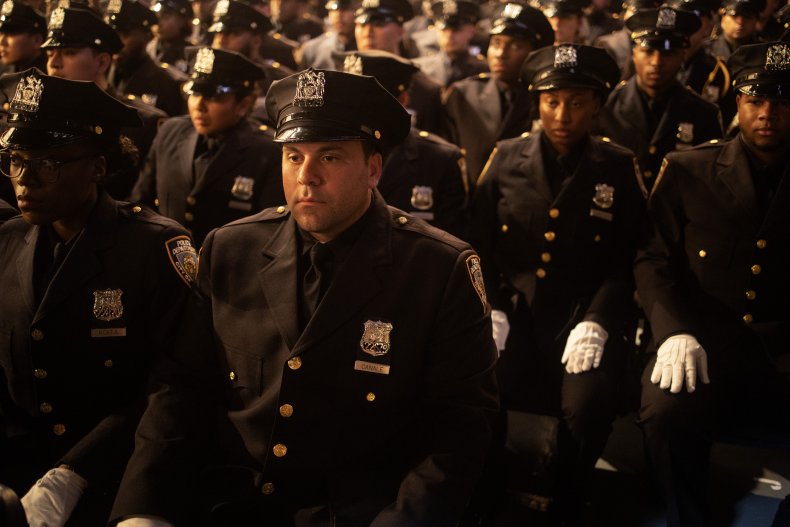 Meanwhile, only a third of the average officer's training hours involves on-the-job learning. Many police recruits will only undergo classroom training before being assigned a beat. Most academies will never expose recruits to the critical thinking needed for mediating disputes or building the emotional intelligence—and resilience—needed to navigate the work.
The duration of U.S. police training falls well short of police training in other Western democracies. While average training in the U.S. is about 20 weeks in the academy and 13 weeks of field training, Japan's officers undergo 15 and 21 months of training, and many European countries require two to three years of training, much of which is in the field. In Scotland, probationary training lasts for two years through instruction at a college and extensive field training, along with periodic assessments on-the-job.
Moreover, other countries emphasize communications and interpersonal skills far more than the U.S. does. In Switzerland, psychological training and "softer" qualities are considered essential for a professional police officer, and the recruit curriculum focuses largely on appreciation of emotion, sensibility, and understanding of a variety of situations. In Scotland, communication skills are emphasized throughout the recruit curriculum, particularly when teaching de-escalation skills and dealing with people in crisis.
In the U.S., police apprenticeships replicate these approaches by lengthening the duration of training and emphasizing extensive on-the-job learning. They should be greatly expanded throughout the country.
Virginia's Fairfax County has already started, offering a law enforcement apprenticeship for 18-20-year-olds. Within a month after graduating high school, the apprentice performs necessary work, receives a salary, and undertakes on-the-job training. The apprentice might work on helicopter maintenance, sit in on a police academy class, learn emergency vehicle operations, practice radio procedure, handle evidence for criminal cases, participate in stings, attend court, and ride along with the patrol bureau.
They learn interpersonal skills from experience based on constant feedback from their supervising officers after encounters with citizens, picking up valuable skills for law enforcement through supervised practice, such as learning how to take fingerprints by running the department's fingerprinting desk or by learning emergency vehicle operation while assisting with fleet operations. They ride along with the patrol shifts, helping officers during traffic stops, calls for service, and emergency call responses.
While they do not have vested police powers, apprentices may assist with investigations and testify in court. All in all, their learning through years of field experience is far more extensive than for those who become police officers through the academy.
Building out the police apprenticeship model is feasible, and it is already improving the recruitment and training of police officers throughout the country. Although we need to learn more about whether these improvements will translate into better and safer policing, the apprenticeship model offers a path forward, away from an academy system that isn't working.
Ben Klosky is a former police apprentice in Fairfax County and currently an MA student in Economics at American University. Robert I. Lerman is Emeritus Professor of Economics at American University and Board Chair of Apprenticeships for America.
The views expressed in this article are the writers' own.