One-ton 'Wizard Rock' Mysteriously Vanishes From National Forest in Arizona
A famous boulder in Prescott National Forest, Arizona, has gone missing in mysterious circumstances, according to reports.
The one-ton black boulder, known as Wizard Rock, was reported missing from its roadside location around two weeks ago—likely stolen by thieves—the Arizona Republic reported.
Prescott National Forest officials said removing the rock would have required some form of heavy machinery due to its size and weight.
"The easy way to do it would be a back hoe," Jason Williams, Trials and Wilderness Manager at the park, told The Republic. "But, if you had a trailer positioned properly and didn't mind beating some things up you might be able to do it with a Bobcat. But you surely aren't going to be able to do it any other way."
He suggested that the rock could have been taken in broad daylight because any passersby who saw the potential thieves using heavy machinery around the rock may have simply assumed that officially sanctioned work was taking place.
"I think what happens is the general public, if they see somebody working with equipment in the forest, they see the equipment and assume it's an authorized thing," he said. "It looks professional and they think they must be doing something the forest service has said 'go ahead' or even paid for."
Wizard Rock—which has streaks of white quartz running through it—was a familiar landmark to many people who drove along State Route 89 and a popular place for tourists to stop and take photos.
"The boulder was reported missing to the trails and wilderness program by a member of the public that had appreciated this unique boulder for years," Debbie Maneely, a spokesperson for Prescott National Forest, told Newsweek.
"Since the various media stories have been published we have gotten unconfirmed reports on social media that the boulder may have been missing for 1-2 months prior to being reported," she said. "The disappearance of this unique boulder highlights that there are interesting and unique natural features all around us in the national forests and we as humans often do not take time to understand or appreciate the value of these features until they are gone."
Park officials are now urging anyone with information regarding the disappearance of the rock to call 928-443-8110. Removing minerals from National Forest lands without a permit is illegal. Anyone who is caught doing so could be fined up to $5,000 or sentenced to six months in jail, or both.
"It's unfortunate when we lose a treasure such as the Wizard Rock," a district ranger at Prescott said in a statement. "Our hope is that it will be returned to us, and these recent recurring events will become an educational opportunity."
"These boulders belong to the public, and should be enjoyed by locals and visitors for years to come," she said. "If members of the public have questions about what they can take or purchase from the Prescott National Forest, or how to obtain legal authorization to do so, they should contact any of our offices for information."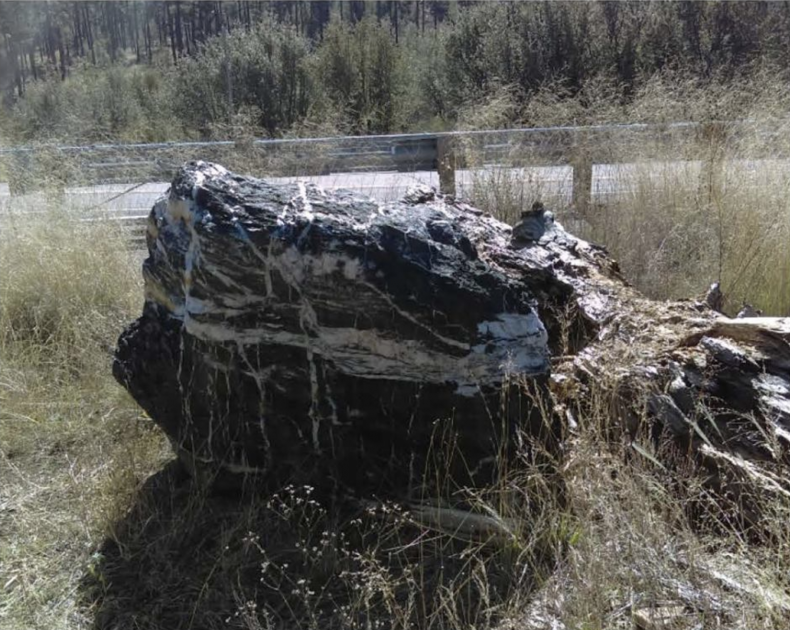 This is not the first time recently that boulders have been removed from Prescott. In the last four months there have been two separate incidents where boulders weighing between 750 and 2,000 pounds have been taken using heavy machinery.
But why do people go through so much trouble to remove these heavy rocks, which the U.S. Forest Service uses to create barriers delineate parking areas, and build large retaining walls?
"When boulders have unique features such as coloring or a shape that looks like an animal, a heart, or in this case, something dark and magical, people use them for yard decoration," Maneely said.
Prescott National Forest extends for 1.25 million acres across north-central Arizona, encompassing a variety of environments from desert landscapes to mountains.
This article was updated to include comments from Debbie Maneely.