Endangered Shark Fins Labeled 'Dry Seafood' Found in 2,000-Pound Singapore Airlines Shipment
Shark fins from endangered species were seized from a Singapore Airlines cargo shipment to Hong Kong, as the Chinese territory continues to clamp down on the controversial trade.
Around 2,150 pounds (980 kilograms) of fins, including some from the giant placid whale shark, were found labeled as 'Dry Seafood', after being shipped from Colombo, Sri Lanka, via Singapore, Reuters reported.
Gary Stokes, Asia director at the ocean conservation group Sea Shepherd, told the news agency: "This is another case of misleading and deceiving. The shipment came declared as 'dried seafood' so didn't flag any alarms."
Singapore Airlines said it would remind its stations to carry out sampling checks on such shipments and had blacklisted the shipper.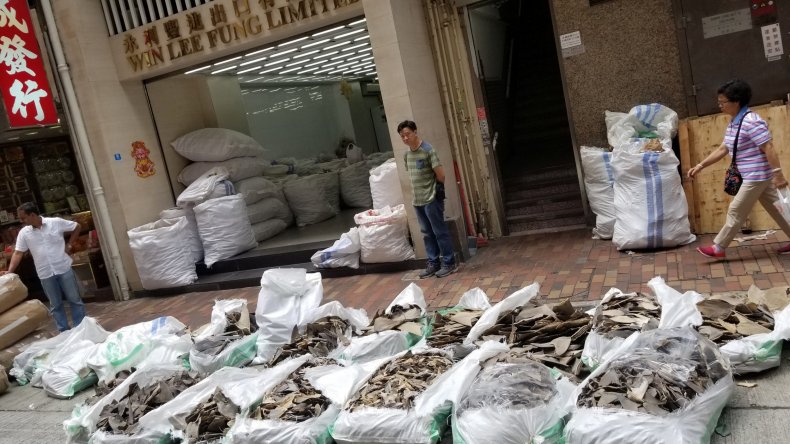 Shark fin imports are allowed in Hong Kong, but those coming from endangered species require a permit. The World Wide Fund For Nature (WWF) says over 70 million sharks are killed annually, putting a quarter of species at risk of extinction.
Usually eaten in a soup, shark fin is a delicacy and status symbol that is also used in traditional medicine.
The practice of slicing shark fins off at sea and throwing the carcass away—called shark finning—is outlawed in the U.S.
However, they can be brought onshore from countries that do not forbid the practice. Miami is at the center of the global trade in shark fins, which are banned in 12 other U.S. states including California and New York, the Miami Herald reported.
Sea Shepherd said Maersk, Cathay Pacific and Virgin Australia Cargo, which ban the transport of shark fins, have been targeted by smugglers.
Separating legal fins from illegal fins can be difficult. A 2017 Florida International University study examining 4,800 fins purchased at the busy Hong Kong market between 2014 and 2015 found that nearly a third came from protected sharks facing extinction.