'One-Way Ticket Back Home': Lindsey Graham Criticized by Jaime Harrison for 'Dodging' Debate
South Carolina Senate Democratic candidate Jaime Harrison strongly criticized Republican Senator Lindsey Graham on Wednesday for pulling out of a debate that was scheduled to take place tonight.
Harrison has presented a strong challenge for Graham, who first became Senator in 2002. In the third quarter of 2020, Harrison's campaign drummed up over $57 million, the highest amount raised by a Senate candidate in U.S. history. Some recent polls show Graham and Harrison in a dead heat. Wednesday's debate was the second debate between the two candidates that has been postponed.
"This is probably the most historic Senate race in the history of this state, and to have Senator Graham ducking and dodging is really sad, but it's a testament to who he is," Harrison said Wednesday on SiriusXM's The Laura Coates Show. "He believes that he represents the interest in Washington, D.C. instead of representing the interests of the people in South Carolina. And that's why he's on the verge of getting that one-way ticket back home."
Newsweek reached out to Graham's office for comment.
Only the first debate out of a scheduled three between Graham and Harrison has taken place. In order to reduce the threat of contracting the coronavirus, Harrison stood behind his own plexiglass shield during the October 3 event.
Another debate, which was originally scheduled for October 9, had to be reformatted after Graham refused to be tested for COVID-19. Harrison requested the test because of Graham's close contact with Utah Senator Mike Lee. Lee revealed his positive coronavirus test earlier this month.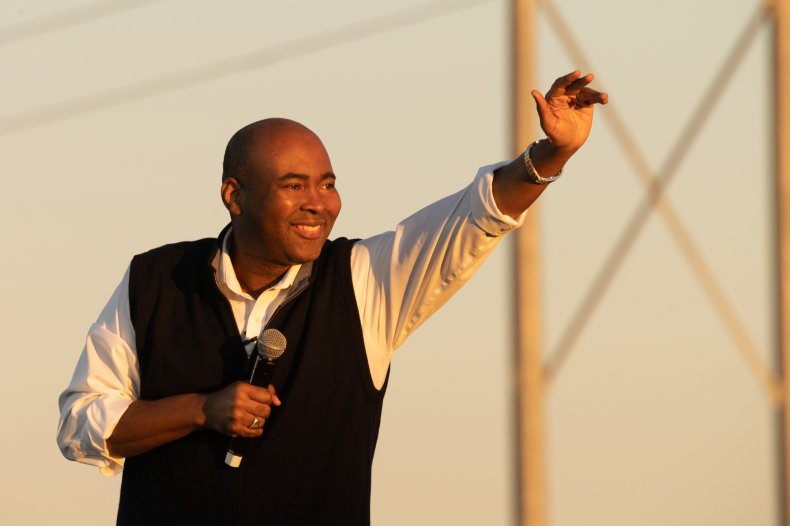 Graham, who said he had tested negative for the coronavirus one week before the debate, claimed Harrison was asking for "special treatment."
"Other than Mr. Harrison," Graham tweeted in October, "is any other South Carolinian demanding every person they come in contact with be tested before they meet?"
Graham's refusal to be retested caused debate organizers to change the format. Instead of debating face-to-face, the candidates participated in solo interviews.
Wednesday's debate was canceled after Graham announced he would be staying in Washington, D.C. throughout the weekend because of pressing votes in the Senate. "Those votes include Senator Graham's top priorities of confirming Judge Amy Coney Barrett and passing COVID-29 relief," read a Tuesday statement from Graham's campaign.
Harrison decried Graham's decision, saying that the election was too near to be avoiding debates.
"[Graham is] saying scheduling and he even said something about September debates," Harrison said Wednesday. "This is October. You know, I can send the senator a calendar if he doesn't have one."
President Donald Trump endorsed Graham in June ahead of South Carolina's primary election, tweeting that Graham was a "good friend and strong voice for the people of South Carolina. He's helped us confirm GREAT Judges, rebuild the Military and keep our Country SAFE."
Harrison has been endorsed by House Majority Whip James E. Clyburn, New Jersey Senator Cory Booker and Democratic vice-presidential candidate Kamala Harris.