One Week After Mass Shootings, Florida GOP Will Hold Voter Registration at Gun Show
One week after two deadly mass shootings, the Republican Party of Florida will hold two voter registration drives at a gun show in the battleground state as part of their efforts to reelect President Donald Trump in 2020.
According to Politico, a "Trump Victory Team" email, sent internally on Thursday, said the gun show taking place this weekend is a "great opportunity to make sure people are up to date on their voter registration and know more about the efforts of the Trump administration to address public safety and Second Amendment rights."
After the El Paso and Dayton mass shootings last weekend, which left 31 dead and dozens more injured, Republicans and Democrats have aggressively sparred over gun control and whether President Donald Trump's inflammatory racial rhetoric encouraged the hate and violence in the massacres. Although the Dayton, Ohio shooting showed no direct correlation to white supremacy, the suspected El Paso shooter appeared to have been inspired by anti-immigration rhetoric.
Calls for tougher gun control measures flooded social media over the weekend, with thousands of Americans using #GunControlNow to encourage lawmakers in Congress to pass stricter gun laws. The hashtag began trending on Saturday afternoon.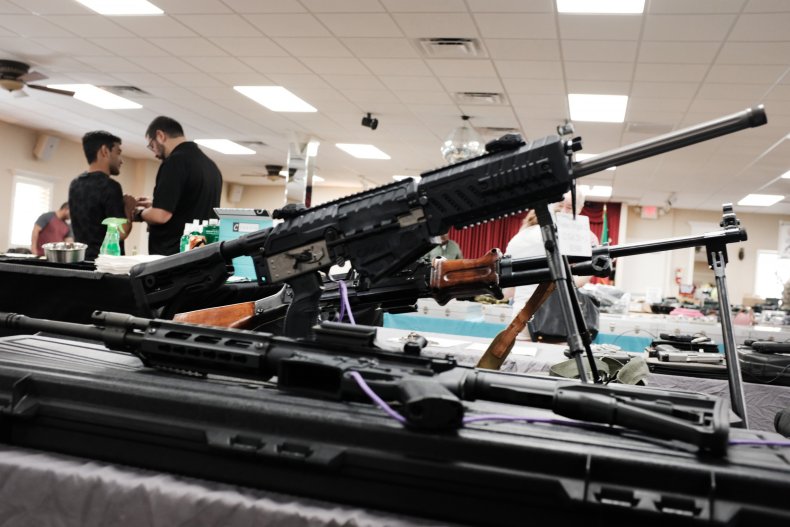 In response to the GOP's gun show plans, Florida Democratic Party Executive Director Juan Peñalosa condemned the Republican Party for allegedly "promoting [National Rifle Association (NRA)] propaganda."
"It's dangerous and frankly unbelievable that after a weekend of back-to-back mass shootings that the Trump campaign and the Florida Republican Party would promote registering voters at gun shows," Peñalosa said in a statement to Politico. "It is more evidence that they are in the pocket of the NRA and completely out of touch with the American people."
Republican Party of Florida Chairman Joe Gruters defended the move from critics and accused Democrats of attempting to use the mass shootings "as a wedge to halt any efforts we have."
"We are not going to let some sick deranged individual who committed those terrible acts distract us from efforts to help law abiding citizens participate in the process," the state senator added.
As Democrats demand passing gun measures to safeguard communities from violence, some Republicans have moved to blame mental illness and video games for the attacks that unfolded over the weekend.
Trump addressed the mass shootings in front of cameras in the White House's Diplomatic Reception Room on Monday. "Mental illness and hatred pulls the trigger," the president said. "Not the gun."