With a week to go until the election, President Donald Trump is trailing former Vice President Joe Biden by enough percentage points for an Electoral College loss.
Trump has been behind Biden in polling throughout the campaign cycle, and a week before Election Day, Biden has a 7.8 percentage point lead, according to a Real Clear Politics average. Biden's lead has largely held steady over the past week, unlike four years ago, when Trump started to close the gap between himself and Democratic candidate Hillary Clinton.
In 2016, Clinton led Trump by 2.2 percentage points at this point in the campaign, and the final popular vote reflected that lead. Trump is now dismissing the polls since they failed to predict the Electoral College vote in 2016, but the gap between him and Biden this year could spell trouble for his re-election chances.
"Even if you want to discount some of the polls, he's consistently behind by about 8 points. That's a real problem in the [Electoral] College," John Geer, a professor of political science at Vanderbilt University, previously told Newsweek. "If Biden wins by 5 percentage points nationally, he's going to win the college because he'll carry those close states."
Four years ago, Trump won Florida by only 1.2 percentage points, and Geer noted that a slight swing could move the state in Biden's favor. With a week before the 2016 election, Trump had a 0.8 percentage point lead over Clinton in the Sunshine State, but he now trails Biden by 1.8 points.
Lonna Atkeson, director of the Institute for Social Research at the University of New Mexico, called Florida critical to Trump's path to victory. Assuming both candidates take the states that are likely to vote for their party, if Biden wins Florida he'll be less than 30 electoral votes away from becoming president.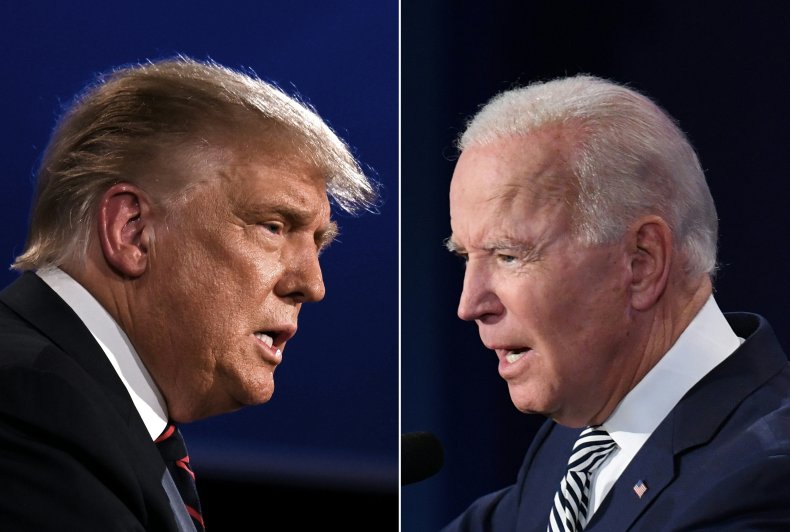 While polls can indicate an election result, the final outcome could be different after the ballots are counted. Trump isn't the first presidential candidate to trail in polling but pull off an election victory. In 1980, Ronald Reagan, who was trailing President Jimmy Carter by about 8 points, pulled ahead in the final week after the two debated for the first and only time. Reagan went on to win the election by about 10 points.
Although polls showed Reagan winning, Dennis Goldford, a professor of political science at Drake University, said people were still surprised by the size of his victory. He attributed it to a lot of undecided people falling "off the fence onto Reagan's side of the street" in the weekend and Monday before Election Day.
It's possible there could be an event that changes the dynamics of the race and causes a late surge for Trump, as was the case with Reagan. But this year has a fundamental difference from 1980: 64.7 million people have already cast ballots.
Given health safety concerns because of the coronavirus, states adjusted their mail-in voting rules and expanded early voting to give people ample opportunities to cast ballots. The spike in early voting has broken records, and voters have already cast 47 percent of the total votes in the 2016 election.
Some are attributing the rise in early voting to increased involvement in the election process, but this means candidates have fewer voters to convince in these final days. So far, turnout has been higher among Democrats than Republicans, but polls have shown Republicans are more likely to be voting in-person on Election Day. Another factor to consider is how many mail-in ballots get rejected, as that will change the number of votes a candidate receives.
Since so many voters have already made up their minds, Atkeson said, the goal of the campaigns should be to persuade the undecideds and to make sure a candidate's base turns out to vote.
"That's the really critical thing," Atkeson said. "What about voters who don't want to vote by mail? How are you ensuring they get to the polls?"