One Year After Spill That Contaminated Drinking Water, West Virginia Legislature Tries to Roll Back Chemical Regulations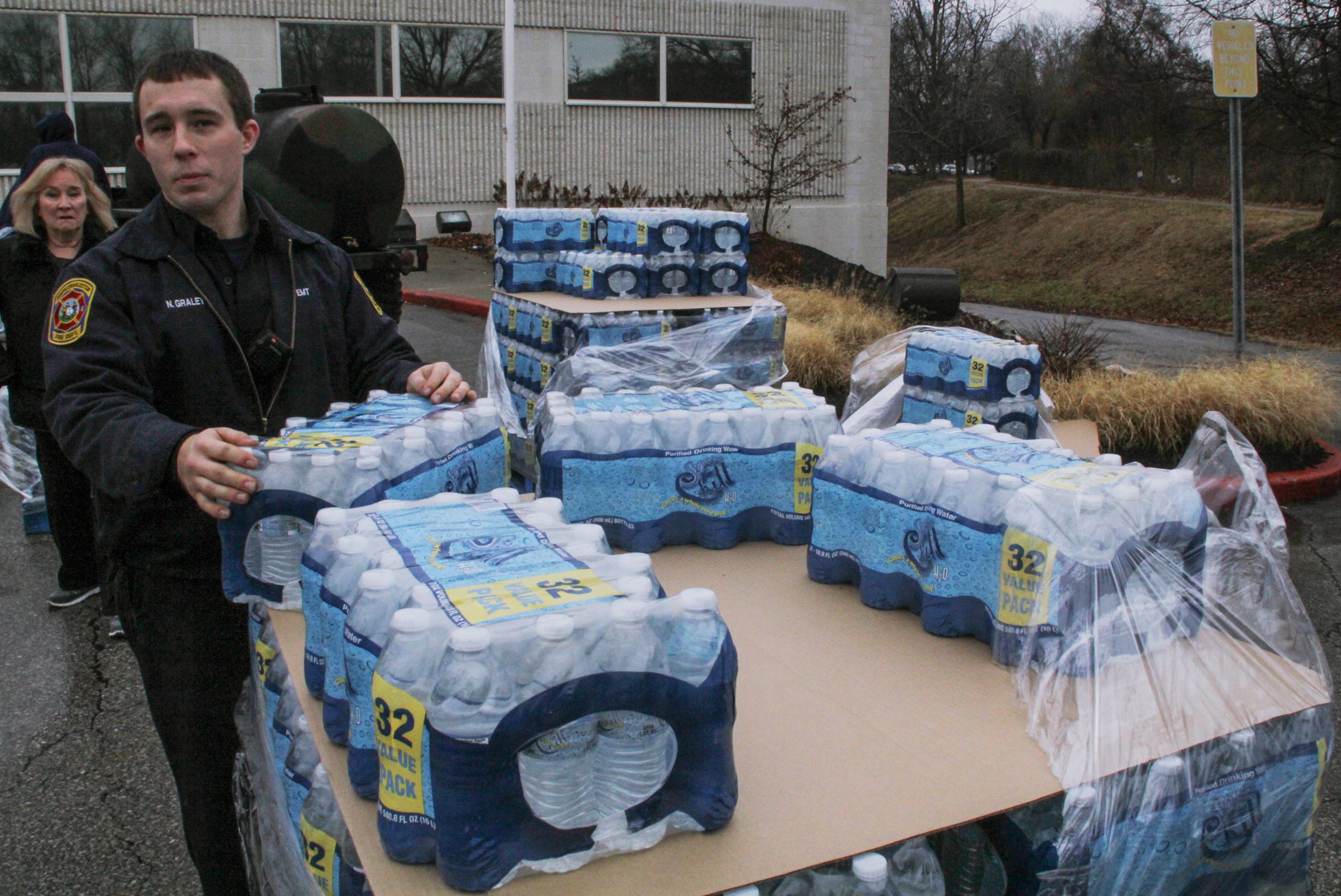 Around this time last year, 300,000 residents in Charleston, West Virginia couldn't drink or bathe in their tap water. Last January, roughly 10,000 gallons of a largely unknown chemical called "crude-MCHM" had spilled into the water supply from an old, crumbling storage tank.
Freedom Industries, the company behind the spill, was fined a paltry $11,000. But the event prompted West Virginia lawmakers to quickly pass new standards for above-ground chemical storage.
Now, West Virginia lawmakers are considering a bill to gut those new standards, along with other bills that would remove the most rigorous pollution protections for streams across the state, and protect the coal industry from being sued for violating certain water quality standards, the Charleston Gazette reported Monday.
West Virginia House Bill 2574, introduced last week, seeks to remove much of the text from Senate Bill 373, the above-ground tank regulation, particularly those parts that pertain to what steps a company must take to ensure that a spill like Freedom Industries' never happens again.
"I could remind you that despite its strength, Senate Bill 373 is nevertheless a compromise and concessions to industry were made along the way and I could point out that 1,100 tanks have already been designated not fit for service and that Senate Bill 373 is already working," activist Karan Ireland said at a press conference Monday, according to West Virginia Public Broadcasting. "Instead, I like to speak directly to the sponsors of these bills. What you are doing is wrong."
According to Paul Ziemkiewicz, the director of the West Virginia Water Research Institute, West Virginia's lax regulation of above-ground tanks was the main culprit behind the spill last year. "If these tanks had been properly maintained and inspected, and if the secondary containment system had been as well, then [the chemical] would never have gotten off this site. That's where the attention has to be paid," Ziemkiewicz said around the time of the spill, emphasizing that the state badly needed rigorous tank requirements to prevent another spill disaster.
Another proposal currently being considered by the GOP-controlled legislature would amend the state Department of Environmental Protection's proposed rules on drinking water protection to weaken its overall ability to regulate water quality. The amendment would stop the DEP from enforcing it's "Category A" drinking water standards that include 56 water quality parameters that affect human health, the Gazette reports.
Yet another proposed bill seeks to keep the coal industry from being sued for contaminating water. (Crude-MCHM, the chemical spilled by Freedom Industries, is widely used by the coal industry.) Senate Bill 357 would prevent lawsuits from being filed against mining companies for Clean Water Act violations if the standards being violated were not specifically written into state Department of Environmental Protection permits, the Charleston Gazette reports. At the same time, it would bar the DEP from applying those standards to future coal permits. The bill also includes a change that the coal industry has been seeking for years: to relax its limits on the amount of aluminum allowed in West Virginia's streams.
The United Mine Workers union opposes SB 357, because it would also weaken safety standards for coal miners, the union says. "As long as miners continue to die in West Virginia's mines, we need to be looking for ways to strengthen health and safety protections, not gut them," UMW President Cecil Roberts said Friday, according to the Gazette.