The Football Game That Broke The Scoreboard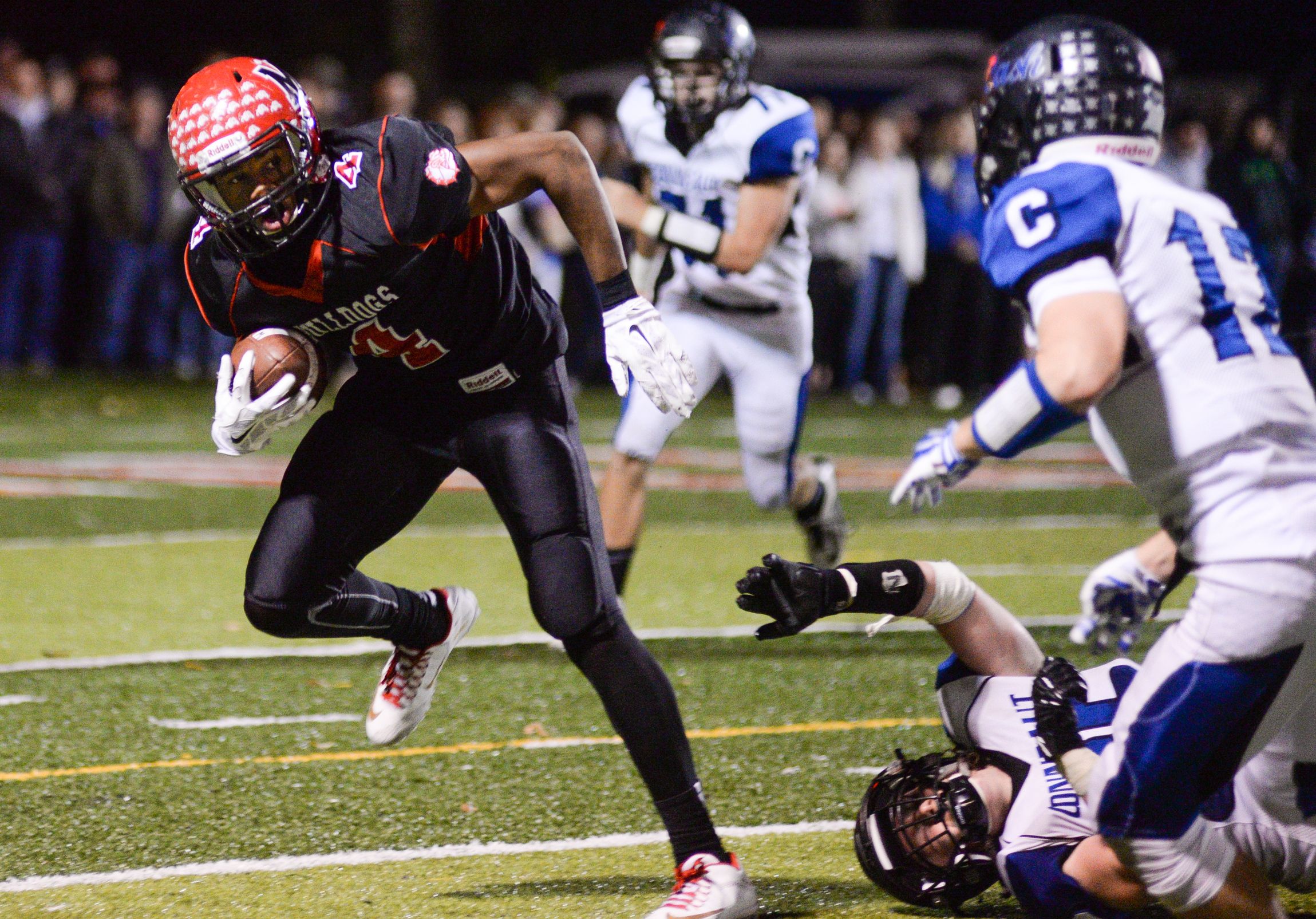 What is it about Pennsylvania and scoring marks that bend credulity? In March 1962, Wilt Chamberlain of the Philadelphia Warriors scored 100 points against the New York Knicks in a game played in Hershey, Pennsylvania. Chamberlain posted a Benjamin—no one has come within 18 points of it—but then he was the greatest scorer in NBA history.
Last September, a pair of otherwise middling western Pennsylvania high school football teams created a box score that was no less incredible. The Meadville Bulldogs defeated the DuBois Beavers, 107-90, in a display of mutually assured offensive destruction the likes of which no level of football has ever witnessed. "It was insane, it was insane, it was insane," says Pete Chiodo, the sports editor of the Meadville Tribune, who covered it on deadline. "I kept asking, 'How is this happening?'"
This time of year, thousands of high school varsity football games take place each weekend across the country, from Hyannis to Honolulu, from Key West to Kodiak. Almost all of them are, except to the players and coaches, forgettable. What transpired during Meadville at DuBois, a contest that kicked off under clear skies and mild temperatures last September, was not. It was a game that, later that evening, would lead off ESPN's SportsCenter.
In an end zone–to–end zone affair that lasted three and a half hours, Meadville won 107-90. The Bulldogs and Beavers put up the highest combined score in a high school football contest since 1928, when Sherman (Texas) opened its season with a 199-0 defeat of McKinney. That was a massacre; this was a shootout.
Under the lights at E.J. Mansell Stadium, a venue whose midfield is decorated with a large black "D," almost none was played. DuBois, employing a spread offense with four or five wideouts, passed with near impunity as it set national records for most points (90) and yardage (904) by a losing team. Meadville, operating a Wing-T attack, set a national record for most yardage in a game (1,004), all of it rushing. "We never attempted a pass," says Meadville coach Ray Collins, 49 (the Bulldogs actually attempted one, and it fell incomplete). "There was no need to."
DuBois sophomore quarterback Matt Miller, in his varsity debut, set a national record for passing yards in a game (787) while tying another by throwing 10 touchdown passes. Meadville's running back, a junior blessed with the splendiferous name of Journey Brown, rushed for 10 touchdowns and 722 yards. "People think my mom named me after the band," says Brown, who averaged 24.1 yards per carry while constantly going separate ways from DuBois defenders. "It's not that. She just liked the idea of a quest."
By game's end, both schools' defenses were as confounded as the Mansell Stadium scoreboard operator: The final score read "DuBois 90" and "Meadville 07" because the electronic board only was equipped to show two digits per team. That was fitting. This was a spectacle during which even seeing was not believing.
As the two schools prepare to meet again this Friday in Meadville, last year's game merits a closer look.
***
On Friday, September 11, Pete Chiodo loaded his laptop computer and a few legal pads into his tan 2010 Kia Soul. Chiodo, sports editor of the Meadville Tribune, would make the 114-mile drive east alone, as he had opted not to schedule a staff photographer. "It was just another game," says Chiodo. "I figured it would just be a brief game story in our Saturday paper, and I thought, I'm gonna do it myself."
In DuBois, located just south of Interstate 80, the unofficial Main Street of the Keystone State, 15-year-old Matt Miller was anxious. He would not only be making his varsity debut for the Beavers, but the 6-foot-2 sophomore would be taking his first live snap in a football game in more than 20 months.
A three-sport stud, Miller had torn the ACL in his left knee in eighth grade sliding into home plate during a baseball game. Miller had sat out all three sports his freshman year at DuBois and then tweaked his knee in the Beavers' second scrimmage the following August. "The doctor said that I had a slight tear in my calf muscle," said Miller, "but that if I could take the pain, I could play."
As a precautionary measure, DuBois coach Frank Varischetti had Miller sit out the Beavers' opener, a 51-41 defeat of Mifflin. "I was nervous," says Miller, a near straight-A student. "I obviously had pregame jitters."
In Meadville, Collins's 49 players prepared to travel in style. Ordinarily, the Bulldogs ride in yellow school buses, but a local booster group had upgraded them to Coach buses for the two-plus-hour excursion. "It was nice, but it was a long trip," says Brown. "When we first got off the bus, the only thing on my mind was going to the bathroom. After that was out of the way, I felt great."
As DuBois athletic director Mike Erickson strolled the sideline of Mansell Stadium prior to kickoff, he was pleased that 2,000 or so fans had paid the $5 admission on a sublime September evening. "It's not as if either one of our teams were state championship contenders," says Erickson.
There was little foreplay. On DuBois's third play from scrimmage, Miller spotted a wide receiver open over the middle. "I overthrew him," says Miller, who operates out of a no-huddle offense. "I looked over at the sidelines, and our assistant coach was gesturing for me to settle down. We called the same route the next play, and it went for a 47-yard touchdown.
Meadville wasted less time. Journey Brown scored on his first carry, a 76-yarder off a jet sweep. "Believe it or not, when you score right away like that," says Brown, "it makes you feel faster."
And off they went. Miller threw a 67-yard scoring pass. Brown housed one for 49. Miller connected on a 60-yard strike. Brown galloped in from 58 yards away. Just before halftime, Brown scored on a 35-yard run that would have given Meadville the lead, but the Bulldogs were called for holding. At halftime, DuBois led 56-51. The players, many of whom started on offense and defense, were gassed. Hell, the referees were gassed. "The people I felt sorriest for were the officials," says Erickson. "At halftime, I got them anything they wanted. Gatorade. Snickers bars. Whatever they asked for. We were lucky that crew was made up of guys in their 30s."
Inside Meadville's locker room, coach Ray Collins might have chewed out his defensive secondary coach, except he was the Bulldogs' secondary coach. "I couldn't yell at him," says Collins, a garrulous man with the affable comportment of a yellow lab. "I do know that we didn't make any offensive adjustments."
DuBois coach Frank Varischetti found himself in the bizarre position of being sanguine about his team having allowed 51 first-half points on their own turf. After all, his Beavers were ahead. Still, Varischetti recognized that he needed to make a major adjustment in a contest in which touchdowns were flowing like the Allegheny River. "We decided to onside kick after every score in the second half," says Varischetti, 33. "Stopping them was out of the question. We had to steal possessions any way we could."
On the sideline, Chiodo felt drained. He prefers to spend the game on the sidelines, using one legal pad to denote the play-by-play and another to update stats as he keeps pace with the line of scrimmage. He had just recorded 15 combined touchdowns and approximately 1,000 yards of offense in one half. "My shoulders were beginning to hurt from writing so much," says Chiodo, who was also beginning to feel anxious about the Tribune's 11:55 p.m. deadline. "And I was beginning to realize this was a front page story that we had no photographer for."
Besides being Meadville's football coach, Ray Collins is a Pennsylvania state highway patrolman. For 19 of his nearly 25 years on the force, Sergeant Collins has been involved in criminal investigations. The work suits him. "I can put my thumb on things pretty quickly," says Collins, whose son Tanner played tight end on last year's team. "I like to examine crime scenes and the facts of the scene. It parallels what I do as a football coach. You watch film and watch it again. You can diagnose another team's tendencies. I love doing that."
The problem was, Collins had no film on Matt Miller before last year's game. The young man had last played in eighth grade. "We'd heard rumblings that Matt was good from seven-on-seven leagues," says Collins, "but we had no idea what we were in for."
As for DuBois, the Beavers were missing four defensive ends due to injury and, as the smallest school in the state at the AAAA level, they had neither the depth or the speed to stay with Brown, who the following spring would win the state championship in the 100-meter dash. "We don't see the Wing-T but for one game all year," says Varischetti, a former collegiate offensive tackle, "and beyond that it's impossible to simulate their speed in practice."
What you had, as Dubois's athletic director, Erickson, puts it, was "a perfect storm for scoring touchdowns." Here were two teams that ran completely opposite offenses—the Spread for DuBois and the Wing-T for Meadville—whose defenses were ill-prepared for a one-week crash course in how to stop the other. It certainly didn't help that both teams played at least half their offensive starters on defense.
Besides the cultural disconnect between the two schools' offense, Collins believes that there is a generational disconnect as well. "Defense just isn't played with the same tenacity that it used to be," says Collins, whose Bulldogs only a year earlier had lost a 79-78 shootout to Warren High School. "Today, you get the feeling that somewhere in the back of these kids' heads they're thinking, We can probably get it back."
The third quarter illustrated Collins's point. Meadville, for the third consecutive quarter, gave up four touchdowns while DuBois did them one worse, allowing five (all 23 of the game's touchdowns were scored on offense). Brown, whose second-half touchdown runs would make for a bizarre Pick 5 lottery ticket (65, 18, 47, 93, 66) was beginning to cramp up. "I'd come off the field in tears and find my mom," says Brown. "She'd just say, 'Keep going.'"
Journey Brown's mom offered more than encouragement. Throughout the second half, she was buying Gatorade at the concession stand and smuggling it to Meadville trainers to pass to her son. "It was rough," recalls Brown, who also spent a few plays on defense when teammates were overcome by cramps. "I was on punt return too, but they didn't punt that much."
"It felt as if DuBois was trying to defeat Journey," says Chiodo, "by allowing him to run himself to death."
Meadville led 85-82 at the start of the fourth quarter. Through three quarters, no NFL, college or high school contest had ever seen one side post more than 80 points while also allowing 80-plus points. "I've never seen so many fluctuations from a coaching staff between raging anger after giving up a touchdown and elation at having scored," says Chiodo. "It went back and forth like that for three quarters."
In the fourth quarter, Miller threw two interceptions and the visitors began to pull away. Brown, having surpassed 700 yards, earned a rest as backups Antonio Ferrara (160 yards, three touchdowns) and Caleb Bish (91 yards, two TDs) proved serviceable replacements.
"It was like a 14-7 game most of the way," says Collins, who is a DuBois High alum. "A nail-biter. But then we went up by two touchdowns, and our fans were more excited to see us put up 100 points."
When it was over, fans streamed from the stands to pose for photos in front of the scoreboard. Chiodo, who had expected the game to end at least one hour earlier, rushed over to Brown for a quick quote ("I'm tired. I'm real tired") before sprinting to the parking lot to type up the story from the driver's seat of his Kia.
"I had the car running so that I could use the pilot light to read notes," says Chiodo, who likely never got into sports writing expecting to do this much math. "I was adding up Journey's rushing numbers and Miller's passing stats and just hoping I got it right, but I was frantically racing against the deadline."
In the frenzy of it all, Chiodo missed noting that had Brown's second-quarter TD run not been called back, he would have broken the all-time single-game rushing record of 754 yards set by John Giannantonio of Netcong, New Jersey, in 1950. In one game, but for one yellow flag, the individual single-game passing and rushing records would have fallen. Of all the tens of thousands, if not hundreds of thousands, of high school football games that have ever been contested...
"That's just it, though," says Chiodo, who has had a year to ruminate on the most unforgettable game he will ever cover. "They needed one another to each break those records. If either school was slaughtering the other, the starters would have been pulled. This game was close almost the entire way through. Miller had to keep passing, and Journey had to keep running."
***
The aftermath was a post-millennial zeitgeist moment, as a blitz of text messages and tweets bombarded all involved. Collins, the visiting coach who defeated his alma mater, "heard from every coach I'd ever known." Miller arrived at his locker back at DuBois High (the school is located about a mile from Mansell Stadium) to find at least 100 tweets directed at him as friends and strangers alike informing him that he had broken the national high school record—in his first start. "I guess I can handle starting varsity," Miller told his father.
Brown was too exhausted to check his phone on the ride home. He lay down in the aisle of the Coach bus as teammates massaged his calf and thigh muscles. The bus arrived in Meadville at almost 2 a.m. Collins, a devout disciple of routine who ordinarily calls an 8 a.m. film meeting on Saturday mornings, allowed his players to arrive at 9 a.m. "I told them to sleep quickly," he says.
Chiodo arrived home at 2:30 a.m. His story had already been posted, the only firsthand report of the most outrageous high school game ever played. Beyond fatigued, Chiodo made the mistake of checking social media as he prepared for bed. "People were fact-checking my story and letting me know that I'd added up Miller's passing yards wrong," says Chiodo. "I short-changed him by about 30 yards."
So Chiodo pulled back on his shoes and drove 10 minutes to his newspaper's offices. It was too late to save the error in Saturday's print edition, but he could at least correct the online story.
Back in DuBois, Miller woke up to discover that "my knee was throbbing. It was the size of a basketball." He would put ice on it and play the rest of the season battling through the pain of what he believed was a partially torn calf muscle. Only later would a follow-up MRI inform him that he head re-aggravated his eighth-grade injury the previous August. Miller had thrown for 787 yards on a torn ACL.
Meadville 107, DuBois 90 took its toll on both programs. "Our players were pretty fragile after that," says Varischetti, whose Beavers finished 5-5. "We had to build up their confidence from scratch."
And yet the Beavers would later handily defeat two schools, Oil City and Franklin, who both handily beat Meadville. "We were never as mentally prepared the rest of the season," says Collins, who never gave out a game ball or did anything to commemorate the win. "The game, and the media onslaught, was a natural-born distraction."
This Friday, DuBois travels to Meadville, where a local eatery has named a sandwich after Journey Brown. Now a senior, Brown is averaging 174 yards per game for the winless (0-2) Bulldogs. Miller has yet to play for DuBois (1-1). "They're being careful with my knee," says Miller, who underwent a second ACL surgery last January, "but I'm hoping I'll be ready to play this week."
Meanwhile, Collins believes that his Bulldogs will be better prepared for the passer from DuBois with the gifted arm and the gimpy knee. And he has now moved on from coaching the defensive backs to linebackers. "We're better prepared for DuBois," Collins told Chiodo with a grin last month, "because I fired my defensive secondary coach."
The Football Game That Broke The Scoreboard | Sports