OnePlus 7T Full Review: High-End Specs, Lower Cost—This is How It's Done
The OnePlus 7T offers flagship specs and a stunning user experience, incorporating some of the highlights from the 7 Pro into a device with a more affordable price point.
After a few weeks of use, it is obvious there is a lot to love about the latest smartphone from the up-and-coming phonemaker. The 7T, which hits the U.S. via T-Mobile this week priced at $599, makes a lot of sense in the context of the American market—working to bridge the gap between 2018's 6T handset and the more premium 7 Pro, which was released back in May this year.
That gap is narrowing, with the 7T matching the Pro's screen specs by offering a 90Hz refresh rate, a super-fast fingerprint sensor and fast-charging.
Interestingly, in some respects it actually exceeds its 7 Pro sibling, which is currently priced at $699. It offers a better CPU, the Snapdragon 855+, and Android 10 installed out of the box. Of course, there are limitations when compared with the Pro, including the variety of storage options and battery power.
While some design choices are radically different from the Pro and are unlikely to be universally loved, mainly the protruding circular design of the rear camera, the existence of the 7T adds to the mounting evidence that smartphones no longer need to cost $1,000 to be worth your time.
Specifications
Dimensions: 6.33 x 2.93 x 0.32 in
Screen: 6.55 inches, 1080 x 2400 pixels, 20:9 ratio, 90Hz
Operating System: Android 10.0; OxygenOS 10.0.3
Chipset: Qualcomm Snapdragon 855+
Internals: 8GB RAM, 128GB Storage
Camera: 48 MP, 12 MP, 16 MP Triple Setup
Bluetooth: 5.0
Battery: Fast charging 30W (Warp Charge 30T)
Colors: Frosted Silver, Glacier Blue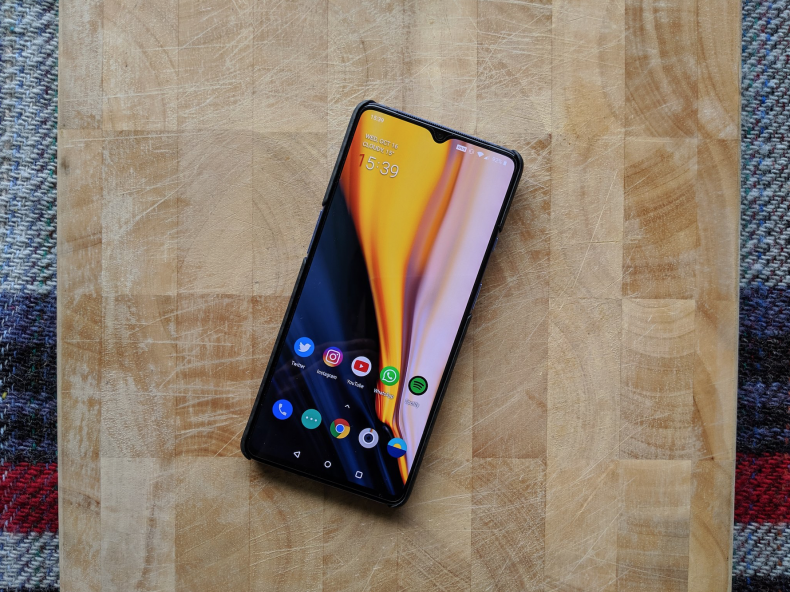 Performance
Inside the body of the OnePlus 7T sits the new Snapdragon 855+ chip, which offers increased CPU speeds and approximately 15 percent faster graphics rendering compared to the standard 855 that sits in the 7 Pro model. During testing, the handset had no trouble running competitive online matches on Call of Duty Mobile and applications consistently opened quickly.
In fact, performance remains one of the main selling points of the 7T. The 90 Hz display means its smoother than ever before. It may seem like jargon, but the high refresh rate actually does appear to make a difference when scrolling websites or searching through your pictures. For comparison, rivals such as the Galaxy Note 10 and iPhone 11 Pro are capped at 60 Hz.
There are zero complaints about brightness on the 7T. Expert breakdowns are available online, but in my testing it was more than adequate and it never felt like the 1080 x 2400 screen was too dark, while the adaptive mode was great at managing levels on-the-fly. The color palate can be changed via a calibration menu, which can be set to vivid, natural or advanced.
Higher specs typically mean the battery drains faster, and the 7T is no exception. The handset's 3800 mAh battery produced about a day-and-a-bit of use in testing, including checking emails, watching YouTube videos, social media browsing, making short calls and using chat apps.
While it's not on the levels of some rivals, including the 2-day battery beasts from Huawei, it's more than enough power for most. Importantly, the 7T's fast-charger boosts it from zero to full in under an hour. As long as you bring along the Charge 30 adapter, concerns will be moot.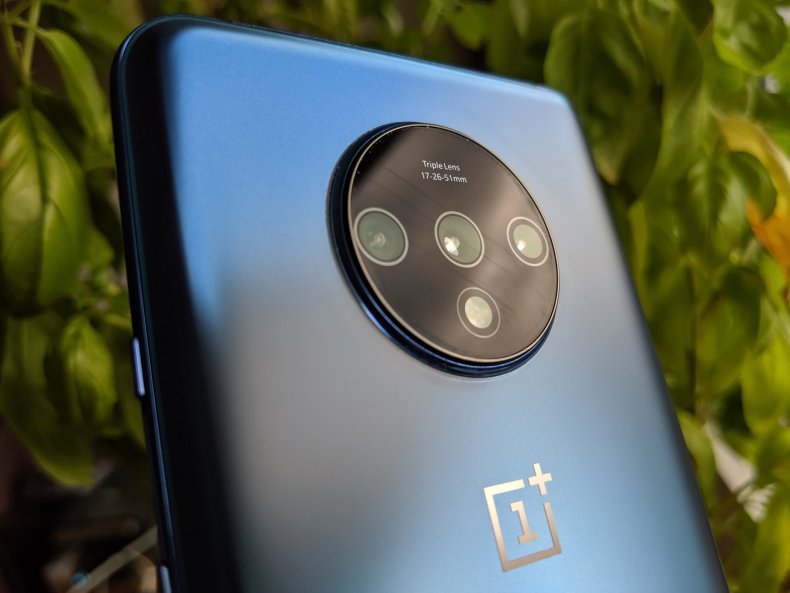 Software
Out of the box, the 7T comes installed with OxygenOS 10.0, built on top of Android 10, which is the latest version of the mobile operating system. In more cases, it's a joy to use, and only adds to the premium feel of the new OnePlus smartphone. There are more customization options alongside optional gesture controls that change how you navigate menus and apps.
While many of the software tweaks are behind-the-scenes, the OS now lets you change button colors, fonts, flick between light/dark modes, change icons styles, wallpaper structures, clock styles and the animations that surround use of the fingerprint scanner.
Thankfully, there are also a slew of privacy features baked in. The permissions manager is more detailed than ever, letting you check exactly which apps are using your data at any point. With a click, you can revoke permissions if they appear unnecessary or creepy. It really opened my eyes to just how many apps now ask for real-time location data, for example.
Gesture control works as intended, but the jury is out on whether that is good or bad. In testing, gestures never quite clicked, and in some ways appeared to clash with application menus.
There is a lot of choice for anyone who likes to navigate using gestures, however. Swiping in from the lower left works as a back button, users can access the home screen by swiping up from the bottom and open apps appear with a half swipe up from the lowest bezel. Still, in my weeks of use, nearly all movements on the OS were set to work by the standard nav bar.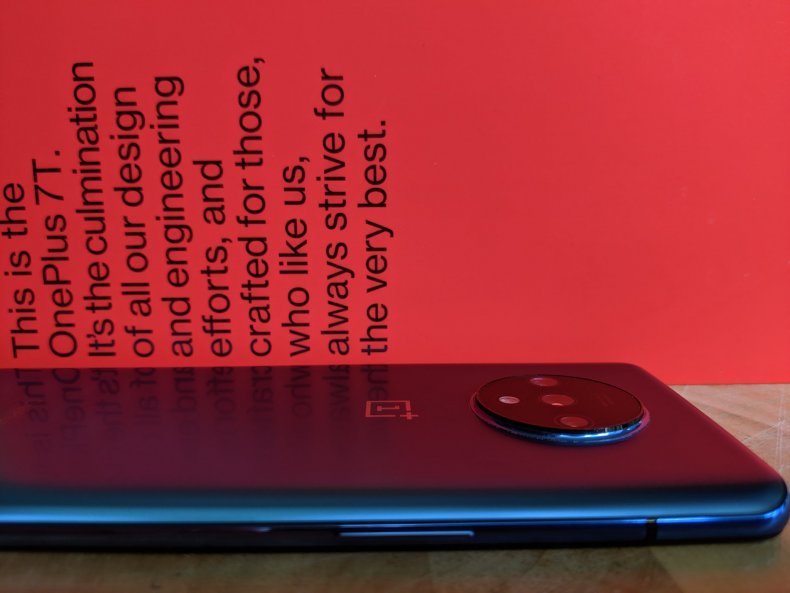 Design
The body of the 7T (6.33 x 2.93 x 0.32 inches) fits well in the hand, but like all bigger phones of that size can sometimes need two hands to operate. Luckily, OnePlus has said a one-hand mode for OxygenOS is in the works. The 7T design is conventional, with a teardrop notch at the top middle of the 6.55-inch screen which houses the front-facing "selfie" camera.
The 7T is built with matte-frosted glass and comes in two colors: Frosted Silver and Glacier Blue. Button layout is fairly unremarkable, aside from a really nice switch on the top right side which lets you quickly toggle between silent, vibrate and full sound. Yes, it's a small feature, but it gives a satisfying click and provides vibration feedback. Physical ASMR, if you want it.
Another plus is the phone's weight, which at 6.7 ounces (190 grams) is enough to feel sturdy without putting a strain on your hand grip. Lighter phones, such as the Pixel, can sometimes feel like they will float away—not what everyone wants from a premium experience.
The back of the device, despite looking gorgeous from an aesthetic viewpoint, is actually its biggest downside. The glass is extremely slippery, meaning you will definitely need to purchase a case for the 7T if you plan on taking it anywhere outside of a bouncy castle.
The camera bump is also an issue, protruding significantly from the surface of the phone and is surprisingly sharp to the touch. The 7T doesn't have wireless charging, which is increasingly popping up in some rival devices, and also lacks a headphone jack, if you're still into that.
On the subject of potential limitations, it should also be noted the phone's 128GB of internal storage can't be changed as there is no MicroSD card slot to add more memory.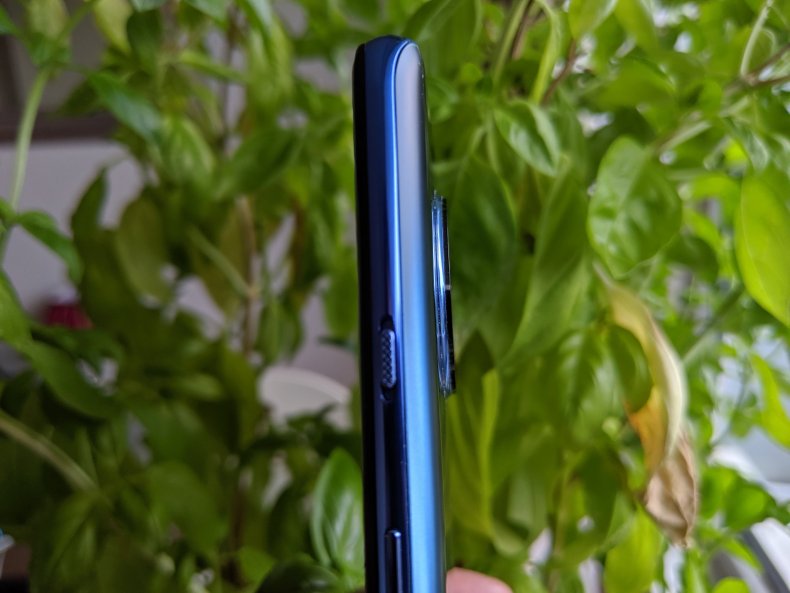 Cameras
The 7T offers a triple camera setup, consisting of a 48-megapixel (ƒ/1.6) lens by Sony, a 12-MP (f/2.2) telephoto lens and 16-MP (f/2.2) ultra wide-angle lens. The front camera is 16-MP.
The device shoots 2160p video at up to 60 frames per second (fps) and 1080p video at up to 240 fps. In offers optical image stabilization and a 2X optical zoom. So far so normal, but the biggest news about the photography on the handset comes in the form of a new Macro mode that produces detailed close-ups of subjects from as little as an inch away from the lens.
In reality, the camera setup was consistently good, if not consistently great. With lots of light, the main lens had some fantastic results, and is always great to have a wide angle lens to hand, but the phone did appear to struggle ever so slightly when faced with unpredictable or harsher lighting scenarios, such as shooting under a bright heat lamp of a London pub.
Tinkering with the new night mode appeared to improve images in dark situations, but couldn't match the performance of rival (but admittedly more expensive) phones like the P30 Pro. The OnePlus 7T quality may see significant upgrades in future software patches and it should be stressed that the 7T camera has performed more than admirably for a $599 smartphone.
Some photography examples, taken on the OnePlus 7T: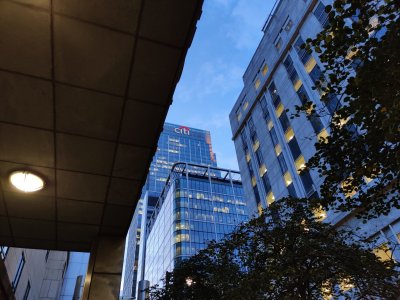 Audience
The 7T is not for everyone, but strangely that appears to be the point. While it is unlikely to be a must-buy for anyone who already owns the recently-released 7 Pro, it is likely intended to tempt anyone with a OnePlus 6T in their pocket who fancies a significant performance boost.
Unlike other regions across the globe, most U.S. consumers will never have caught a glimpse of the cheaper OnePlus 7 when it was released in May earlier this year. The phone, which was essentially 2018's 6T with an updated chip and camera, never got a stateside release.
Instead, Americans received the OnePlus 7 Pro, the $699 flagship with a neat pop-up camera and curved screen. Likewise, the 7T Pro, announced for Europe last month, will not be getting a U.S. release window. A 5G model was recently teased but information remains scant for now.
From October 18, the U.S. release date, there will be three choices for fans: the 6T ($499), 7T ($599) and 7 Pro ($669). Indeed, the next flagship upgrade the States will see if likely to be the OnePlus 8. That appears to be an intentional, tactical, move for the Chinese company, which is staggering releases across different markets. Only time will tell if the strategy will pay off.
There is a lot of competition in the smartphone market these days, but the $599 OnePlus 7T is yet more evidence that you don't have to charge Apple prices to get your hands on a fantastic handset. The 90Hz screen should be the industry standard, the OxygenOS skin is top-notch and its quick-charging feature is brilliant. It's not perfect, the camera design won't be for everyone and you will need to use a case to combat the slippery frosted glass, but despite the cheaper price point the 7T still packs a premium punch.
The OnePlus 7T goes on sale in the U.S. from October 18, sold exclusively via the mobile carrier T-Mobile. Disclaimer: A handset was provided by OnePlus for the purposes of review.