OnePlus Buds Pro Review: Smooth Sound and Sleek Design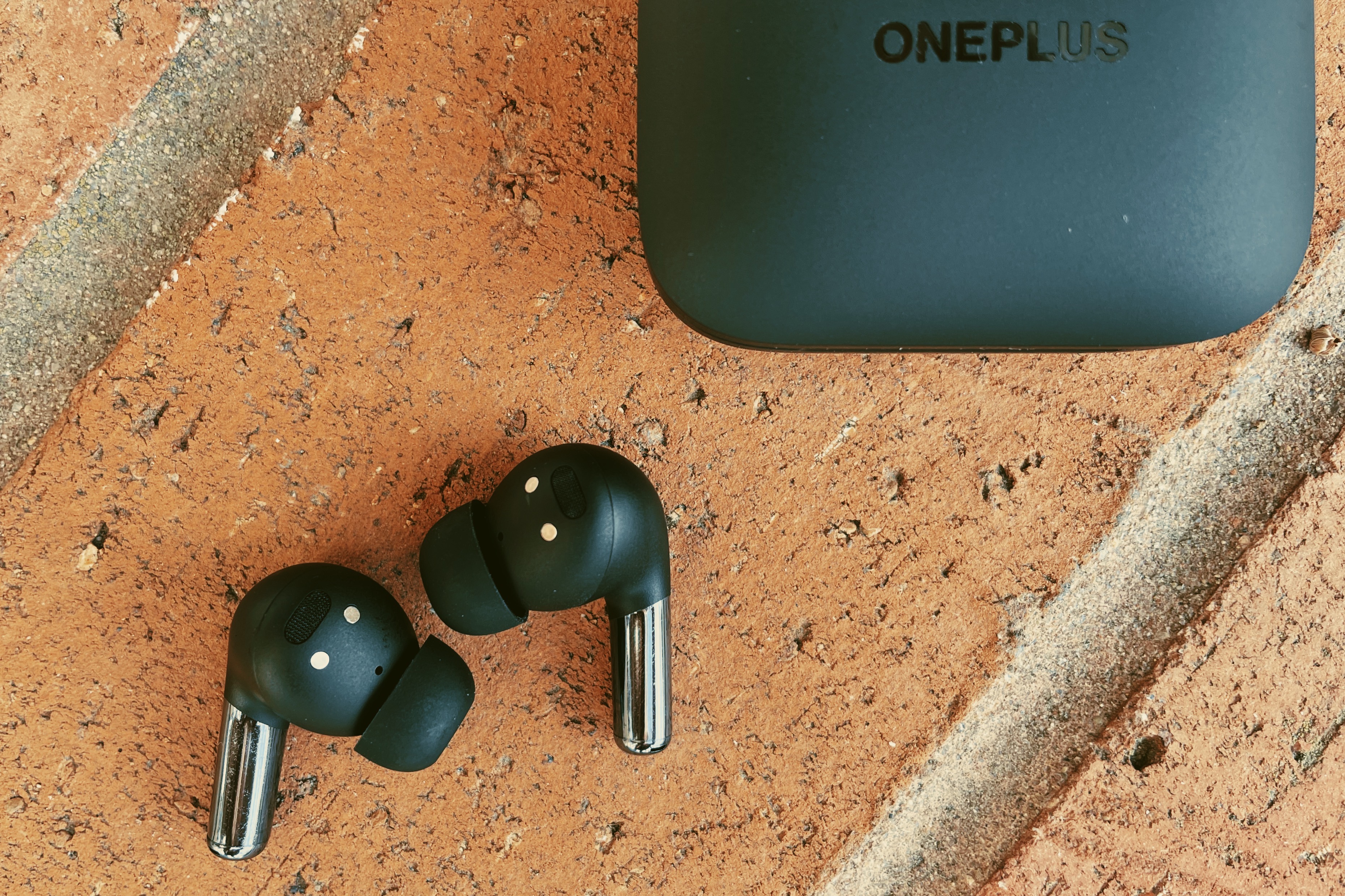 In 2021, companies need to go further than just making pretty good true wireless earbuds. The market is saturated and growing more so by the day. To stand out, wireless earbuds need to sound great, be comfortable, have the most common features and—unless the company's name is Apple—be priced ultracompetitively.
In a bit of a surprise, OnePlus has broken through the crowd with its Buds Pro to make an impressive pair of true wireless earbuds. Everything that needs to be here in a product like this, from features to sound, is present. Plus, OnePlus nailed the finer details, like a manageable case size and touch controls that work better than a lot of competitors'.
Unfamiliar with the OnePlus brand? That's OK. I'll explain as we go. In short, while the Buds Pro aren't priced to undercut every alternative product, they are a fantastic choice in most regards.
TL;DR
Pros
Solid ANC performance
Attractive design
Great bass and overall sound quality
Functional touch controls
Cons
Price, compared with competitors'
Companion app, HeyHarmony, is lackluster
Buy at OnePlus.
OnePlus Buds Fit and Feel
Even before putting the earbuds into your ears, you might notice they look attractive. Part matte plastic, part shining silver, the earbuds find the right mix of style and function. Once you do flip open the case and pop the buds in each ear, you'll find a secure, lightweight feel.
I kept the medium-size rubber ear tips on, but there are smaller and larger ones if you prefer those.
The case feels small and compact. The dimensions of the OnePlus case are just slightly larger than AirPods Pro's, but, in the hand, it feels like a very manageable size.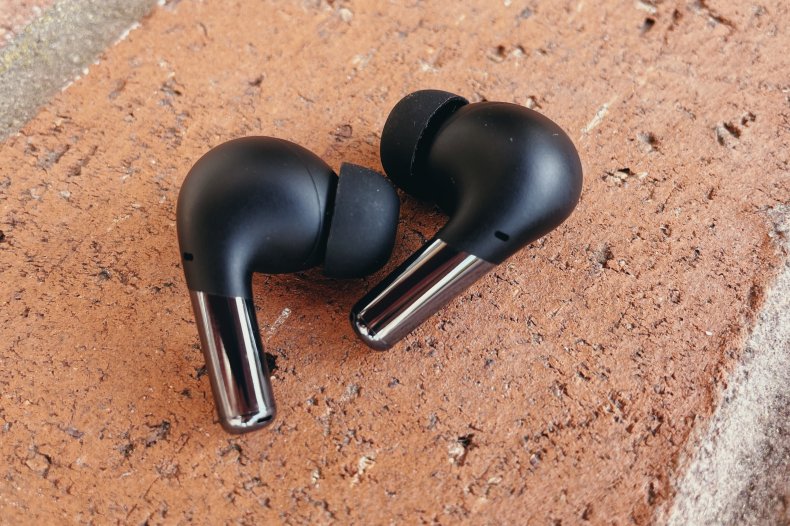 What Is OnePlus?
So, what is OnePlus? The company released its first smartphone back in 2014 as a spunky startup. OnePlus was born as an offshoot of Oppo, by employees from that Chinese electronics manufacturer. OnePlus has changed fairly dramatically over the last seven years, but interestingly it came to more closely resemble Oppo as one of its founders, Carl Pei, left to establish the new tech company Nothing.
While OnePlus is mostly known for its mid-priced, Android-flavored mobile phones, it is, of course, also making things like wireless earbuds. I mention this brief history of the company because, while the Buds Pro are all-around great, there are a few incredibly minor details about this product that have piqued my curiosity.
The instruction booklet included in the box is a little hard to understand and doesn't have the attention to detail it did a few years ago. The earbuds' HeyHarmony app is a multiple-purpose app spread across various headphones, including those from Oppo, but it lacks the polish that the apps from Nothing and JBL have.
Features and Touch Controls
It's not a guarantee that all playback controls on wireless earbuds are well-thought-out, or work well. So the fact that the controls on the Buds Pro work a little more reliably than others is a good sign. The controls are all on the stems. That means you can touch the main part of the earbud to stick it in and adjust it in your ear without adjusting the audio accidentally.
One press of your fingers around the stem will play and pause, two presses will skip forward and three presses will skip back. Pressing and holding for a full second will toggle the ANC on and off between transparency mode.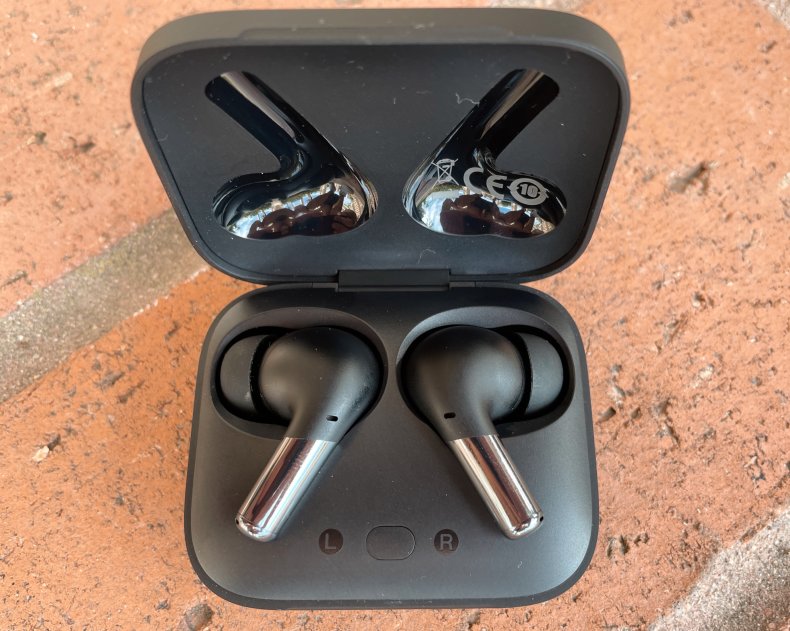 Yes, the controls mimic those of the AirPods Pro, but so far those are some of the best controls for a small surface area, so that's a good choice. There's even an artificial click sound when the stem is squeezed.
Just to reiterate, most touch controls work just fine while sitting on your couch, in a calm house. But the real tests come when you're 2 miles into a 3-mile run or when chaos breaks loose and you become flustered in a situation. For running, I was able to put my index finger against the earbud to steady it and click the stem with my thumb and middle finger. Earbuds that have touch controls across the whole surface are much harder to manipulate precisely for that reason.
One feature that I hadn't encountered before is Zen Mode. Press and hold the stem for 3 seconds and the earbuds will start playing nature sounds. There are six different sounds to choose from in the app, and the audio appears to be downloaded to the earbuds themselves and accessible no matter your connectivity. It's neat and works fine—I never triggered it by accident. Is it necessary or worth buying the earbuds for? Probably not.
ANC is robust here, meaning both that it works well and has several strengths available. I tended to stick to its default, Smart, and was satisfied in everyday, casual use. The maximum level should be sufficient for an airplane setting. Interestingly, the thing I longed for most was a little more noise in transparency mode. Some situations, like walking on a city street, could benefit from more outside noises.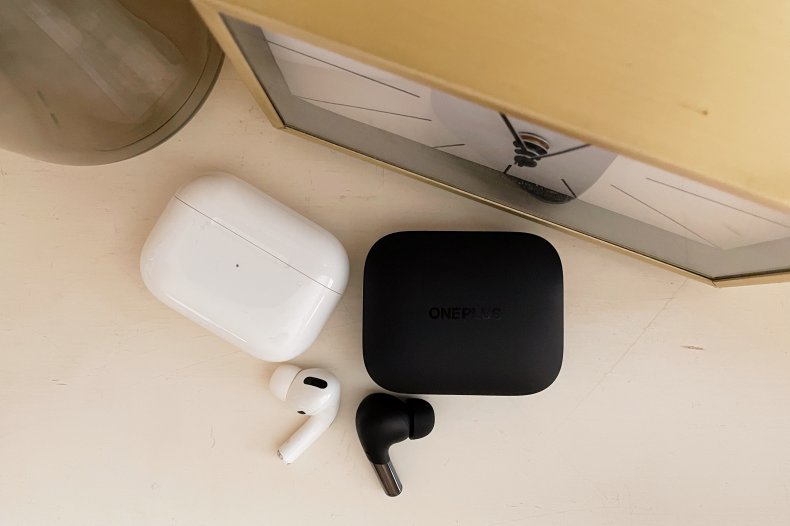 Buds Pro Sound
While the fit and features are critical to a pair of earbuds, they, of course, also need to sound good. In short, these OnePlus Buds Pro sound great. The bass is deep and resounding. The treble range is crisp and clear. Even with transparency mode enabled, music sounds less hollow than other similarly priced earbuds.
In the app, you're able to configure the earbuds to your specific hearing. It creates a sound profile to your hearing frequencies. The before and after differences for me were subtle, but they were better with the tweaked EQ, based on what I could hear. I feel confident that it's worth the 2 or 3 minutes to go through the test. If nothing else, it's enlightening to understand where your hearing might not be as good as you thought it was.
To get a sense of the fullness the earbuds could provide, listen to Andrew Belle's song "My Poor Heart." Present in the song's breakdown is a simple chord progression on the keys demonstrating the upper sound range. It booms with exploding electronic sounds when wearing the Buds Pro.
Should You Buy OnePlus Buds Pro?
Overall, the OnePlus Buds Pro are terrific earbuds. This product gets much more right than anything it doesn't. If the earbuds are speaking to you through their physical design, calling your name, then go for it. You should be happy with the product as a whole.
The $149.99 retail is probably the slightest disappointment here for me. Yes, the Buds Pro are worth it, but there are a few other wireless earbuds that also compare favorably and come in at a lower price point. Less expensive Buds Pro would be a fantastic value. Still, in a market crowded with plenty of wireless earbud choices, OnePlus has made a worthy contender.
Buy at OnePlus.
Newsweek may earn a commission from links on this page, but we only recommend products we back. We participate in various affiliate marketing programs, which means we may get paid commissions on editorially chosen products purchased through our links to retailer sites.