Online Child Abuse Likely to Increase in Coming Months, English Police Says
The number of cases involving online abuse and sexual exploitation of children will increase in the coming months due to the impact the COVID-19 lockdown has had on the use of the internet, The Metropolitan Police Service (The Met) expects.
Releasing figures for London, the Met said the Online Child Abuse and Exploitation Unit (OCSAE) has arrested 45 suspected offenders and safeguarded almost 100 children during the four weeks since the UK went into lockdown.
The police force also said that the statistics showed that 92 children were protected and 68 warrants executed between March 23, when the government announced lockdown measures, to April 23.
An average of 10 new live investigations launch every week as a result of the 45 arrests over the same period.
"The internet can be a great space for young people to connect, socialize and learn but it is also used by offenders as a place to engage with children and commit serious offenses – grooming, abuse, and other serious harm," Detective Superintendent Helen Flanagan said.
"The restrictions have led to a huge growth in internet use, including by children doing schoolwork or occupying themselves while parents and carers are busy - and inevitably there are a greater number of sexual predators online looking to target and groom young people."
This growth in internet use could mean that people move towards illegal material.
Donald Findlater, director of Stop It Now!, a child protection charity said: "We have seen an increase in the use of pornographic sites because of isolation measures and we know this can be a precursor for some men with addictions to move into illegal child abuse material.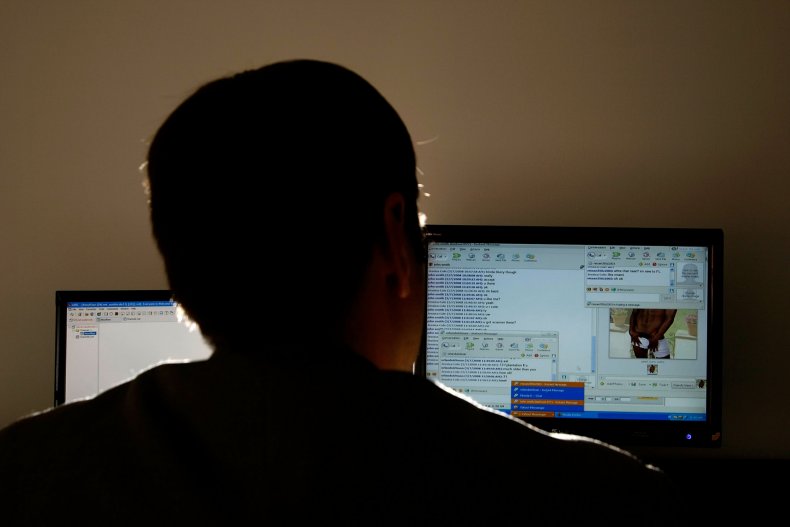 "Parents can help in tackling this and think about what their children are doing when they are being quiet in their rooms, because that lack of supervision can make them more vulnerable online."
Flanagan was keen to stress that although the data for the first month since lockdown showed that "figures for recorded offenses and referrals have remained stable or dropped since the UK has been hit by Covid-19", officers believe that "any increase in offending taking place now will not be reflected in the official figures until the months to come."
Flanagan told Newsweek: "[Cases have] been on a par with the monthly referrals running up to COVID-19, around 50 referrals a month but we do think we are likely, as we come out of lockdown and in the forthcoming months, we will probably will see a slight increase in that.
She also said that lockdown restrictions have led to a rise in internet use, which increased the potential for serious harm.
Flanagan also called on parents to be more vigilant during the lockdown and to have conversations with children about who they're speaking to and what kinds of apps they are using, in "a relaxed, informal and supportive conversation" where children feel they can come to parents about their concerns.
She said: "It's about reinforcing that message that if they're uncomfortable with something, if they're approached by someone and they're worried about it, to come and talk to you.
"Children are clearly going to be online a lot more, I think not only through education but looking at social networks where they haven't been able to see to their friends face to face, it's sort of building different networks.
"So the key thing is having those conversations, you can put security measures in place, but I think certainly when you get towards teenage years, that becomes more difficult and it's around having open and honest conversations and building that trust and really understanding what the new messaging or social networking platforms are.
"Perhaps speaking to other parents and understanding where their children are communicating, because the flags would be if your child starts to move over into different social networks or into different chat rooms that they're not used to or don't usually communicate through, it may be that they are starting to get groomed."
Flanagan also said that if parents come across images that had been sent to their child then they can flag those images as soon as possible by contacting 101 and notifying the police.