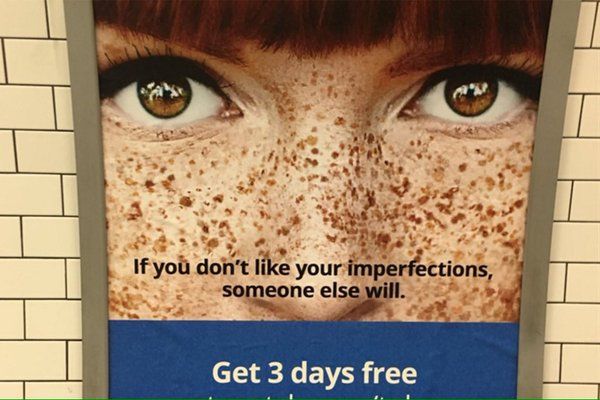 Match.com has apologized after London Underground commuters complained about an advertisement that implied that ginger hair and freckles are "imperfections."
On Twitter, many users lashed out against the advert - which they saw on their underground commute - with one woman criticizing the poster for "judging people on skin pigmentation."
An Advertising Standards Authority (ASA) spokesman tells Newsweek that they have received around a dozen complaints so far about the advert.
"The general nature of the complaints is that Match.com ad disparages people with ginger hair/freckles. We're currently carefully assessing the complaints to establish if there appear to be any grounds for action. It's important to stress, however, that we haven't launched an investigation," he says.
"Companies who advertize in huge campaigns have a responsibility not to create or infer one appearance is superior to another," one commuter Lucy Grace tells Newsweek. "By labelling naturally occurring physical traits as imperfections they are suggesting there is some "perfect" notion of appearance, which creates insecurity and self hate. I wonder how far Match would go with what they label imperfection."
"Our adverts reveal common perceived imperfections and quirks of Brits – these include freckles which some people who have them may see as an imperfection," a Match.com spokesperson said in a statement. "We think freckles are beautiful and our posters are designed to encourage everyone who has them to be proud. We're sorry if anyone has been offended by our latest ad - that was not our intention – but we're really encouraged to see so many people standing-up for what makes them unique."
The dating site added it plans to take down the adverts. "Following this feedback, we are in discussions with our relevant partners about removing these posters as soon as possible."
The advert is part of a Match.com campaign #LoveYourImperfections, which has been running in the U.K. since 2014.