Online Harassment of Asian Americans Increased by Over Half in 2020: Survey
Asian Americans saw a sharp increase in online harassment as the COVID-19 pandemic unfolded over the past year, according to the results of a new survey.
A survey released Wednesday by the Anti-Defamation League (ADL) found that self-reported severe online harassment of Asian Americans increased from 11 percent in January 2020 to 17 percent in January 2021. Severe online harassment is defined by the ADL as sexual harassment, physical threats, stalking, swatting, doxing or other types of sustained harassment. The increase was the largest reported by any group in the survey and happened during a time when other types of attacks on Asian Americans also increased.
"In light of the recent surge in attacks, violence and hate directed at the Asian-American community, it is significant that this trend is continuing online, especially where we know that violence and extremism often originate online before it morphs into physical violence," ADL CEO Jonathan Greenblatt said in a statement to Newsweek. "It has become clear that in recent years, the American public has been increasingly exposed to online hate and harassment."
While the year-on-year increase was the largest of any group, the Asian Americans who said they were harassed also reported a slight drop in what they believed was race-based harassment, from 55 percent in 2020 to 50 percent in 2021. The small decrease in perceived race-based harassment could be explained by Asian Americans individuals reporting harassment that they believed was based on any of their other personal attributes like physical appearance, gender, disability, LGBTQ+ status, religion or political views.
The survey found that African Americans were the group that experienced the sharpest rise in race-based harassment between 2020 and 2021, going from 42 percent last year to 59 percent in January's survey. Although Asian Americans experienced less harassment than some other groups, an ADL spokesperson told Newsweek that the increase was "the highest single-year increase we've ever seen in the time we've conducted this survey, and the single biggest spike in severe harassment against any group we tracked this year."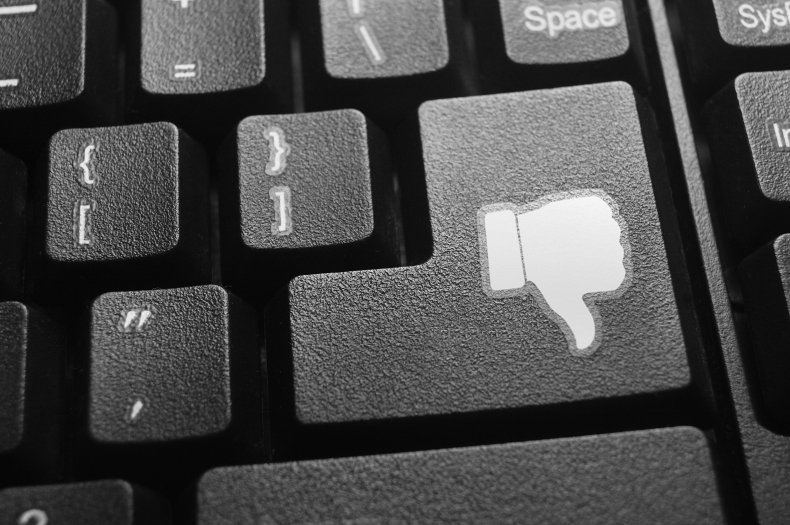 The group that reported the most overall harassment was LGBTQ+ people, with 64 percent of LGBTQ+ respondents saying that they experienced some type of online harassment. LGBTQ+ people also experienced the most severe harassment, at 52 percent. The group that was the next-most harassed was Muslim Americans, who reported 46 percent harassment and 36 percent severe harassment.
The ADL spokesperson said that "the sharp increase in online harassment against the Asian-American community is significant and reflective of broader societal trends," while referencing rhetoric from figures like former President Donald Trump, who began referring to COVID-19 with terms like "China virus" and "Wuhan flu" last year.
"It's hardly surprising after a year where national political figures—including the president himself—routinely scapegoated China and Chinese people for spreading the coronavirus, more Asian-Americans (17 percent) experienced severe online harassment than last year (11 percent), the largest single year-over-year rise in comparison to other groups we tracked," the ADL spokesperson said.
Among all Americans, 41 percent said that they had experienced some type of online harassment, down slightly from 44 percent the previous year. Severe harassment was reported by 27 percent, nearly the same result as the 28 percent who reported severe harassment in 2020. Most groups saw little overall change in reported harassment from 2020 figures. The only group to see a significant self-reported decrease in severe harassment was Hispanic or Latino respondents, 21 percent of whom reported severe harassment, a drop from 28 percent in 2020.
Of those who were harassed, 75 percent said the harassment took place on Facebook, while 25 percent said it was on Twitter and 24 percent on Instagram. Greenblatt called on social media companies and other online platforms to make reforms, while also urging lawmakers to work towards legal remedies for limiting online hate and harassment. The survey found that 81 percent of Americans want social media platforms to "do more to counter hate online," the same share that say laws should be made stronger "to hold perpetrators of online hate accountable for their conduct."
"Unfortunately, if past is precedent, it will continue unless the platforms make meaningful changes to prevent it from happening," Greenblatt said. "It is clear from this survey that the vast majority of Americans want policymakers and tech companies to take real action to help combat this problem. Repairing our online ecosystem will take comprehensive reform. The problem of cyberhate will not be fixed by a single, one-size-fits-all solution—including any single piece of legislation. We must also consider transparency, algorithms, content moderation practices, and other factors to achieve comprehensive reform."
The survey was conducted by polling firm YouGov on behalf of ADL, querying 2,251 Americans between January 7 and January 15. It has a margin of error of 2.1 percent.