Jordan's Press Fights Back Against Censorship—Online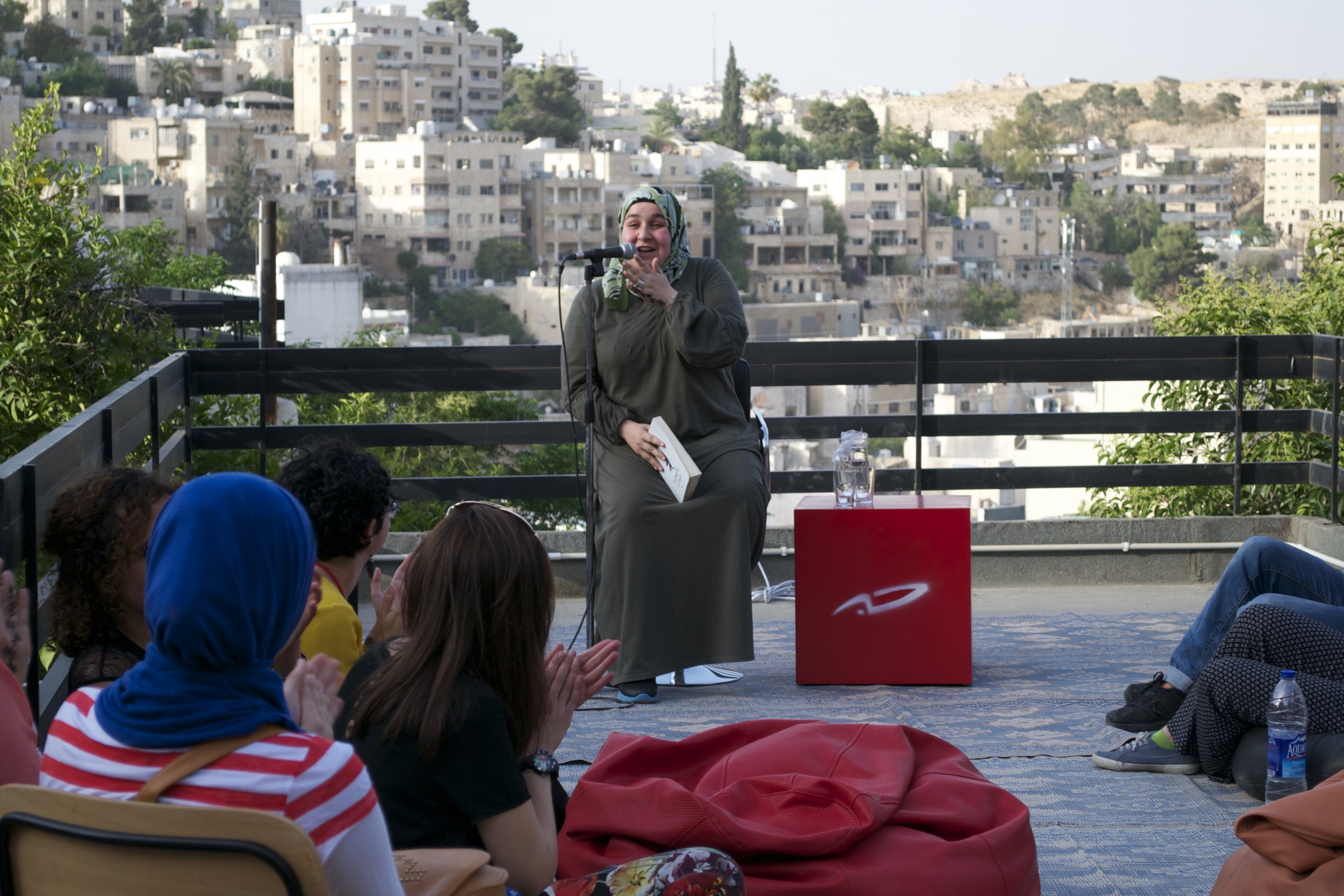 Celebrations for Jordan's Independence Day, held every year on May 25, really started the night before. As evening fell on May 24, young men and women waved the country's red, black, white and green flag out of cars that hurtled around Amman's traffic circles to mark the 69th anniversary of Jordan's official founding.
May 25 also happened to be the eight-year anniversary of 7iber, an online magazine based in Amman. Pronounced "hibber," which means "ink" in Arabic, 7iber commemorated its founding by hosting local business owners at its headquarters and showing exhibitions lamenting the state of press freedom and women's rights in Jordan.
The fact that 7iber's anniversary falls on Independence Day is not a statement against the government, said Lina Ejeilat, one of 7iber's co-founders. "What we're trying to do here is maybe an alternative narrative about what independence really means," she said. "It's more than just nationalistic slogans and putting a flag on your car. It's really trying to push the envelope. There's a need for professional journalism that is critical."
7iber was born out of Jordan's blogging community and began as a citizen blogging platform, said Ejeilat. Back then, there was little online media and few alternatives to the mainstream media in Jordan, which Ejeilat says lacks editorial independence. Over the past eight years 7iber has covered subjects like violence against women and civil rights, content she says others might find provocative.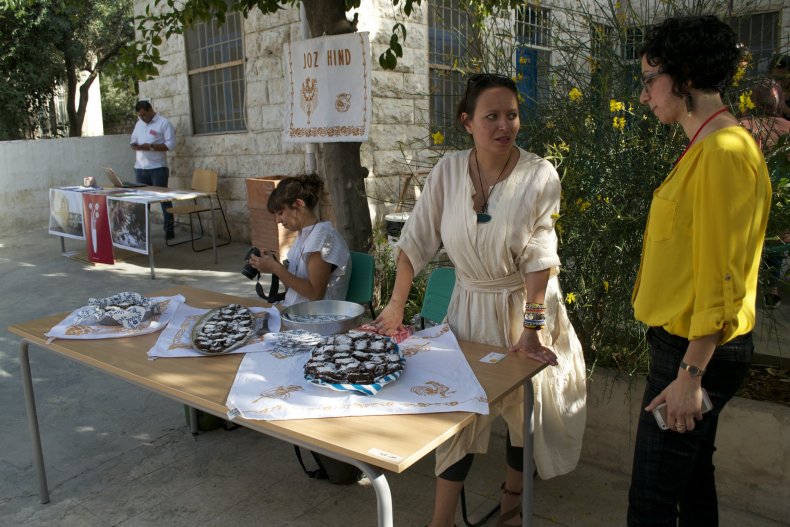 Several high-profile news events saw 7iber grow its audience; the site partnered with online news organization AmmanNet to translate cables about or from Jordan made public during the 2010 WikiLeaks diplomatic cable release verbatim into Arabic. Then came the Arab Spring and 7iber found itself in the right place at the right time, said Ejeilat.
While Jordan was largely immune from the Arab Spring that shook up other countries around it—there were consistent protests, but they didn't reach a critical mass, says Ejeilat—the movement caused the government to restrict the media, particularly online, says Reporters Without Borders, an international organization that promotes press freedom. While Ejeilat says the Arab Spring led to "huge leaps for freedom of expression," a crackdown soon followed.
"Suddenly people were so eager to talk about things they didn't talk about before and to criticize and ask for reform and accountability and talk about everything," including the king and the army, said Ejeilat. "I thought, mistakenly, that no matter what happens [after the Arab Spring] there's no going back," she said.
Today, Jordan is ranked 141 out of 180 countries, according to Reporters Without Borders' 2014 Press Freedom Ranking, and it dropped seven points from 2013 to 2014. A report from the Centre for Defending the Freedom of Journalists said more than 95 percent of journalists in Jordan self-censored in 2014, compared to 91 percent in 2013. Compared to other countries in the region, Jordan is relatively safe for journalists: ​The Committee to Protect Journalists (CPJ) has no record of any journalists being killed in Jordan since 1992, the year the group started keeping a record. Neighboring Iraq and Syria are the top two deadliest countries for journalists in the world, while journalists working in Saudi Arabia, which shares its northern border with Jordan, and Turkey face jail time and death for reporting the news, according to CPJ.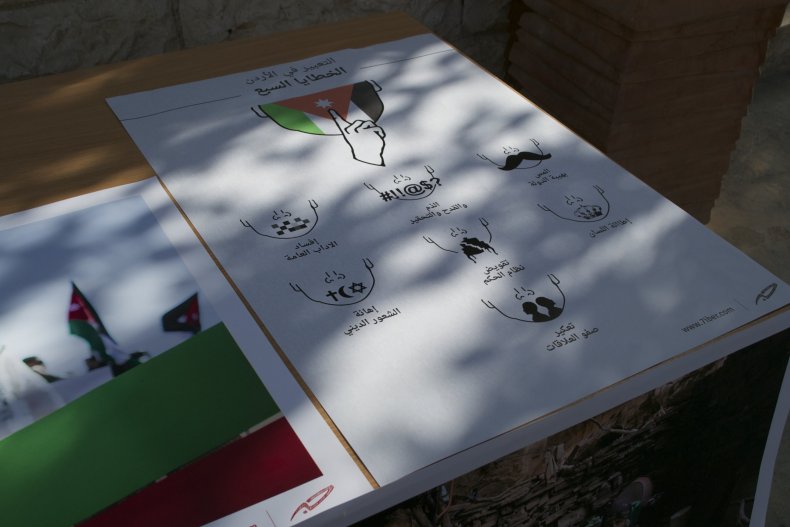 But even though Jordan, a country with a press freedom climate that used to be "a shining light in the Middle East," is often overlooked compared to its neighbors, "it's certainly moving in the wrong direction," said Sherif Mansour, Middle East and North Africa program coordinator for CPJ. "We are very concerned that they're taking very alarming steps that take the country on a very different track than they used to have," he said.
Amjad al-Kadi, director of Jordan's Media Commission, said that while the situation for press freedom in Jordan is "much better" than elsewhere in the region, "we can't compare Jordan with the countries in the region since Jordan has modern legislations that other Arab countries consider a role model to follow."
In April, a journalist was arrested for publishing an article that was critical of the Saudi-led bombing campaign against Houthi fighters in Yemen, also known as Operation Decisive Storm. In January, two journalists were jailed in Jordan on terrorism charges; since 2013, the government has been able to use counterterrorism charges against media organizations, said Mansour. There has also been pressure on Syrian and Iraqi refugees not to engage in any critical journalism about Jordan or other countries in the region, said Mansour.
In Jordan, print media outlets are required to get a license from the government, but amendments to the Press and Publications law were quickly passed in 2012 to extend that requirement to online media. To get a license from the government, online sites had to have an editor-in-chief who had belonged to the Jordanian Press Association for at least four years, but in 2012 online journalists couldn't become members of the association; today, they can belong. The law is broad: Any website with a fixed URL online that publishes information related to Jordan needs to get a license.
In a statement, the government said the amendments were necessary "due to the need to regulate the work of the online media and compel those covering internal and external affairs in the Kingdom to register and obtain a license in accordance with the Press and Publications Law just like any other print media institution."
"Licensing is a form of self-censorship," said Ejeilat. "In all democratic societies, to start a website you don't need permission from the government. That notion is so against everything that the Internet is about."
In June 2013, the Jordanian government blocked nearly 300 news websites, saying it was protecting the role of traditional journalists. Al-Kadi said the number was less than 300. About a month later, 7iber was blocked and the organization spent the next couple of years switching to mirror sites that continued to be shut down. The government eventually took them to court for operating an unlicensed media operation, which carries a fine of between 1,000 and 5,000 Jordanian dinars (around $1,411 to $7,000). The case is ongoing and despite being opposed to the law, 7iber had no choice but to get a license. Last year, the government blocked nine more websites.
"As a result of the websites' lack of commitment to professionalism and to the principle of responsible freedom, the law of Press and Publications was amended in 2012 in order to regulate the websites," al-Kadi told Newsweek. He added there are plans to change the licensing system for online media "being prepared under the vision of providing absolute space of freedom with regulating the field and making sure the media in Jordan comply with local and international legislations and agreements."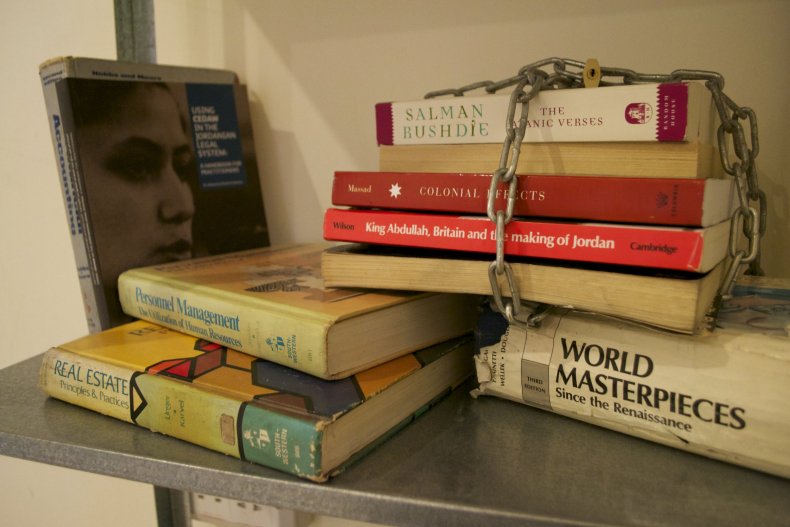 On an outdoor stage high above the city, with views of the ancient Roman Citadel and ruins of the Temple of Hercules, 7iber's anniversary also saw an audience listen to the reading of passages from banned books. Between 2013 and 2014, 7iber found that 52 books had been banned in Jordan; the Media Commission, the same body that regulates the media, is also in charge of censoring books.
Ahmed Al Zaatari, a Jordanian writer, journalist and author of Bending Over the Corpse of Amman, which has been censored by the government in Jordan, read from his book in late May. A dystopian novel set in the city, it concerns the destruction of Amman during a war that breaks out over class.
"I really don't admire the idea of banning a book," Al Zaatari said. "People will just rush to read about it because it was banned, neglecting the idea of the concept and the quality."
Copies of the book, which was published in 2014 and printed in Beirut, have been seized by the government. The book's sexual and political content, making fun of patriotic songs and depicting the destruction of Amman, are reasons it raised red flags, said Al Zaatari.
Ejeilat said the book readings sent a simple message: In the 21st century, you can't restrict access to information.
"It's comical. It's straight out of 1984," she said.