Online Stores See 'Exponential' Rise in Ruth Bader Ginsburg, Amy Coney Barrett Merchandise After SCOTUS Nomination
Sales of merchandise depicting Supreme Court Justice Ruth Bader Ginsburg and nominee Amy Coney Barrett have surged over the last two weeks as deliberations began about when and how a new justice should be chosen to fill the late Ginsburg's seat.
Ginsburg, who died from complications of metastatic pancreatic cancer on September 18, became a cultural icon during her more than 27 years on the court. In addition to her role as one of the Supreme Court's more liberal voices, documentaries detailing her life story and workout videos filmed while she was in her 80s inspired admirers to call her the "Notorious R.B.G," a play on the name of the late rapper The Notorious B.I.G. The nickname found its way onto coffee mugs, T-shirts, bumper stickers and more that retailers sold in brick-and-mortar stores and through online marketplaces.
Barrett is a comparatively new face for Americans who do not recall her confirmation hearings to serve as a judge on the U.S. Court of Appeals for the Seventh Circuit in 2017. She received widespread media attention in the days immediately following Ginsburg's death as the person President Donald Trump reportedly favored to fill the high court's vacant seat, a nomination he made official on September 26.
During her confirmation hearing three years ago, an exchange about the distinction between dogma and law between Barrett, an observant Catholic, and Democratic Senator Dianne Feinstein of California ended with Feinstein warning Barrett, "The dogma lives loudly within you."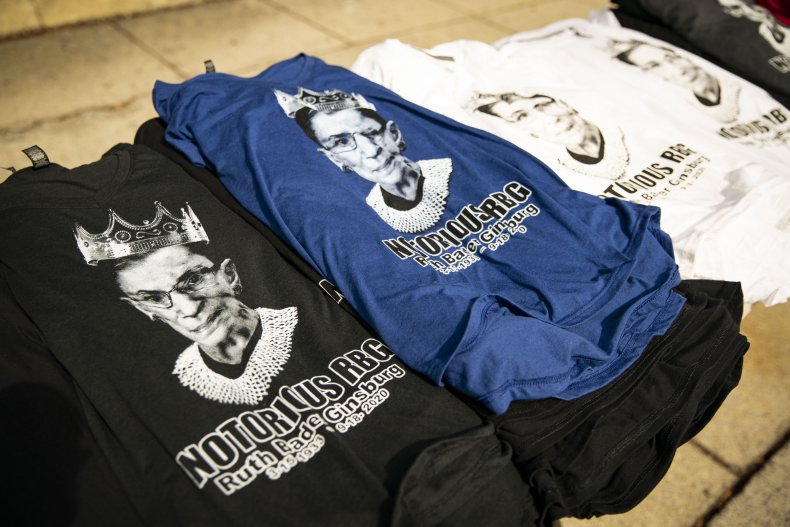 Feinstein's phrase became a rallying cry for Barrett's supporters and inspired a wave of "the dogma lives loudly within you" coffee mugs and T-shirts suddenly available for sale by several online retailers. With Barrett's recent nomination to the Supreme Court, those items have become even more widely available—and some designers have also jumped on an opportunity to put a new spin on Ginsburg's nickname. In addition to popping up on Amazon, Etsy, TeePublic and more, the National Republican Senatorial Committee began promoting $20 T-shirts that pictured Barrett in a crown and the phrase, "Notorious A.C.B." Trump's reelection campaign also began selling T-shirts for $30 emblazoned with the message "Fill that seat" as part of his party's push to quickly confirm Barrett.
Online marketplaces Redbubble and Zazzle both told Newsweek that browser searches for Barrett products have increased over the last couple of weeks, though searches for items inspired by her are still dwarfed by those for Ginsburg gear. Most of the Barrett and Ginsburg products on both websites range in price from about $10 to $15 for face masks or coffee mugs to $20 to $30 for T-shirts, price points that are similar to those seen on other online marketplaces like Amazon and Walmart.
A Redbubble spokesperson told Newsweek that its marketplace observed an average of 150 to 200 daily searches for Ginsburg products before her death, but that number spiked to more than 17,000 the day after she died. A spokesperson with Zazzle told Newsweek that they also saw searches for Ginsburg products surge after her death.
"Due to Justice Ruth Bader Ginsburg's recent passing, Zazzle has seen an exponential increase in what were already very popular designs heralding her and her accomplishments," the Zazzle spokesperson said.
Searches for products inspired by Barrett also increased as word spread that she was Trump's top pick for the empty Supreme Court seat. Her name was the subject of about three searches per day shortly after Ginsburg's death on Redbubble, but that number jumped to 372 the day after Trump announced her nomination, according to Redbubble.
Zazzle said it has also witnessed an expansion in the variety of Barrett-inspired products over the last couple of weeks.
"With the recent SCOTUS nomination, there has been instant momentum around designs in the Zazzle marketplace depicting Amy Coney Barrett and the calls for and against her confirmation," the Zazzle spokesperson said. "As an open marketplace, Zazzle honors all voices provided they meet our terms of service."
Barrett's nomination hearing is scheduled to begin on October 12. With the presidential election season in full swing and product designers easily able to create and upload new designs to multi-vendor marketplaces, consumers' wide-ranging interest in products with political messaging indicated that sales of Ginsburg and Barrett could remain strong as the deliberation over her nomination continues.