Online Service Stocks Dip as COVID-19 Vaccine Nears
The COVID-19 pandemic accelerated the shift to online commerce and collaborative tools that had already begun, as many companies permitted employees to work from home, supercharging the stock prices of many digital companies like Slack Technologies and Zoom Video.
Although that shift will likely continue after the pandemic finally abates, it appears that some of those pandemic-charged stock prices are beginning to return to earth.
"So far, investors have been enjoying the ride on this balloon that may last until the end of next March," Manish Shah, CEO of Miami Beach-based Tollbooth Strategy told Newsweek. "Then tech stocks will face reality."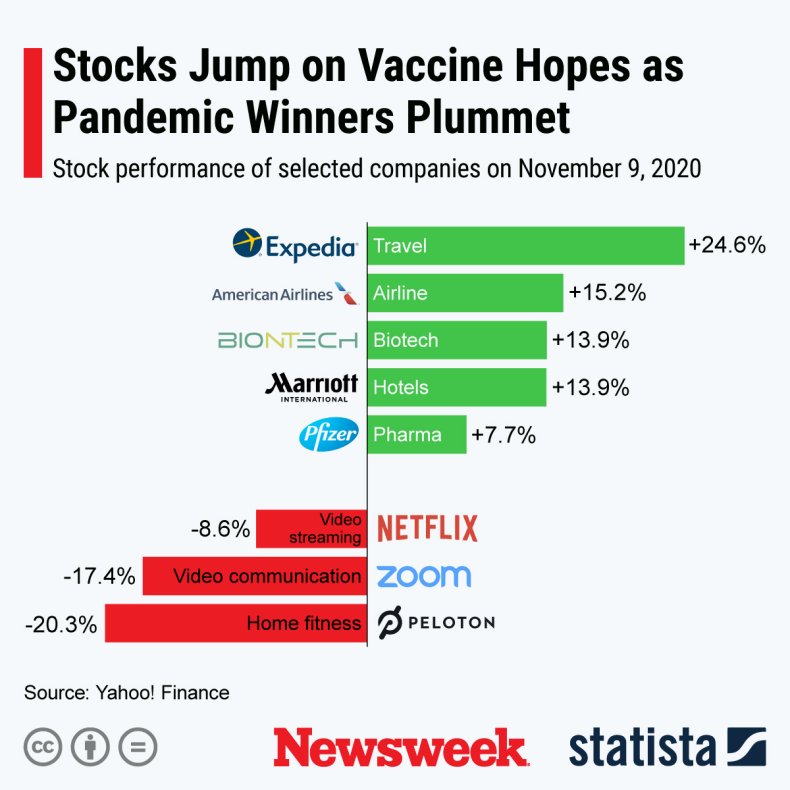 The smart money may already be heading for the exits.
Yale University sold all its stock in Slack Technologies and Zoom Video in the third quarter, according to a filing with the Securities and Exchange Commission. That doesn't mean investors expect either company to crash and burn—only that the burst of coronavirus-related growth is over, and some investors are pocketing profits.
Slack Technologies, a developer of real-time messaging and file sharing software, changed hands in early trading Monday at $25.68 a share, down a cumulative 35.91% from a 52-week high of $40.07. Zoom Video Communications, a provider of video conferencing services, recently fetched $489.98, down a cumulative 16.79% from a $52-week high of $588.84.
Other sectors, including exercise equipment and online retail, have gotten a boost from the coronavirus-related shutdown and continued wariness of many to return to the office, gym or shopping mall. But shares have dipped recently.
Peloton Interactive, a maker of upscale home exercise equipment, recently traded at $99.85 a share, down a cumulative 28.55% from a 52-week high of $139.75. Wayfair, an online retailer of upscale home furnishings, décor and housewares, recently changed hands at $276.63 a share, down a cumulative 20.75% from a 52-week high of $349.08.
GrubHub, a food home delivery service, has dipped to $70.94 from $85.53, a cumulative decline of 17.06% a share. DocuSign, a provider of a system that allows individuals to sign documents remotely, has fallen to $205.36 a share, down a cumulative 29.24% from a 52-week high of $290.23.
But Upwork, provider of a platform that allows freelancers to seek work from home, rose 7.13% in early trading Monday to $33.04 a share, just off a 52-week high of $33.43.
The recent stock movement plays out against Moderna's announcement that its coronavirus vaccine was 94.5% effective. Earlier, Pfizer said testing showed its vaccine to be more than 90% effective against the disease. If the vaccines are widely available, and if most people get the shots, civil society may return to pre-pandemic activities, boosting travel, hotels, restaurants and entertainment, including professional and college sports.
But those are big "if's," and they don't answer the even bigger question, "When?" Estimates of the arrival of a post-pandemic "new normal" range from Spring to Fall 2021—contingent upon the "if's" being satisfied.
News of the vaccines sent the broad market higher in early trading Monday. The Dow Jones Industrial Average jumped about 431 points to 29,882.95 and exceeded the pre-pandemic high of 29,551.42 reached on February 12.
Other sectors benefited. United Airlines rose 6.30% in early trading Monday. Southwest was up 3.81%. Delta gained 4.43%. Carnival, an operator of cruise ships, added 11.75% in early trading Monday. Hilton Worldwide gained 2.10%.
But news of the vaccine is unlikely to lift brick-and-mortar retailers, as Amazon continues to grow and major retailers such as Walmart and Target expand online offerings.
The Federal Reserve has kept interest rates low to encourage consumer spending, which represents about two-thirds of the U.S. economy, and to support the housing market.
Despite the stock market's recent rally on news of Covid-19 vaccines, there will be no immediate miracles in the labor market. Unemployment dipped to 6.9% in October from 14.7% at the height of the pandemic in April. In February, the unemployment rate was 3.5%, a level not seen since data collection began in 1948, the U.S. Bureau of Labor Statistics reported.
Current unemployment and the continued shift to online commerce and work may deepen the digital divide, and may worsen the split between those with jobs that can be performed from home and those that require facing the public, such as those in the retail and service industries, who must report to work to get paid.
The labor participation rate, or the percentage of people in the labor force, increased 0.3% in October to 61.7%. But the number of long-term unemployed, or those out of work for 27 weeks or more, increased by 1.2 million to 3.6 million, or 32.5% of the total number of people unemployed, the U.S. Bureau of Labor Statistics said.